Doctoral degree in Philosophy
Introduction

The Doctorate cycle by nature aims to improve the specialization started in the degree. Specifically, in the Ecclesiastical Faculty of Philosophy the following PhD specializations are offered:
Epistemology and Ontology.

Ethics and Anthropology.

Natural theology and philosophy of religion.

History of Philosophy.
The Ph.D. is primarily directed to priests, religious and lay people who wish to offer their teaching in the Ecclesiastical Faculties of Philosophy, or Philosophy and Theology Catholic Institutes.
Contact: Ecclesiastical Studies Building 31009 Pamplona Spain Tel.: (+34) 948 42 56 00 Ext. 802524 Program coordinator:
Prof. D. Sergio Sánchez-Migallón smigallon@unav.es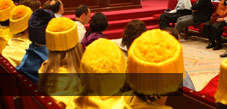 Doctoral School
Find out about the doctoral degree programs at the University of Navarra