34th Symposium "Art and Theology"
Presentation

Pope Francis reminds us that "in every age the Church has called upon the arts to give expression to the beauty of her faith and to proclaim the Gospel message of the grandeur of God's creation, the dignity of human beings made in his image and likeness, and the power of Christ's death and resurrection to bring redemption and rebirth to a world touched by the tragedy of sin and death" (Address to the Patrons of the Arts in the Vatican Museums, October 19, 2013).
Likewise, previous popes, such as Benedict XVI, Saint John Paul II, and Blessed Paul VI, have encouraged the Church—her pastors and theologians—to maintain her dialogue with contemporary artists in order to achieve today "the close alliance that has always existed between the Gospel and art" (Letter of His Holiness Pope John Paul II to Artists, April 4, 1999).
The 34th Symposium of the School of Theology of the University of Navarra displays a clearly interdisciplinary character—theological and artistic at the same time. For this reason, theologians with artistic sensibility and artists with religious and theological sensibility have been invited. While some of the presentations are theoretical, others deal with the application of theology to art and vice versa. The structure of the Symposium is simple yet profound; it consists of three days, focused on the Mystery of God, the Mystery of Christ, and the Mystery of the Church, respectively.
The Symposium aims at fostering a doctrinally consistent and attentive reflection on new modes of artistic expression which both artists and theologians can take advantage of.

When and where?
Pamplona, October 14-16, 2015
Venues of the Symposium
All sessions will be held in the Aula Magna of School of Theology, except the round table on Thursday afternoon, October 15, that will take place in the Cathedral of Pamplona.
Exposición códices iluminados
Entrada libre
14-16 octubre
Edificio de Facultades Eclesiásticas
Universidad de Navarra
Contact: Ecclesiastical Studies Building 31009 Pamplona Spain Tel.: (+34) 948 42 56 00
Ext. 802611 Fax: +34 948 425 622 faces@unav.es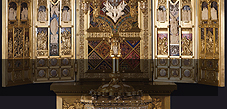 Exposición "De la belleza a la fe"
Entrada libre
14-16 octubre
Edificio de Facultades Eclesiásticas
Universidad de Navarra