34th Symposium "Art and Theology"
When and where?
Pamplona, October 14-16, 2015
Venues of the Symposium
All sessions will be held in the Aula Magna of School of Theology, except the round table on Thursday afternoon, October 15, that will take place in the Cathedral of Pamplona.
Exposición códices iluminados
Entrada libre
14-16 octubre
Edificio de Facultades Eclesiásticas
Universidad de Navarra
Contact: Ecclesiastical Studies Building 31009 Pamplona Spain Tel.: (+34) 948 42 56 00
Ext. 802611 Fax: +34 948 425 622 faces@unav.es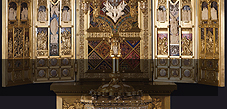 Exposición "De la belleza a la fe"
Entrada libre
14-16 octubre
Edificio de Facultades Eclesiásticas
Universidad de Navarra