Doctoral degree in Theology
Introduction

The third cycle of ecclesiastical study programs prepares students for teaching activity at ecclesiastical schools and universities, as well as higher institutes of religious studies. It also enables students to carry out review and advisory work on the different theological subjects on behalf of various churches, episcopal conferences and religious orders.
Although the only requirement for performing these ecclesiastical functions in diocesan seminaries is a licentiate degree in theology, obtaining a doctoral degree demonstrates that students have achieved a high level of maturity in terms of the methodologies used and their performance of academic work in accordance with the specific parameters of the ecclesiastical sciences.
The doctoral dissertation consists of an original and valid contribution to academic knowledge in the field of theology and prepares students for further research in the same reference framework or in field of the humanities.
In order to be admitted to a doctoral degree, you must demonstrate that you have undertaken a licentiate degree with a high level of achievement. However, completion of a licentiate degree does not automatically grant access to a doctoral degree, and therefore it is always necessary to apply for admission to these study programs.
Admission to doctoral study programs is initially granted on a provisional basis.
The Doctoral Committee will specify the length of this provisional period, which will not exceed one academic semester. During this period, candidates will carry out a personalized work plan determined by the Committee; this may involve completing subjects focusing on a single topic or taking certain subjects, library work, etc. Candidates must demonstrate, in the terms established by the Doctoral Committee, their ability to carry out a research project. They must also prove that they possess knowledge of the classical languages required to carry it out and of two modern languages, in addition to their native language.
Following the provisional period, students will prepare their doctoral dissertation under the supervision of a professor and in collaboration with a faculty advisor, both of whom will be appointed by the Doctoral Committee. This dissertation must consist of an original contribution to theological research and must be defended orally before a committee. Third-cycle study programs last between two and five years.
Contact: Ecclesiastical Studies Building 31009 Pamplona Spain Tel.: (+34) 948 42 56 00 Ext. 802660 Program coordinator:
Prof. D. Francisco Varo fvaro@unav.es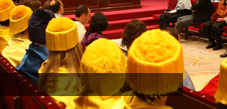 Doctoral School
Find out about the doctoral degree programs at the University of Navarra