Students who have passed all of the subjects in the Bachelor of Theology curriculum at the School or an affiliated center will gain direct access to the bachelor's degree examination.
Those from other centers who wish to obtain this degree must first study at the School for at least one semester; the curriculum for that semester will be determined by the Director of Student Affairs.
The bachelor's degree examination will take place on May 28, 2020, (ordinary session) and June 22, 2020 (special session). The normal process for the bachelor's degree examination is as follows:
Graduating students may choose one of two topics chosen at random and will have half an hour to prepare their presentation. This must be carried out without the aid of books or notes. If they so choose, they may write some brief personal notes on their chosen topic and use them in the presentation.

Graduating students will present each topic before the corresponding committee over a period of 30 minutes, although the committee may interrupt the presentation after 20 minutes if they deem it to be sufficient. The graduating students will also answer questions posed by members of the committee following the presentation.

The committee will award a grade, but the certificate will not be drawn up; this will be done later. In short, once the tests have been carried out before the various committees, the Presidents (or if they are unable to attend, another member from each committee) will meet to discuss the tests as a whole. A single certificate will then be drawn up that will reflect the final grade and will be signed by three of the examining professors.
Contact: Ecclesiastical Studies Building 31009 Pamplona Spain Tel.: (+34) 948 42 56 00 ext. 802611 Fax: +34 948 425 622 faces@unav.es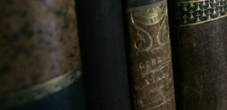 Recognition of civil effects of degrees and qualification certificates issued by the Schools of Ecclesiastical Studies. Go to the website