Cristina Gómez: "At the Universidad de Navarra they taught me values such as kindness, respect and solidarity"
A third-year resident and graduate from the Faculty of Medicine shares her memories of her student days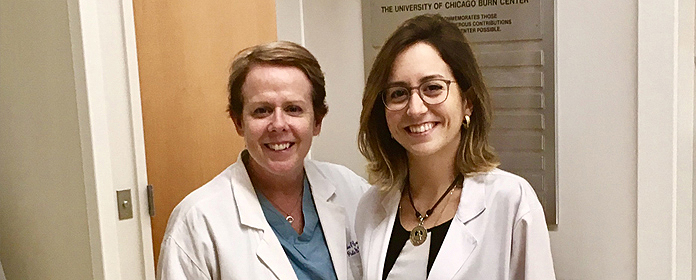 Cristina Gómez, on the right, with the nurse in charge of the burns unit in the hospital in Chicago
FOTO: With permission
Cristina Gómez is an alumnus of the Faculty of Medicine of the Universidad de Navarra and is a resident in her third year at the Clínica Universidad de Navarra. Currently she is to be found in the United States, training in what she most likes: plastic surgery. By e-mail, we got in contact with her to talk with her about her professional experience and about her memories of when she was a student.
Did you study medicine because of a vocation or because of other factors?
I would say, by vocation. I am the daughter of two doctors, and from the age of six I've wanted to be a doctor. I have always liked helping people and helping out my parents at home whenever anything needed fixing. I've always felt attracted to the world of health; in fact, I can't see myself doing any other type of job.
What do you remember of your time as a student?
I have very fond memories of my university years. This implies leaving home, getting to know many special people that had an influence on my personal development, and, of course, being at the Universidad de Navarra. From day one, they didn't just teach me medical knowledge, but also they transmitted different values: kindness, solidarity, respect, responsibility and hard-work, among others.
You are a resident in your third year of plastic surgery in the Clínica Universidad de Navarra; now that you are in the United States, what differences have you found between Spain and America?
The fact that the American health system is private means, among other things, that resources are better, which facilitates more thorough medical attention. In addition, medical practice is based on scientific evidence, which implies progress, protocols of procedures, keeping constantly up-to-date in the world of research medicine. Also, they make an effort to achieve excellence in their country, and so they put a lot of enthusiasm and time into training their workers. However, the big downside and difference relative to our country is that their health system is not universal.
Why plastic surgery?
When I started at university, I went with the idea of doing general surgery. But, thanks to the support of my parents, I carried out a rotation in the department of plastic surgery at the Presbyterian Hospital in New York. It was then that I understood that this specialty covers much more than just cosmetic appearance. In fact, the area of reconstructive surgery is a door not only to creativity for the surgeon but also to hope for the patient. It is very satisfying. Thanks to this surgery it is possible to return functionality and improve the appearance of regions that were previously altered anatomically.
You are doing a rotation in the burns unit of a Boston hospital; are you finding the experience tough?
Yes, quite a lot. Patients have big burns, I mean, they are patients with second- and third-degree burns affecting over 20% of body surface area. They are patients in critical condition, some are even disfigured, some with tragic background stories, who are going to need a lot of time and a lot of surgery to try to get back psychologically, socially, and work-wise to a situation as similar as possible to where they were before the accident. On the other hand, the team-work and the motivation from the small improvements that are progressively obtained make the experience more tolerable.
Would you like to settle in the United States professionally, or in Spain?
For the immediate future, yes, I'd like to work in the United States, temporarily for between two to three years, and then return to Spain.
What is going to be your next step?
Complete my training in plastic surgery and find my bearings and prepare myself for a fellowship on completion of my residency.
What recommendation for the future would you give to students who are finishing their degree?
I would encourage them to believe in themselves and to employ all their effort and hope towards a clear objective, without fear. We are lucky to have our profession, which is a most human way to improve our society.