Meet Our Staff
Letter from the Dean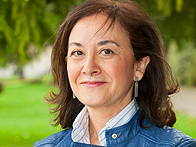 Dear Friends,
Welcome to the University of Navarra School of Education and Psychology.
From the outset, the University has had its finger on the pulse of our society's main concerns and attempts to bring this into its teaching, research and pastoral care for everyone involved in this project. The School of Education and Psychology fully embraces this mission, approaching the basic principles of academic and professional life, research work and pastoral care with an emphasis on freedom and responsibility.
The School strives to train future educators, teachers and psychologists, inspired by the University of Navarra's ideals. This includes critical thinking as part of how we educate, allowing each person to freely form their own opinions and convictions in an atmosphere of pluralism and a quest for truth.
The School of Education and Psychology has around 1000 members, including teachers, researchers, administration and service personnel and students. Our full-time teaching staff can all boast doctoral studies, certified by external agencies and they are committed to developing knowledge on education and psychology, as well as transforming society. In addition, a high percentage of them have been certified by ANECA as Full Professors. This ensures the high quality of their teaching and research. The result of this, among other publications, is the Estudios sobre Educación (Studies on Education) journal that has been indexed in important scientific databases since 2007, particularly in ISI Web of Knowledge - Social Science Citation Index - Thomson Reuters (EE.UU.), JCR and SCOPUS - Elsevier (Netherlands).
Over the last 50 years, firstly as the Department of Education and since 2014-15, as the School of Education and Psychology, many young people have chosen us for their university education. Thanks to this trust, this school now encompasses studies for Pedagogy, Early Childhood Education, Primary Teaching and Psychology, embodying its wish to contribute to society.
In addition to these degrees, the Schools offers four Master's degree programs: "Official Master's degree in Marriage and Family Therapy", "Official Master's degree in Teaching", "Official Master's degree in Educational Intervention and Psychology" (also the dual master's degree with MUP) and "Official Master's degree in General Health Psychology." As a complement to these Master's Degree Programs, there is the Doctoral Program on Education and Psychology that forms part of the University of Navarra Doctoral School. The first doctoral dissertation in Education was defended in 1972. Students have been defending doctoral dissertations ever since, supported by different research projects past and present, encompassing a wide range of topics within the field of education and psychology. Since its early days, research at the School of Education and Psychology has been open to questions of foundational guidelines and an international aspect, working together to train PhD students from Europe, Asia, America and Africa.
It is impossible to express the quality and variety of the initiatives that take place in the School in these few short lines. This presentation is an invitation to take a look at our website and find out first-hand what this center has accomplished over the last 45 years.
Welcome
Concepción Naval
Dean of the School of Education and Psychology.
Learn about the mission, origin, inspiration and values of the University of Navarra. Go to the website