Francisco Javier Pérez-Latre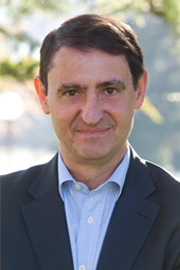 Professor of:
Teoría de la Publicidad y de las RRPP
Análisis de Audiencias y Medios
Edificio Biblioteca H.
Campus Universitario
31080 Pamplona, Navarra, España
Tf: (34) 948 425 600 ext. 802291
Correo-e: perezlatre@unav.es
En Twitter: PerezLatre
Francisco J. Pérez-Latre, Ph. D., is Associate Professor of Communication and Media Management at the School of Communication of the University of Navarra, Spain, where he also served as Vice-Dean for Studies and Director of International Relations and as Deputy Director of the Master Degree in Political & Corporate Communication. He is also Visiting Professor at the School of Church Communications at the Pontifical University of the Holy Cross (Rome, Italy).
He holds a Master of Arts in Marketing Communications/Advertising, Emerson College, Boston (1993) and served as Director of Faculty and Academic Affairs at the Institute of Media and Entertainment, New York (2004-2005). He is Counsel of the Center for Internet Studies and Digital Life (CISDL) at the University of Navarra and has been in the Board of the European Foundation for Commercial Communications Education (2009-2013). In 2016 he has been appointed Deputy Director of the European Media Management Association.
He has written nine books, twenty nine book chapters and seventy two articles about media management, advertising and communication. Author of Innovation in the Media: The Road for Change (2014), "The Paradoxes of Social Media: A Review of Theoretical Issues" in The Social Media Industries (Routledge, London/New York, 2013), "Advertising fragmentation: the beginning of a new paradigm?" in Handbook of Advertising (Routledge, London 2009) and Issues on Media and Entertainment (Media Market Monographs, Pamplona 2006). Some of his works have been published in international journals like the Journal of Media Business Studies, The International Journal on Media Management, Communication & Society and Journal of Spanish Language Media. His research focuses on the humanistic foundations of communication and marketing, media management, social media & innovation.