Cristina Sánchez Blanco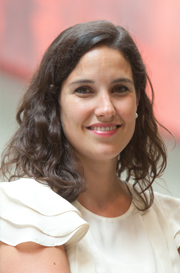 Profesora de
Estrategia de Comunicación Comercial (Grado Marketing)

Trabajo Fin de Grado de Marketing

Strategies in Fashion Communication

Comportamiento Digital de Marcas de Moda
Departamento Marketing y Empresas de Comunicación
Edificio Bibliotecas
Campus Universitario
31080 Pamplona, Navarra, España
Tf: (34) 948 425 600 ext. 80 3115
Correo-e: csblanco@unav.es
Orcid: https://orcid.org/0000-0001-6263-6520
Research Gate: https://www.researchgate.net/profile/Cristina_Sanchez-Blanco
Linkedin: https://www.linkedin.com/in/csanchezblanco/
Profesora Contratada Doctora del grado en Marketing. Desde 2016 es Secretaria Académica del departamento de Marketing y Empresas de Comunicación.
Codirectora del Programa Internacional en Comunicación de Moda de la Facultad de Comunicación de la Universidad de Navarra. En 2014 realizó el Programa Avanzado en Dirección de Empresas de Moda (Padem) de ISEM Fashion Business School.
Desde 2009, fecha en la que defendió su tesis doctoral "Planificación Estratégica: la gestión integrada del conocimiento del consumidor como eje de la comunicación comercial", su ámbito de investigación se ha centrado en la estrategia de comunicación comercial y en concreto, en la planificación estratégica y el conocimiento del consumidor. Ha trabajado en un proyecto de investigación de la Universidad Texas at Arlington para estudiar en profundidad la situación de esta disciplina en España, en comparación con México, Argentina y Brasil. Asimismo, sus intereses de investigación se han ampliando al estudio del conocimiento del consumidor en el ámbito de la moda y las tendencias.
Entre sus obras relacionadas con la planificación estratégica, destaca el libro "Planificación Estratégica en primera persona: 15 planners, 15 miradas únicas" https://universitas.es/product/planificacion-estrategica-en-primera-persona-15-planners-15-miradas-unicas/ donde ha coordinado el trabajo de algunos de los principales Directores de Planificación Estratégica de agencias de publicidad españolas, directores de marketing y de consultoras de marca (Editorial Universitas, 2019). En 2011 había editado otro: "Planificación Estratégica La relevancia del consumidor en comunicación comercial analizada por los planners". Además ha publicado numerosos artículos sobre la temática, como por ejemplo en Comunicar o en Journal of Historical Research in Marketing.
Research Fellow, Duke University (2013): John Furr Fellowship for J. Walter Thompson Research en el Hartman Center for Sales, Advertising and Marketing History, Duke University. Profesora Visitante de la Universidad Pompeu Fabra de Barcelona y de University of North Carolina at Chapel Hill; es miembro de la Asociación profesional de Planificación Estratégica en España (www.apgspain.es) y Reino Unido (www.apg.org.uk).