Proffesional Prospects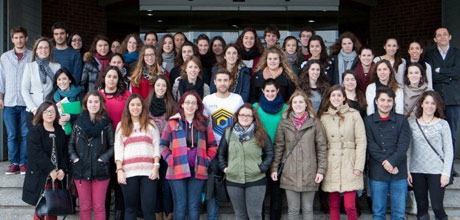 One of the University of Navarra's priorities is to promote the professional development of its students.
The Careers Office helps students map out their careers and offers guidance not only for the immediate future, but throughout their careers. To do this, the School benefits from the support of the University of Navarra Business Foundation (FEUN), an institution that for 25 years has served as a point of contact between business and the university.
We provide students and graduates with their first contact with the professional world and facilitate access to the job market. Innovative, high-ranking companies support us and collaborate on this project.
What does the Careers Office offer students?

It provides students with a set of tools and techniques to boost their opportunities in the job market.
Does it help students find work?

It helps students in their job search by giving them access to internship and job opportunities through the job listings board.
Does it help students plan their professional futures?

Our students receive mentoring as they progress through their professional degree program to help them make the best choices regarding their professional future, with a personalized employment map.
Does it take into account the demands of the job market?

Students develop the necessary skills to successfully meet the challenges of the job market.
Does it put students in contact with the business world?

The program facilitates relations with top-level companies by acting as a bridge between students and companies and other organizations.
What activities have been held to help students?

Some of the most recent activities include:

01.10.11 - Group II began Module I of the Diploma in the Management and Creation of Science Businesses.

17.10.11 – Workshop on "Managing Social Skills at the Start of your Career." Aimed at university graduates who are currently unemployed.

08.11.11 – Session on "The Future of My Career" led by Marta Carballal, aimed at students and graduates in the sciences who wish to reflect on their professional futures. Time: 10:00 to 11:30, in Room 28 of the Main Library Building.

23.11.11 – Workshop on recruitment processes: "How to Succeed at a Job Interview." Aimed at university graduates who are currently unemployed.

26.01.2012 - Internships. An information session on internships aimed at students in the final years of the Biology, Biochemistry and Chemistry programs. Attendance is mandatory for students who wish to do an internship. The session is made available to students at two separate times to accommodate class schedules:

Group I: Room 3A02 from 13:00 to 14:00

Group II: Room 3A02 from 15:00 to 16:00

02.02.2012 - Day conference: Introduction to the Working World, from 09:00 to 14:00 in Room 10. Different employment opportunities in the area of the sciences will be analyzed in conjunction with top professionals from the industry.
What does the Careers Office offer businesses?

The mission statement of the Careers Office is to facilitate contact between companies and the student community. Attracted by the quality and diversity of our students and graduates, as well as the flexibility of our services, a significant number of companies come to the School of Sciences each year in search of prospective employees.

Activities with businesses

On-campus presentations and interviews

Calendar of visits

Distribution of CVs of students from each future graduating class to the most important firms

Workshops, work breakfasts

Job Listings
Leonardo

A program aimed at university graduates that supports their international mobility through internships at companies in EU countries. [+]
Erasmus (internship)

A program aimed at University of Navarra students that supports their international mobility through internships at companies in EU countries.
Global Internships Grants

A program of the University of Navarra Business Foundation (FEUN) and Caja Rural to finance stays abroad for University of Navarra students who wish to do internships in the United States and China.
Tecnólogos

A program aimed at young graduates who wish to get started in the world of research.
Useful links

Documents available for download


Partner Institutions


Information on companies


Employment and Scholarship Information

Foundations


International Financial Aid

International Job Listings
What do students have to do to get started?

Students wishing to do so may request an appointment with Cristina Martinez, the Careers Office coordinator, to create a personalized career plan and set up mentoring sessions.

Request an appointment via email:
Training Procedure

Preparing a good CV and cover letter (also at an international level)

Preparing for the recruitment interview

Active Job Seeking Workshops

Workshops on Social Skills and Competences

Dynamics of a recruitment process
What are the selection criteria for these internships?

Students must have completed 50% of the credits making up the undergraduate degree program. Undergraduate students may complete the internship during any academic year. Other selection criteria include: academic record, previous internships at the company, individual initiative to contact companies and geographic proximity.
How many elective credits can be earned for an internship?

According to current regulations, one credit will be granted for every 25 hours of an internship, with a maximum of 12 elective credits throughout a licentiate degree program or 9 elective ECTS credits in the case of an undergraduate degree program.
Who is in charge of the internship program for Biology, Chemistry and Biochemistry?
Useful links

Documents available for download
o CV Template in Spanish [+]
o CV Template in English [+]
o Cover letter in Spanish [+]
o Cover letter in English [+]
o Internship Guide [+]

Partner Institutions
University of Navarra Business Foundation (FEUN)

Internet Resources:
Information on companies

Employment and Scholarship Information

Foundations

International Financial Aid

International Job Listings
General contact:
Sciences Building, office 2A08 C/ Irunlarrea 1, 31008 - Pamplona - Navarra 31008 Pamplona, Spain 31008 Pamplona Spain +34 948 425 600 (ext. 6670)
carrerasprofesionales@unav.es