The University ranked 45 in the world in employability according to the Global University Employability ranking published by Times Higher Education
The University is second in Spain and one of two Spanish universities in the top 100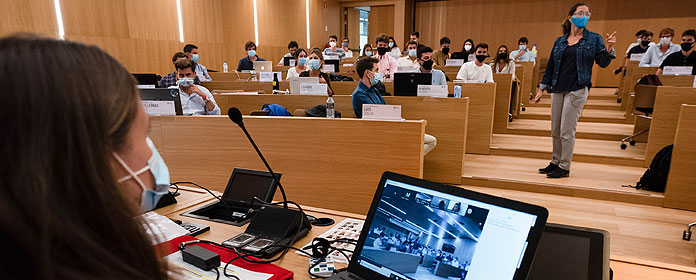 Actividad formativa para la búsqueda de empleo, organizada por Career Services de la Universidad de Navarra el 30 de septiembre de 2020.
FOTO: Manuel Castells
The University of Navarra is ranked 45 in the world according to the Global University Employability Ranking, designed by Emerging HR consultancy and published by Times Higher Education. Over 9,000 managers from a wide variety of economic sectors in 22 countries voted in this ranking. 250 universities were included in the final ranking, with the University of Navarra rated No. 2 in Spain for employability.
According to Emerging HR consultancy, employability is a key assessment criterion for analyzing higher education. Employers look for graduates who are well prepared for the labor market by their university experience. 82% of employers interviewed thought that collaboration between business and university should be strengthened. In this regard, during academic year 2018-19, Career Services at the University of Navarra had more than 2,333 agreements with businesses and organized more than 482 sessions between students and businesses. These figures led to the University being ranked number 1 in Spain according to the QS Employability Ranking, and number 71 in the world.
The COVID-19 pandemic has prompted parents and future students to look for universities that can guarantee maximum employability among their graduates. The Director of Career Services, Roberto Cabezas, notes that "in the last five years, we have increased the number of job offers to our students by 93.94%".
Cabezas says that to improve the employability of our graduates, "we focus on four fundamental aspects: offer more and better recruitment opportunities for our students and graduates; dedicate more time to personal, more specialized mentoring; increase training programs to facilitate access to the labor market; and be attentive to the needs and demands of our business partners".
Spain, 12 in the world
Seven Spanish universities appear in the ranking, four in the top 150: IE University (25), the University of Navarra (45), the Universidad Autónoma de Barcelona (133), and the Universidad Autónoma de Madrid (149). Spain is tied in twelfth place with Sweden overall. The USA leads the ranking with 51 universities, followed by France with 18, Germany 17, and the UK with 14 universities ranked. The top three positions are held by US universities: California Institute of Technology (1), Massachusetts Institute of Technology (2) and Harvard University (3). They are followed by two British universities, Cambridge University (4) and the University of Oxford (5).