The University launches the job portal
The University updates the platform to respond to the needs of students, graduates and companies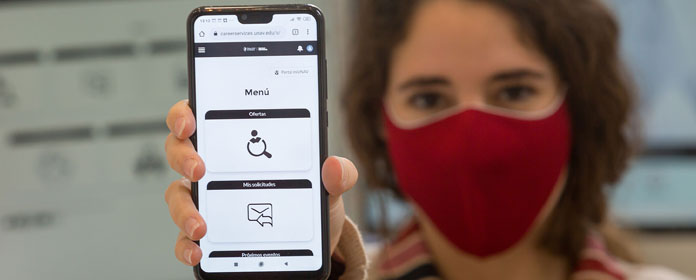 The Covid-19 crisis has affected the employment of young people on the one hand and the hiring needs of companies on the other. Faced with this situation the University has developed a plan which is based on three aspects: enhance training in employability for students and former students, strengthen personalized professional mentoring and meet the new hiring needs of companies.
Amongst other actions, Career Services has launched a new Jobs portal to provide opportunities for both students and businesses. The new platform began operating on 25 November. "It is simpler, more intuitive and quicker. With it we aim to facilitate the search for internships and jobs for students and recent graduates. It's one more option we offer, but not the only one. We also recommend that you register with the other job platforms that the University is in partnership with and expand your search as much as possible. It is also important that you attend our training sessions to learn how to design the most effective path to enter into the labor market" explains Roberto Cabezas, director of Career Services.
Through the new portal, students can also request an appointment with a career manager in their school, enroll in employability training sessions and track their applications.
In 2019-2020, Career Services managed 1,700 internships and in the last 5 years the career guidance given to students and former students multiplied by 5 reaching 1,160 in the last academic year (2019-2020).
More than 6,000 companies look for talent from the University
"The Covid-19 pandemic has created new recruitment needs for professionals that were not previously contemplated. Many businesses need to deal with this complicated situation and young talent could be the key to the process. The younger generation have competencies that help them to face uncertainty and change", explains Roberto Cabezas.
In the last five years, 6,129 companies, 1,059 from Navarra (17.3%) have sent job offers and internship opportunities to Career Services. Companies or professionals who are looking for candidates need to fill in a form with information on the offer that they want published. The service is free. More than 12,350 students and 7,900 recent graduates have access to the job portal "which gives greater visibility to companies and greater possibility of finding the candidate they are looking for". says Roberto Cabezas. In the last academic year they published more than 1,750 job offers which were viewed by more than 97,000 students and graduates.
Companies also have information on the University internship programs and can collaborate in events and activities that Career Services organizes. "It is a simple and quick way to access candidates who have high quality academic and humanistic training" adds Roberto Cabezas.