Origin, development and purpose

The School of Economics and Business Administration was established in 1987 with the goal of becoming a center of reference based on quality. With this goal in mind, Miguel Alfonso Martínez-Echevarría accepted the appointment as the first dean of the School. He was backed by his extensive experience and ample research work, but had never faced anything like the challenge of launching a School.
In 1993, Luis Ravina, who had been a teacher at the School since 1990, was named the new dean to continue the successful work carried out by Martínez-Echevarría. And the School continued to grow: it expanded its academic programs and began to organize the International Forum each year. The IESE Program was also launched.
New challenges were faced by Reyes Calderón following her appointment as dean between June 2008 and 2014: the implementation of the Bologna Process, the construction of a new, modern building and, most importantly, the bolstering of the School's quality in five strategic areas: its student-centered approach, research, teaching, international outlook, and employment prospects.
Ultimately, these thirty years of history of the School of Economics and Business Administration at the University of Navarra have been marked by dreams and projects, by the desire to achieve academic excellence, by engaging in high-quality, intensive research, by opening its doors to internationalization and, as our first Dean said, by "educating economists who have a human touch".

The School in figures
students participate in exchange programs each year
nationalities represented among the School's faculty
international faculty members
more than 50 subjects in English
the employment rate for the School's graduates
students did internships during the last academic year.
students participate in the program
international competitions attended by our students.
More than 90 students participate each year
students involved in research projects each year.
of students have a personal advisor.
undergraduate degree programs, including 5 international programs.
square meters in the School's new headquarters.
Timeline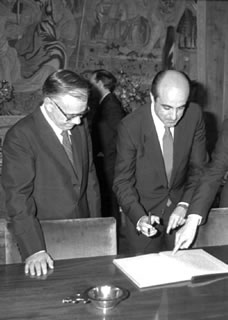 1987: Foundation of the School. Miguel Alfonso Martínez-Echevarría, first Dean.
1993: Luis Ravina takes over as Dean.
1998: First Student and Business Forum. Creation of the Finance Club.
1999: Creation of the Master's Degree in Economics and Finance.
2000: The number of undergraduate degrees offered increases to 6: Management, Economics, Management (IDM), Economics (IDE), Management + Law, and Economics + Law. Creation of the Volkswagen Navarra S.A. Chair of Business Administration - University of Navarra.
2001: First alumni meeting in London. First International Forum. Creation of the Graduate Program in Business Process Management.
2002: Creation of 4 pathways: Marketing, Finance, New Technologies and International Economics.
2004: First International Day. 40 exchange agreements with foreign universities.
2005: First IESE Program.
2009: New academic year with all academic programs adapted to the Bologna Process.
2010: Creation of Banking Studies Center. Master's Degree in Banking and Financial Regulation first offered. Construction begins on new building for Economics, Law and master's degree programs.
2011: Master's Degree in Personnel Management for Organizations first offered.

25th anniversary

: Presentation of the Volkswagen Navarra S.A. Chair of Business Administration - University of Navarra.
Contact: Campus Universitario 31009 Pamplona Spain +34 948 42 56 00 sececonom@unav.es