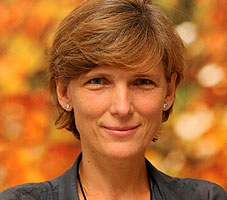 María Iraburu
Vice President of Faculty Affairs. University of Navarra
CASE STUDY
Faculty, key to the excellence of the University
María Iraburu Elizalde studied Biological Sciences at the University of Navarra. She defended her doctoral dissertation in the Department of Biochemistry and Molecular Biology in 1992 and from 1993 to 1996 completed a post-doctoral stay at the Liver Research Center at Albert Einstein College of Medicine in New York.
Since 1996, when she returned to the University of Navarra, her research has centered on the study of the molecular mechanisms involved in hepatic physiopathology and, specifically, on the regulation of fibrosis.
She has been the Principal Investigator on four projects subsidized by the Regional Government of Navarre and the Spanish Ministry of Health and Consumer Affairs, and has directed seven doctoral dissertations to date. In 2007, she became a Professor of Biochemistry and Molecular Biology. Along with her research activity, she has taught in the School of Medicine and the School of Sciences, and has also been Associate Dean of both. In 2005 she was named Vice President of Students.