Machine and Vehicles Group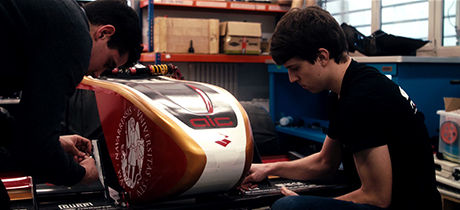 The Division of Machine and Vehicle Engineering seeks education and knowledge in fields connected to the dynamic behavior and mechanical design of machines and vehicles, more specifically automotive and railway vehicles (in the latter case in collaboration with CEIT).
The research in machines is mainly focused on the mechanical design, testing, FEM calculation and dynamic behavior of the system, including vibration transmission and insulation.
Regarding vehicles, models of vehicle and infrastructure (road or rails/tracks) are also considered, together with research of different components (tires, suspension elements, chassis, etc.) either by performing experimental tests or by simulating their behavior. Furthermore, electrification of vehicles and control of driving are fields in which research is being pushed.
In deeper detail, the researched conducted by the group is focused on:
Characterization and modelling of suspension elements in machines and vehicles: rubber elements, air springs, dampers, springs (FEM models, mechanical models, analytical models and fluid-structure interaction).

Ageing and fatigue of suspension elements. Failure modes.

Use of "smart materials" in suspension elements and their manufacture.

Tire thermal modelling and wear characterization.

Multibody vehicle modelling and dynamic simulations, either in automotive vehicles (ISO manoeuvres and closed loop using driver model) or in railway vehicles (contact forces, comfort, etc).

Road modelling (IPG CarMaker & Unity for implementation in CRUDEN platform).

Vehicle electrification. Electric powertrain design (energy calculation, power, packaging, cooling).

Test bench for electric power train (battery, inverter, motor control).

Evaluation using Software in the Loop (SiL), Hardware in the Loop (HiL), Driver in the Loop (DiL) and vehicle on track.

Active chassis control systems: torque vectoring, traction control, stability control, drift control.