Mariona González: "In Spain, Only Two in Ten People Do Volunteer Work"
The School of Economics and Business Administration's Marketing and Sales Club welcomes Intermón Oxfam's chief strategist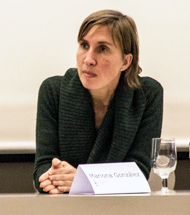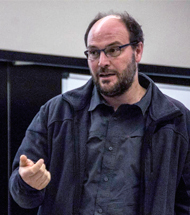 The School of Economics and Business Administration's Marketing and Sales Club recently invited Mariona González, head of strategic alliances at Intermón Oxfam, to give a talk on marketing for non-governmental organizations (NGOs). Enrique Abad, Intermón Oxfam's regional representative, was also in attendance and gave students several examples of Intermón Oxfam's communication strategy.
Oxfam is a confederation of 17 NGOs, including Intermón Oxfam, which is present in over 90 countries. It relies on the support of over a quarter of a million activists and 210,000 donors. The average donor gives for a period of nine years. "Donors need to be motivated to help. Having a personal cause is very important," González said.
The NGO's marketing department in Barcelona employs forty people with different responsibilities. González said, "These responsibilities include fundraising, which is necessary to keep the NGO running smoothly." She also shared a disheartening figure. "In Spain, only two in ten people do volunteer work. We've still got a long way to go with the Spanish market."
González highlighted the importance of "taking care of" everyone involved: not just those who contribute with their wallets, but those who volunteer their time. "Among other reasons, most people collaborate because of their proximity to the problem or out of empathy because they've had a similar experience," she said.
Marketing at Intermón Oxfam
Intermón Oxfam built its marketing plan around clear priorities in order to pursue qualitative and quantitative goals. The biggest challenges that NGOs face are attracting collaborators and earning their loyalty. "It's essential that you always close with a clear call to action," González said, "so that people know what to do."
Intermón Oxfam's actions to attract collaborators include street fundraising (one of their most effective methods), phone and email campaigns, content marketing, celebrity representatives, Google AdWords, TV spots and the use of Change.org "to influence public opinion through signatures, like we did with the refugee crisis." The NGO also works to forge strategic alliances in the business world.