Group Work Rooms
Equipment:
13 rooms, each of which is equipped with:
1 table with chairs (rooms 1-7: 8 chairs; rooms 8-11: 4 chairs; rooms 12-13: 6 chairs).

Board.

1 PC (Office and Internet).

Wi-Fi.
​Hours: Monday through Saturday: 08:00-21:00. Sunday: 10:00-14:00.
Location: Science Library Building (South Entrance)
Equipment:
4 rooms (1st, 2nd, 4th and 5th floors), each of which is equipped with:
1 table with 6 chairs

Wi-Fi wireless network.

Electrical network connection

1 blackboard
​
1 rooms (3rd floor), which is equipped with:
1 table with 5 chairs

Wi-Fi wireless network.

Electrical network connection

1 computer

1 WebCam
​Hours: Monday through Friday: 08:00-21:00.
Location: 1st, - 5th floors (Humanities - Research library)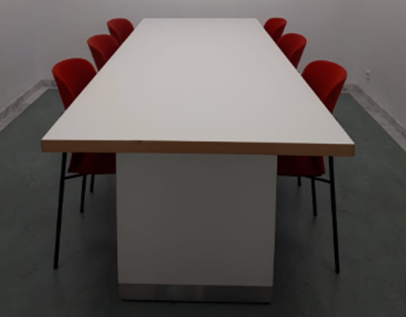 Reserva escáner
La biblioteca de humanidades dispone de una máquina para escanear materiales impresos y microformas en la planta baja, y otra máquina para escanear materiales impresos en la segunda planta.
La biblioteca de ciencias dispone en la zona de Investigación, de un escáner que permite la digitalización de material impreso. La impresora Océ 2045 Ciencias 3, también dispone de función escáner.
Realice la reserva del escáner para asegurar con antelación su disponibilidad.
Escáner de materiales impresos

Escanea a PDF, TIFF y JPG

Resolución máxima de escaneo: 600 dpi

Alimentador manual y automático para hojas sueltas DIN A-4

Blanco y Negro / Color

Envía los documentos a correo-e y al PC de la Mediateca

No tiene OCR incorporado
Microfiche scanner

Scans microfiches and microfilms from 16 to 35 millimeters.

Scans into .pdf and .jpg formats.

Black and white.

Manual screen-to-screen scanning.

Does not have built-in OCR character reader.
Scanner use rules

Scanners can be reserved for 30-minute periods up to seven days in advance, for a maximum of two hours a day.

Only one scanner can be reserved at a time.

If you make a reservation but will not need to scan, or if you finish using the scanner earlier than expected, you must cancel your reservation so that others may use it.

Scanner reservations are cancelled if not used within 15 minutes of the scheduled time. If you fail to arrive at the appointed time, you will be penalized and the scanner will be made available.

Whoever makes the reservation is responsible for proper use of the scanner. If the scanner is damaged, please speak to the Newspaper / Media Room staff before scanning.

Leaving the scanner with study materials for a period longer than 15 minutes is cause for disciplinary action.

The library reserves the right to cancel a reservation or impose temporary disciplinary action against anyone who impedes efficient use of the equipment.

The initial disciplinary action will consist of loss of scanner privileges for a period of three months. Repeat offenders will lose scanner privileges for one year.

In the event that materials are damaged, whoever makes the reservation will bear the cost of repairs.