Lending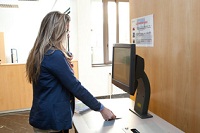 You can borrow all items in the Recommended Bibliography Collection and the Research Collection, except where otherwise indicated (with an "EXCLUIDO DE PRESTAMO" label).
In general, journals, dictionaries, encyclopedias and works of special value are not lent out.
Items may be checked out at the loan counter or at the self-checkout machine.
If you wish to borrow items located in the Science Storage Library, you must first request them through the catalogue, , pick them up at the information and loan counter and check them out at that time.
See borrowing conditions (number of items and days).
Contact: University of Navarre. Science Library Building (South Entrance). 31009 Pamplona Spain +34 948 42 56 00 (Ext. 80 6229) prestamocien@unav.es