New Additions
Features of the New Additions section: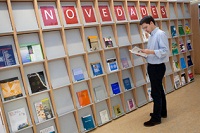 The purpose of this section is to display books and journals recently added to the Science Library.

New additions are put out on Tuesdays and remain for a week before being placed on the shelf.

The items on display should be viewed at the New Additions section itself. If you want to take them to tables or borrow them, you must wait for them to be placed in the location corresponding to their call number.

The section is located behind the research support desk.
Contact: University of Navarre. Science Library Building (South Entrance). 31009 Pamplona Spain +34 948 42 56 00 (Ext. 80 6229) prestamocien@unav.es