To take books out of the Library you must use the self-checkout machine located in the Copy Room.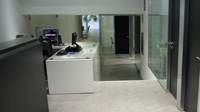 Books should be returned at the counter at the entrance to the building before or on their due date.
How many materials can I take out, and how long can I keep them?
User type

Total number of loans

Number of materials

Number of days per book

Number of renewals*

Master's Degree students, faculty staff and employers

5

5 books

DER - 2 days
E & E - 7 days
FAR - 7 days
ING - 7 days

Without renewal

GRAL
COM
MOD

Return the Friday following checkout

LEA

30 days

1
* Holidays, Saturdays and Sundays are not counted and are never set as the return date