Conoce_organizacion_representacion-estudiantil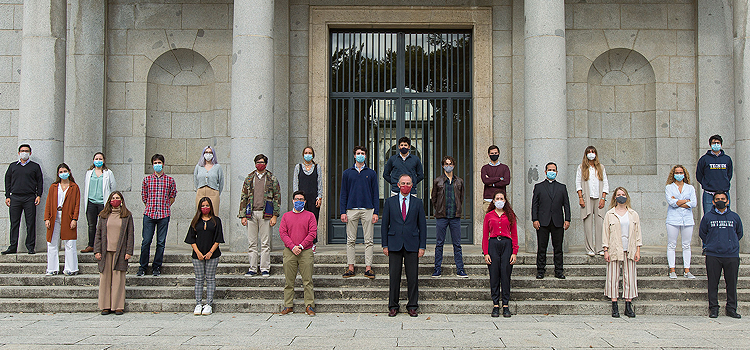 Conoce_organizacion_representacion-estudiantil-texto
The Student Council is made up of student representatives and assistant student representatives from the University's different Schools. It meets every two months (except during examination periods) to decide on the objectives set at the start of the academic year, and on suggestions submitted by students. Once the proposals have been assessed, it seeks a solution through the Office of the Vice President of Students.
The Student Council also forms part of the University of Navarra Board of Governors, where the students' interests are heard and addressed. The Board of Governors comprises the President, who presides over it, the Vice Presidents, the Deans or Directors of the Centers, the Administrator, the Bursar, two student representatives, and the General Secretary, who acts as secretary of the Board.
Its mission is:
To implement the objectives set at the start of the academic year.

To listen to queries, complaints and suggestions.

To investigate the matters that interest and concern students most.

To promote or channel socio-cultural project initiatives among students.

To represent all students in the University Board of Governors.

To organize activities for the entire University

To inform, help and collaborate with all students.
Conoce_organizacion_representacion-estudiantil-delegados
Student Representatives

Student representative of the University: María Vasilj
Assistant student representative: Alejandro Gállego Raffelsieper
Student Representatives for the Schools
Student representative: José Andrés Paredes Dueñas
Assistant student representative: Isabel Arango de Bedout
Student representative: Guillermo Valeiras Miranda
Assistant student representative: Adrián Díaz Méndez

Student representative: Rodrígo Gimeno Gil
Assistant student representative: Ana Sofía Alas García

Law
Student representative: Isabel González-Ripa León
Assistant student representative: Álvaro de Lecea Larrañaga

Canon Law
Student representative: Rogelio Rivero
Assistant student representative: José Armando Castro

Ecclesiastical Philosophy
Student representative: David Hernán Samudio Torres
Assistant student representative: Jesús Alejandro Hernández López

Economics
Student representative: Alejandro Gállego Raffelsieper
Assistant student representative: César Ibañez García

Education and Psycology
Student representative: Carmen Bueno López
Assistant student representative: Jordi Francesch Oliva

Nursing
Student representative: Lucía Alejandre Bacaicoa
Assistant student representative: Almudena Canales Bilbao

Pharmacy
Student representative: Alicia Fernández Domper
Assistant student representative: María Vasilj

Humanities and Social Sciences
Student representative: Leire Santos Vidal
Assistant student representative: Jairo Císcar Ruiz

Engineering (Tecnun)
Student representative: Iker Martínez-Jorcano Echeburua
Assistant student representative: Juan Víctor Villegas Villaroel
Assistant student representative: Camila Herrera Cunillera

ISSA
Student representative: Arancha Pascualena Zozaya
Assistant student representative: Marisol Garre García

Medicine
Student representative: Josu Carte García
Assistant student representative: Lara García Fernández

Theology
Student representative: Hazell Renato Hernández Martínez
Assistant student representative: Erick Fernando Alvarado