"Palliative care improves patient quality of life, increases survival rates and saves on healthcare costs"
Experts argue in support of the science and values of palliative care at an event organized by the University of Navarra in advance of the vote on the new euthanasia law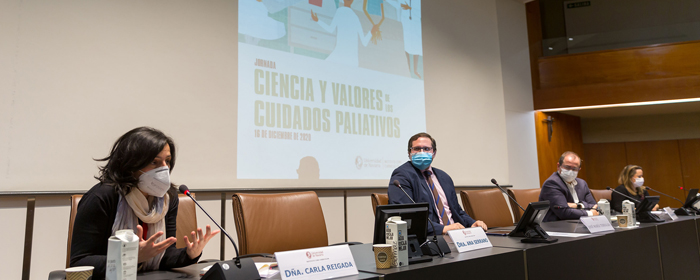 From left to right: Carla Reigada, José María Torralba, Carlos Centeno y Marina Martínez, speakers in the event.
FOTO: Manuel Castells
"Contrary to the myth, palliative care is not about administering morphine to a patient until the end." Dr. Ana Serrano, a palliative care physician at the Clínica Universidad de Navarra, worked through the main myths surrounding palliative care as a treatment for the dying, for end-of-life patient treatment only. In reality, it is part of comprehensive patient treatment, "where all healthcare professionals have a role to play, and which may be offered, if the patient prefers, in the home".
Serrano joined other experts at an event organized by the Core Curriculum Institute of the University of Navarra entitled "Science and the values of palliative care". The session took place the day before the national parliament in Spain was to vote on a new law permitting euthanasia.
Dr. Carlos Centeno, Director of Palliative Medicine at the Clínica Universidad de Navarra and a member of the Atlantes research group in the Institute for Culture and Society, reminded participants that over 20 clinical trials have shown that palliative care improves patient quality of life, reduces levels of anxiety and depression, improving patient state of mind – in addition to making savings in healthcare costs. "Palliative medicine is not only focused on the treatment of the illness but also offers comprehensive care, including for the family," he said.
In this regard, Marina Martínez, a clinical psychologist working in the field of palliative care, explained that, "almost everyone knows somebody who is in this kind of situation, and we may think that our way of being disturbs them. However, we should step up to accompany them, in an authentic spirit of closeness and respect".
Lack of debate
Dr. Centeno addressed the idea of euthanasia by appealing for understanding for patients and their family members who ask for help in dying. At the same time, he explains that "when you listen to them openly, what they are asking for is ongoing medical care, effective pain relief, and the alleviation of fear, anguish and prolonged suffering – all of which we can help them with". Dr. Centeno also drew attention to the lack of debate in relation to the vote on the euthanasia law, which has been dealt with summarily and without input from experts in the field, such as the National Bioethics Committee.
Over 500 people participated in the event, which concluded with a round table session analyzing the contribution of palliative care to society, where Carla Reigada, a social worker and member of the ICS Atlantes research group, and José María Torralba, Director of the Core Curriculum Institute, emphasized how human dignity is reflected in a special way through the act of caring for other people: "The problem is the prevalent utilitarian mindset, which sees caring for people as a waste of time, because life is measured in terms of performance and material success. Our society needs to recover the awareness that we are beings with weaknesses, who need the care of others."