International Foundation Program
Why do the IFP?
You will have an academic advisor who will help you choose the subjects and modules that meet your needs. You will receive this help throughout the whole program and the advisor will help you adapt to our university system and make the most of your experience on the program.

As an IFP student, you will study and live with undergraduates and you will form part of our student community. You will benefit from all our cultural, sports, social and volunteer activities, etc.

Our academic standard is high and every year we feature at the top of global rankings. Our academic staff is committed to ongoing innovation in teaching and research.

More than 20% of the students at the University of Navarra come from abroad, so we have a lot of experience as hosts. We are sure that you will feel at home.

The credits for some of the subjects studied in the IFP can be transferred to your degree or bachelor studies, if you decide to continue at the University of Navarra.

The second semester program (January-May), 30 ECTS, is designed to accommodate students from countries with an austral calendar.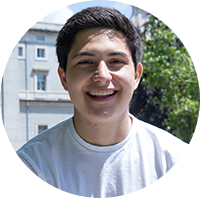 Rodrigo Zibara- Ciudad de Guatemala, Guatemala. (IFP Segundo Semestre 2018, Grado ADE 2018-2022)
Acabo de finalizar el International Foundation Program (2do semestre). El IFP ha sido el programa ideal para un joven que acaba de terminar su bachillerato y no tiene muy claro que grado estudiar. A lo largo de este semestre me ha ayudado mucho ya que, tenía muchas dudas si estudiar Marketing o Administración de Empresas, por lo tanto, tome dos asignaturas de marketing y dos de administración para saber cuál me gustaba más. Al terminar el semestre me di cuenta que La Administración es lo mío, por lo tanto en Septiembre empezaré el grado de Administración y Dirección de Empresas BIlingüe. Al mismo tiempo este programa te ayuda a darte cuenta si de verdad es lo tuyo estudiar fuera de tu país y lejos de tu familia (si eres alumno internacional) y a decidir al 100% que grado cursar. Recomiendo mucho este programa para las personas que tienen duda en saber si estudiar en su país o no, y también si no están seguros de que grado cursar.