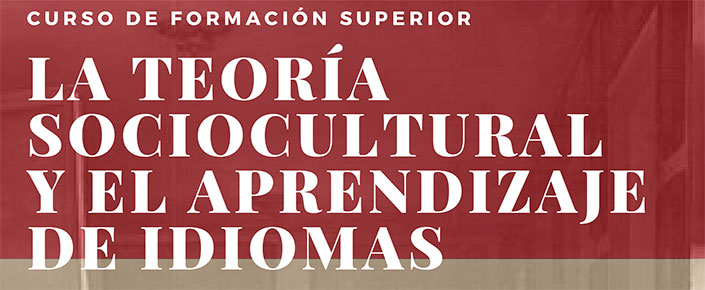 Este curso se centra en entender los principios básicos de la Psicología Sociocultural y sus implicaciones para la práctica pedagógica en la clase de segundas lenguas. Además de presentar la Teoría Sociocultural de la mente humana, el aprendizaje y el desarrollo, inspirada en la obra de Vygotsky (1978, 1986), se revisarán estudios socioculturales dentro del campo de la Lingüística Aplicada y en concreto estudiaremos la utilización de una Pedagogía Conceptual (Concept-Based Language Instruction) en el aula de ELE.
Profesores:
Dr. James P. Lantolf,
Center for Advanced Language
Proficiency Education and Research
The Pennsylvania State University.

Ph.D. The Pennsylvania State University

Dr. Eduardo Negueruela,
Director del Instituto de Lengua y
Cultura Españolas (ILCE)
Universidad de Navarra.

Ph.D. The Pennsylvania State University
Programa

- Introducción al enfoque Sociocultural: mediación, aprendizaje, desarrollo, y conceptos como herramientas de la mente.

- La Teoría Sociocultural en relación a la enseñanza y adquisición de segundas lenguas.

- Zona de Desarrollo Potencial (ZPD).

- Discurso privado.

- Imitación y repetición.

- Motivación.

- Aprendizaje como juego.

- Pedagogía sociocultural: el enfoque conceptual
Lugar

Aula 510 Edificio Ismael Sánchez Bella

Universidad de Navarra - Campus Pamplona
Duración y horario

La duración del curso es de 25 horas (incluido el trabajo autónomo).

Las sesiones tendrán lugar del 17 al 19 de diciembre, de 9.30 a 13.30. Por la tarde los participantes podrán preparar las lecturas y aprovechar para reunirse con los profesores u otros compañeros.
Precio

- Inscripción general: 415€
- Descuento Alumni: 15%
- Entrada gratuita para alumnos de grado con nota media igual o superior a 7 (la comida se deberá abonar en la cafetería).

Incluye sesiones, materiales, pausas-café, comidas, certificado de asistencia y posibilidad de reunión con los profesores después de clase.

Plazas limitadas.
Inscripción

La inscripción debe realizarse mediante el siguiente formulario web.

El pago de las tasas ha de realizarse antes del 20 de noviembre mediante ingreso en cuenta o transferencia bancaria conforme a los siguientes datos:

Ordenante: Nombre y apellidos de quien se matricula
Beneficiario: Universidad de Navarra
Concepto: Curso ELE 118004
IBAN: ES18 0049 1821 00 2010571564
BIC/SWIFT: BSCHESMM
Dirección postal de la oficina bancaria, en caso de ser solicitada por el banco emisor: Banco Santander. Oficina Principal. Plaza del Castillo, 21. E-31001 Pamplona. España

Debe enviarse una copia del justificante de la transferencia a Dña Aurora Peñarroya (apenarroya@unav.es), especificando en el título del mensaje: "Inscripción curso ELE".