1. Estudio de Coste y Becas
Te ofrecemos asesoramiento financiero a medida acercándote las posibilidades que harán que nada te impida seguir creciendo. Solicitando el Estudio de Coste y Becas te ayudaremos a conseguir las mejores opciones de becas y financiación disponibles para ti. El resultado del Estudio de Coste y Becas es vinculante. Para realizarlo debes tener una cuenta en miUNAV con al menos una solicitud de admisión
See information below on all the discounts available to you
Plan de Incentivación
Es un sistema de tarificación especial al que pueden optar alumnos con condiciones adecuadas e interés, que tienen dificultades económicas para realizar estudios en la Universidad de Navarra.
1.Estar admitido en uno de los programas de master oficiales que se impartirán en la Universidad de Navarra en el año académico 2021-2022.
2.Que la renta familiar per cápita del ejercicio 2019 sea inferior a 20.000 euros (25.000 euros en algunos casos).
3.Haber obtenido una nota media superior a 7 en los estudios de Grado que le dan acceso al máster, con excepción de algunos programas para los que no existe este requisito.
4.Confirmada la participación en el Plan de Incentivación, al alumno se le indicará el importe de la matrícula total del Programa Máster.
5.Todos los créditos matriculados en primera y segunda convocatoria serán abonados con la tarifa asignada al alumno, actualizada con arreglo a un porcentaje que determine la Universidad próximo al IPC en el segundo curso.
6.Las asignaturas que tengan como calificación «suspenso», «no presentado» o «renuncia de convocatoria» se consideran no superadas. En los créditos repetidos NO se aplica el Plan de Incentivación. Esas asignaturas no superadas se abonarán al importe ordinario correspondiente, al igual que el resto de alumnos.
7.El importe incentivado de la matrícula únicamente podrá ser bonificado mediante el descuento Alumni.
8.El Plan de Incentivación no es acumulable a ninguna bonificación, siendo la única excepción la mencionada en el punto anterior. En caso de que se pudiera aplicar alguna bonificación, ésta siempre será la más beneficiosa para el alumno.
9.El Plan de Incentivación es compatible con la Beca Santander Máster Universidad de Navarra y las becas públicas.
Aquellas personas que estén interesadas en participar en el Plan de Incentivación deberán solicitar el Estudio de Coste y Becas en el Portal miUNAV, acompañado de la Solicitud de Admisión.
Las resoluciones del Estudio de Coste y Becas, que darán acceso al Plan de Incentivación, se acomodarán a los plazos previstos para la publicación de las admisiones.
Si desea más información puede ponerse en contacto con la Oficina de Financiación de los Estudios del Servicio de Admisión a través de email (becas@unav.es) o por teléfono (+34 948 42 56 14).
Discounts for large families
The University aims to reward the commitment and loyalty of large families investing in the education and future of their children.
The discounts available are based on the number of children enrolled during the same academic year in the University and the relative position of each in the family.
Consult the discount database
Former students of the University of Navarra
The discount in the cost of tuition is a reduction of 12% of the cost of the standard tuition fee*.
This discount cannot be added to any other from the University, scholarships from public bodies, scholarships from the Santander Group or scholarships or financial aid that is provided by some programs, except where otherwise stipulated.
(*) Programs at IESE Business School do not include this discount.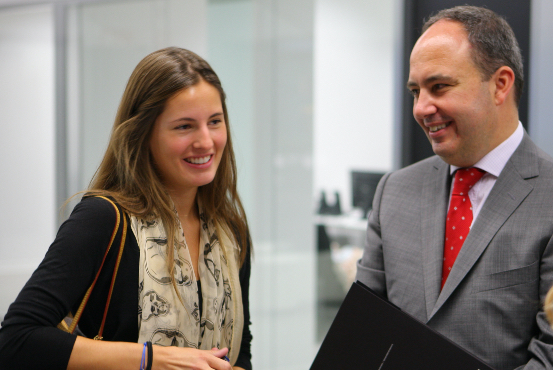 Otras ayudas disponibles
Existen otras ayudas disponibles para los solicitantes de máster. Becas propias,públicas y de otras entidades y financiadores que te ayudarán a que cursar tus estudios sea posible. En la Universidad, a través del Estudio de Coste y Becas te asesoraremos sobre las becas que más se ajustan a tu perfil tratando de conseguir las mejores opciones disponibles.
Consulta las becas y ayudas disponibles