marianoaArtigas_leccion 2019
Lección 2019: Fighting against religion in the name of science. Has the battle been won?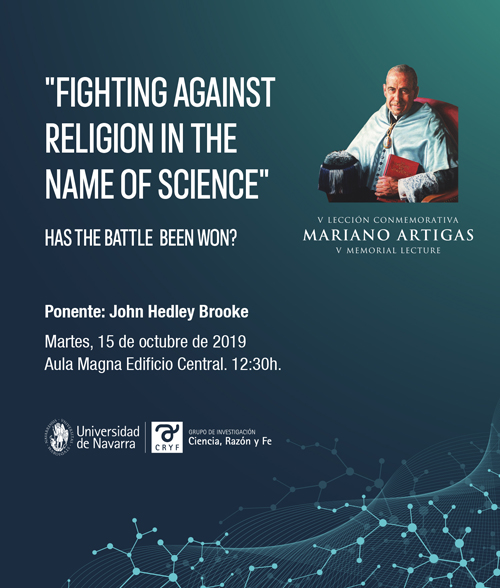 Entrevista en Diario de Navarra
Vídeo completo con presentación
Texto completo
Resumen
Tengo la intención de abordar tres cuestiones que fueron de particular interés para el profesor Artigas: el grado en que existe un conflicto inherente entre la fe religiosa y los métodos de la ciencia; la importancia relativa de la ciencia en los procesos de secularización; y la complejidad de las interrelaciones entre el pensamiento cientÌfico y las creencias religiosas. Después de recurrir a ejemplos históricos para ilustrar diferentes razones de la complejidad, concluiré con una breve discusión de tres temas cientÌficos de interés contemporáneo: el calentamiento global, la perspectiva de vida extraterrestre y los avances en el desarrollo de la inteligencia artificial.
En cada caso, sugeriré que la llamada a una consulta pública más amplia para abordar los problemas éticos asociados brinda una oportunidad para que los líderes religiosos capitalicen los recursos de sus respectivas tradiciones de fe.
It is a great honour to give the fifth Mariano Artigas Memorial Lecture. I came to know Mariano personally when we were both involved in a project sponsored by the European Science Foundation. The aim was to explore the role of religious values in the rise of European science. During that project, Mariano won my great respect as a deeply compassionate man as well as an energetic and rigorous scholar. I learnt of the exciting discoveries he had made in the archives of the Holy Office, following their release in 1998. These threw new light on the background to the trial of Galileo in 1633 (Artigas, Martinez, and Shea 2005; Shea and Artigas 2006: 165-180) and on the way in which the Catholic Church later negotiated Darwin's controversial science of evolution. Partly because of the long shadow of the Galileo affair, the Church was careful to avoid an official condemnation of Darwin's theory. The archives nevertheless revealed more subtle ways in which it had censored Catholic biologists known to favour the science of evolution (Artigas, Glick, and Martinez 2006).
In the English-speaking world, Mariano's legacy is perhaps best enshrined in his book The Mind of the Universe (Artigas 2000). In this he attacked the view that there is an inherent, inevitable conflict between science and religion. He was deeply critical of those who deny the reality of anything that cannot be studied using the methods of empirical science (Artigas 2000: 303). He was also convinced that scientific progress was not the main reason for the secularisation of Western societies (Artigas 2000: 300-305). This is a view that I share with him (Brooke 2010). When Mariano discussed the "disenchantment" of nature, he recognised that its causes were "anything but simple and trivial" (Artigas 2000: 303). A critic of Max Weber, he did not believe that scientific progress has removed all indication of divine activity from the world (Artigas 2000: 300-301). His personal faith found expression in the belief that the language of purpose and direction should not be removed from discourse about nature. One of his main objectives was to show that "the existence of teleology is supported by a great variety of phenomena that belong to quite different fields" (Artigas 2000: 322).
Although we all find complexity stressful, it cannot be avoided when discussing the relations between scientific thought and religious belief. Mariano was complimented in the journal Contemporary Physics on having provided a "sure guide to their complexities." Because I, too, have been credited with a complexity thesis (Numbers 1992; Brooke 2009; Lightman 2019), I would like to make secularisation and complexity the two main themes of this lecture. I have taken my title from a passage in The Mind of the Universe where Mariano made two striking observations. These were that "fighting against religion in the name of science is as old as human history", and secondly that "in every epoch, naturalism presents itself as if it were the result of human progress" (Artigas 2000: 301). These observations were directed against the enemies of religion who like to use military language when proclaiming that it has been, or will be, defeated by science. I shall therefore begin by asking what is wrong with that formulation. I shall then introduce some of the reasons why I reject the view that science has been the main cause of secularisation. I would also like to explain why historians of science have been drawn to the discussion of complexity. With that in mind, I conclude with a brief reference to three contemporary issues in which scientific and theological interests have been inter-related: climate change, the prospect of intelligent life elsewhere in the universe, and advances in artificial intelligence. In each case, the pressing concerns raised for humankind are such that a combination of scientific and religious resources may be more propitious for their resolution than an approach simply premised on the defeat of religion by science.
marianoArtigas_leccion2019_desplegable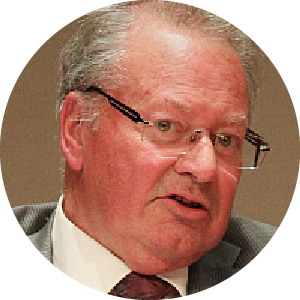 John Hedley Brooke
Profesor de Historia de la Ciencia en la Universidad de Lancaster, y miembro de la Academia Internacional de Historia de la Ciencia desde 1993. Profesor Andreas Idreos de Ciencia y Religión en la Universidad de Oxford, Director del Centro Ian Ramsey​ y miembro del Harris Manchester College.
Más información
Fecha y hora: Martes, 15 de octubre de 2019, a las 12.30 h.
Lugar: Aula Magna. Edificio Central. Universidad de Navarra. Pamplona
marianoArtigas_2019_btn_esp