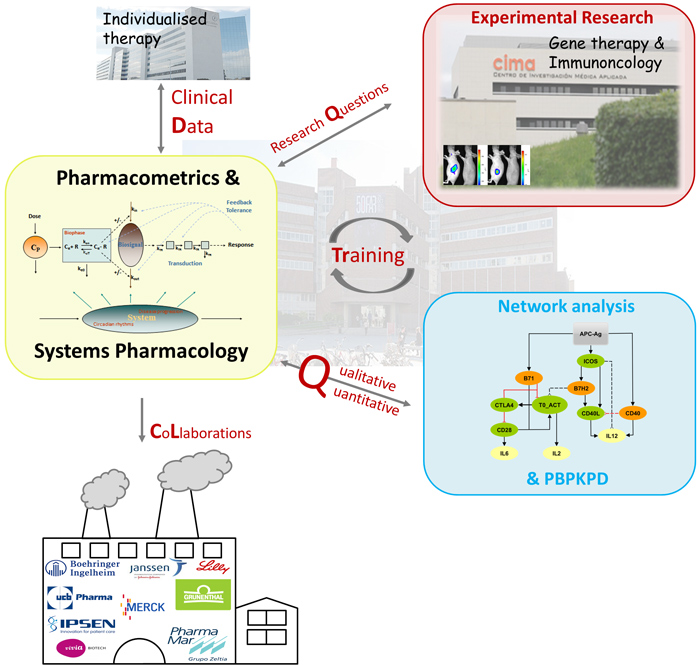 The Pharmacometrics & Systems Pharmacology (P&SP) group is integrated by a number of professionals with different backgrounds and research interests. We are part of the Pharmacy and Pharmaceutical Technology Department of the School of Pharmacy and Nutrition at the University of Navarra (Spain).
Our objective is to carry out basic and applied research in the field of P&SP integrating experimental and in silico approaches to inform drug development and therapeutic use while training the next generation of young quantitative pharmacologists.
Several computer tools such as NONMEM®, Monolix, Simbiology or R among other, together with state-of-the-art experimental approaches are applied in our daily work.
organigrama-pharmaceuticals
Faculty members
Iñaki F. Trocóniz
PhD
Professor
M.J. Garrido
PhD
Associate Professor
Postdoctoral researchers
Zinnia P. Parra-Guillén
PhD
Postdoctoral researcher
Natalia Riva
PhD
Postdoctoral researcher
Sara Zalba Oteiza
PhD
Postdoctoral researcher
PhD Students
desplegable-former-members
Former members
→ Álvaro Janda Galán, PhD
→ Belén P.Solans, PhD
→ Eduardo Asín-Prieto, PhD
→ Jacqueline Hanna, PhD
→ Martín Pastor Gutiérrez, PhD
→ Nieves Vélez de Mendizábal, PhD
→ José David Gómez-Mantilla, PhD
→ Víctor Mangas-San Juan, PhD
→ A.M.Contreras, PhD
→ Arianna Madrid Aispuru, PhD
→ Balbas-Martinez, Violeta, PhD
→ Belén P. Solans, PhD
→ Carlos Orlando Jacobo, PhD
→ Diego Vera Yunca, PhD
→ Elba Romero, PhD
→ Elena Soto Rodríguez, PhD
→ Itziar Irurzun-Arana, PhD
→ Lorea Bueno Burgos, PhD
→ María García-Cremades, PhD
→ María Matoses Osborne, PhD
→ M.Leire Ruiz-Cerdá, PhD
→ Nicolás Marco Ariño, PhD
→ Nuria Buil-Bruna, PhD
→ María Merino, PhD
→ Sara Zalba Oteiza, PhD (current member)
→ Zinnia P. Parra-Guillen, PhD (current member)