26/09/23
The study entitled "Pharmacodynamics of rituximab and its biosimilars on CD19+ B lymphocytes in paediatric patients with complex diseases" was orally presented by our colleague Natalia Riva at the 21st International Congress of Therapeutic Drug Monitoring & Clinical Toxicology (IATDMCT 2023), in Oslo, Norway.

03/07/23
Our group attended to the PAGE (Population Approach Group in Europe) meeting 2023 held in A Coruña (Spain) from 27th June to 30th June and presented different posters covering our latest research projects in Pharmacometrics and Systems Pharmacology area and two oral talks.
ORAL TALK
"Modeling the dynamics of anti-drug antibodies in cancer patients treated with oncolytic virus in monotherapy or in combination with immune check- point inhibitors" was presented by Iñaki F. Trocóniz

"Expanding a quantitative systems pharmacology (QSP) modeling framework for acute Hepatitis B to characterize chronic infection", the result of a scientific collaboration between Janssen and the University of Navarra, was presented by Natalia Riva
POSTER SESSION
"A mechanistic PK/PD model to predict cytokine release and tumor cell killing associated to T-cell bispecific therapies" was presented by Apolline Lefevre

"Mechanistic characterization of oscillatory patterns in unperturbed tumor growth dynamics: the interplay between cancer cells and components of the tumor microenvironment" was presented by Aymara Sancho

"Application of an immune-oncology framework to explore the role of regulatory T cells in antitumor response" was presented by Alejandro Serrano

"A physiologically-based pharmacokinetic model for V937, a novel oncolytic virus, in mice" was presented by Sara Peribáñez.

"Semi-mechanistic model of the Haemodynamic effects of propofol and remifentanil administered in combination to patients undergoing general anaesthesia" was presented by Maite Garraza.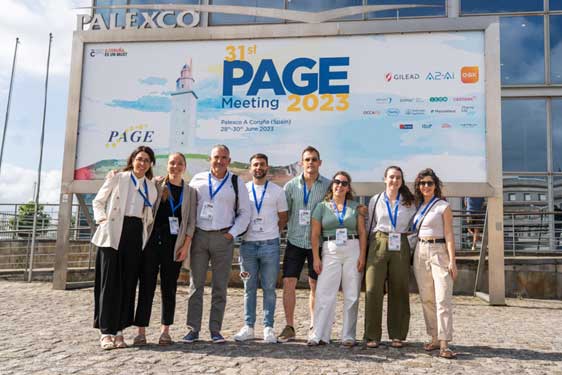 06/06/23
Our PhD student Sara Peribáñez attended to the JEDE (Youth Scientific Congress on Design of Experiments and Data Science) meeting 2023 held in Pamplona (Spain) from 5th June to 7th June, organized by DATAI (Data Science and Artificial Intelligence Institute). She presented the oral talk: "A physiologically-based platform to predict organ exposure for colorectal cancer drugs in clinical settings".

02/06/23
Between 29th May and 1st June 2023 The Pharmacometrics and Systems Pharmacology group of the University of Navarra organized the sixth Summer Course on Quantitative Pharmacology.
There were participants from all over the globe, including Belgium, Germany, Brasil and Spain. The course covered an Introduction to Pharmacokinetics, Pharmacodynamics and Population Approach, How to build a model, and how to evaluate, validate and share it. Some complexities exploration has been covered too.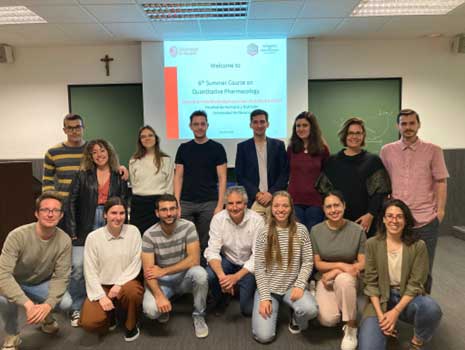 01/05/23
Our PhD student, Aymara Sancho Araiz, will be joining the Pharmacometrics team at Janssen Pharmaceutica in Beerse, Belgium, for a period of 3 months under the supervision of Dr. Juan José Pérez Ruixo. During this time, she will have the opportunity to advance her research in the modeling of oncolytic viruses. Additionally, she will be involved in evaluating the impact of the parameters precision estimates when performing exposure-response analysis.