All participants will have the chance to present their accepted abstracts. We're monitoring the evolution of the pandemic and will inform you in June as to whether the congress will take place in a blended mode (in person + online) or online only. If you're already organising your travel, we would advise you to book accommodation and transport that have a free cancellation option.
School of Communication, UNAV
The School of Communication of Universidad de Navarra has been a pioneer in offering Communication and Media Studies at the university level in Spain. Along with its undergraduate and graduate studies, it offers specializations and bilingual studies with exchange programmes with its close to 100 partners spread over the five continents. Today is Top 100 worldwide according to QS by Subject 2019.
The School offers undergraduate studies in Journalism, Marketing and Audiovisual Studies. And master programmes in Political and Corporate Communications, Corporate Reputation, and Media Companies Management.
Since the launching of its Degree in Journalism back in 1958, the mission of the School of Communication has been the pursuit of excellence in teaching and research and a constant commitment to serve people and society as a whole. The School counts on four research departments (Marketing and Media Companies, Public Communication, Journalism Projects, and Audiovisual Communication and Culture), a research journal (Communication & Society) and a Center for Internet Studies and Digital Life (@digitalunav). It is actually launching the first postdoctoral programme in Communication in Spain.
Travel_How_To_Get_To_Pamplona_Texto
How to get to Pamplona City Centre?
Two companies fly directly to Pamplona: Lufthansa from/via Frankfurt, and Iberia from/via Madrid.
Travel_How_To_Get_To_Pamplona_Texto_Aeropuerto
From Pamplona Airport:
To get to the Universidad de Navarra from the airport, we kindly suggest you to take a taxi. There are taxies available in front of the airport building. Since Pamplona Airport is fairly small you will easily see the taxis waiting in front of the arrivals gate. The cost of the taxi drive to the University of Navarra should be around 15€.
If you want a taxi service in Pamplona, we recommend calling the following phone numbers (+34) 948 221 212, (+34) 948 232 300 or (+34) 948 351 400. Taxis rarely stop in the street, it is necessary to go to a taxi stop or request one by phone.
Travel_How_To_Get_To_Pamplona_Texto_Tren
From Pamplona train station:
The train station (Renfe) is 2.5 kilometers from Old Town Pamplona. In the station there are taxi and bus stops (lines 7 and 9). For information on routes, timetables and prices, you must visit the Renfe website.
Travel_How_To_Get_To_Pamplona_Texto_Bus
From the University to the city center:
If you want to get to the city center by public transport, there is a bus stop (line 5) just 3 minutes walking from the Conference venue.
Travel_How_To_Get_To_Pamplona_Foto_Bus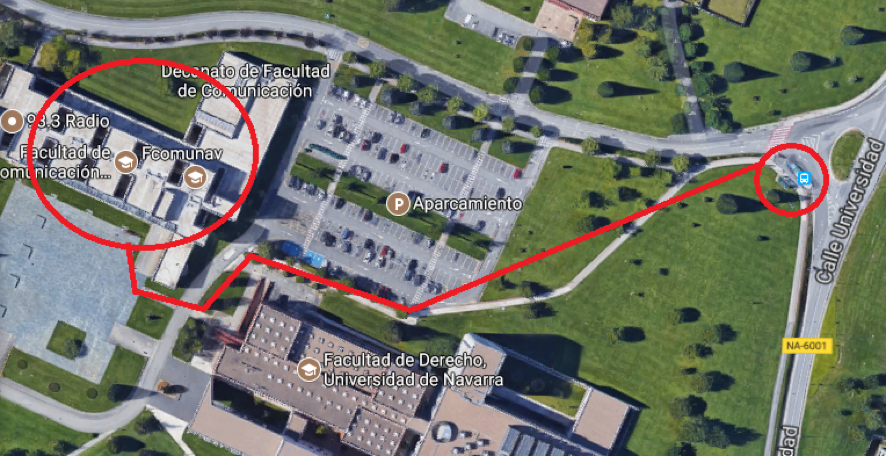 Accommodation
The accommodation plans are personal. Below, a list of nearby hotel suggestions:
Travel_Hoteles_Desplegable
Travel_Hoteles_Desplegable_Casco_Antiguo
Hotels in the Old Downtown