Entradas con etiqueta

saudi arabia

.

▲ Protest in London in October 2018 after the disappearance of Jamal Khashoggi [John Lubbock, Wikimedia Commons]
ANALYSIS / Naomi Moreno Cosgrove
October 2nd last year was the last time Jamal Khashoggi—a well-known journalist and critic of the Saudi government—was seen alive. The Saudi writer, United States resident and Washington Post columnist, had entered the Saudi consulate in the Turkish city of Istanbul with the aim of obtaining documentation that would certify he had divorced his previous wife, so he could remarry; but never left.
After weeks of divulging bits of information, the Turkish president, Recep Tayyip Erdogan, laid out his first detailed account of the killing of the dissident journalist inside the Saudi Consulate. Eighteen days after Khashoggi disappeared, the Kingdom of Saudi Arabia (KSA) acknowledged that the 59-year-old writer had died after his disappearance, revealing in their investigation findings that Jamal Khashoggi died after an apparent "fist-fight" inside the Saudi consulate in Istanbul; but findings were not reliable. Resultantly, the acknowledgement by the KSA of the killing in its own consulate seemed to pose more questions than answers.
Eventually, after weeks of repeated denials that it had anything to do with his disappearance, the contradictory scenes, which were the latest twists in the "fast-moving saga", forced the kingdom to eventually acknowledge that indeed it was Saudi officials who were behind the gruesome murder thus damaging the image of the kingdom and its 33-year-old crown prince Mohammed bin Salman (MBS). What had happened was that the culmination of these events, including more than a dozen Saudi officials who reportedly flew into Istanbul and entered the consulate just before Khashoggi was there, left many sceptics wondering how it was possible for MBS to not know. Hence, the world now casts doubt on the KSA's explanation over Khashoggi's death, especially when it comes to the shifting explanations and MBS' role in the conspiracy.
As follows, the aim of this study is to examine the backlash Saudi Arabia's alleged guilt has caused, in particular, regarding European state-of-affairs towards the Middle East country. To that end, I will analyse various actions taken by European countries which have engaged in the matter and the different modus operandi these have carried out in order to reject a bloodshed in which arms selling to the kingdom has become the key issue.
Since Khashoggi went missing and while Turkey promised it would expose the "naked truth" about what happened in the Saudi consulate, Western countries had been putting pressure on the KSA for it to provide facts about its ambiguous account on the journalist's death. In a joint statement released on Sunday 21st October 2018, the United Kingdom, France and Germany said: "There remains an urgent need for clarification of exactly what happened on 2nd October – beyond the hypotheses that have been raised so far in the Saudi investigation, which need to be backed by facts to be considered credible." What happened after the kingdom eventually revealed the truth behind the murder, was a rather different backlash. In fact, regarding post-truth reactions amongst European countries, rather divergent responses have occurred.
Terminating arms selling exports to the KSA had already been carried out by a number of countries since the kingdom launched airstrikes on Yemen in 2015; a conflict that has driven much of Yemen's population to be victims of an atrocious famine. The truth is that arms acquisition is crucial for the KSA, one of the world's biggest weapons importers which is heading a military coalition in order to fight a proxy war in which tens of thousands of people have died, causing a major humanitarian catastrophe. In this context, calls for more constraints have been growing particularly in Europe since the killing of the dissident journalist. These countries, which now demand transparent clarifications in contrast to the opacity in the kingdom's already-given explanations, are threatening the KSA with suspending military supply to the kingdom.
COUNTRIES THAT HAVE CEASED ARMS SELLING
Germany
Probably one of the best examples with regards to the ceasing of arms selling—after not been pleased with Saudi state of affairs—is Germany. Following the acknowledgement of what happened to Khashoggi, German Chancellor Angela Merkel declared in a statement that she condemned his death with total sharpness, thus calling for transparency in the context of the situation, and stating that her government halted previously approved arms exports thus leaving open what would happen with those already authorised contracts, and that it wouldn't approve any new weapons exports to the KSA: "I agree with all those who say that the, albeit already limited, arms export can't take place in the current circumstances," she said at a news conference.
So far this year, the KSA was the second largest customer in the German defence industry just after Algeria, as until September last year, the German federal government allocated export licenses of arms exports to the kingdom worth 416.4 million euros. Respectively, according to German Foreign Affair Minister, Heiko Maas, Germany was the fourth largest exporter of weapons to the KSA.
This is not the first time the German government has made such a vow. A clause exists in the coalition agreement signed by Germany's governing parties earlier in 2018 which stated that no weapons exports may be approved to any country "directly" involved in the Yemeni conflict in response to the kingdom's countless airstrikes carried out against Iranian-backed Houthi rebels in the area for several years. Yet, what is clear is that after Khashoggi's murder, the coalition's agreement has been exacerbated. Adding to this military sanction Germany went even further and proposed explicit sanctions to the Saudi authorities who were directly linked to the killing. As follows, by stating that "there are more questions unanswered than answered," Maas declared that Germany has issued the ban for entering Europe's border-free Schengen zone—in close coordination with France and Britain—against the 18 Saudi nationals who are "allegedly connected to this crime."
Following the decision, Germany has thus become the first major US ally to challenge future arms sales in the light of Khashoggi's case and there is thus a high likelihood that this deal suspension puts pressure on other exporters to carry out the same approach in the light of Germany's Economy Minister, Peter Altmaier's, call on other European Union members to take similar action, arguing that "Germany acting alone would limit the message to Riyadh."
Norway
Following the line of the latter claim, on November 9th last year, Norway became the first country to back Germany's decision when it announced it would freeze new licenses for arms exports to the KSA. Resultantly, in her statement, Norwegian Minister of Foreign Affairs, Ine Eriksen Søreide, declared that the government had decided that in the present situation they will not give new licenses for the export of defence material or multipurpose good for military use to Saudi Arabia. According to the Søreide, this decision was taken after "a broad assessment of recent developments in Saudi Arabia and the unclear situation in Yemen." Although Norwegian ministry spokesman declined to say whether the decision was partly motivated by the murder of the Saudi journalist, not surprisingly, Norway's announcement came a week after its foreign minister called the Saudi ambassador to Oslo with the aim of condemning Khashoggi's assassination. As a result, the latter seems to imply Norway's motivations were a mix of both; the Yemeni conflict and Khashoggi's death.
Denmark and Finland
By following a similar decision made by neighbouring Germany and Norway—despite the fact that US President Trump backed MBS, although the Central Intelligence Agency (CIA) had assessed that the crown prince was responsible for the order of the killing—Denmark and Finland both announced that they would also stop exporting arms to the KSA.
Emphasising on the fact that they were "now in a new situation"—after the continued deterioration of the already terrible situation in Yemen and the killing of the Saudi journalist—Danish Foreign Minister, Anders Samuelsen, stated that Denmark would proceed to cease military exports to the KSA remarking that Denmark already had very restrictive practices in this area and hoped that this decision would be able to create a "further momentum and get more European Union (EU) countries involved in the conquest to support tight implementation of the Union's regulatory framework in this area."
Although this ban is still less expansive compared to German measures—which include the cancelation of deals that had already been approved—Denmark's cease of goods' exports will likely crumble the kingdom's strategy, especially when it comes to technology. Danish exports to the KSA, which were mainly used for both military and civilian purposes, are chiefly from BAE Systems Applied Intelligence, a subsidiary of the United Kingdom's BAE Systems, which sold technology that allowed Intellectual Property surveillance and data analysis for use in national security and investigation of serious crimes. The suspension thus includes some dual-use technologies, a reference to materials that were purposely thought to have military applications in favour of the KSA.
On the same day Denmark carried out its decision, Finland announced they were also determined to halt arms export to Saudi Arabia. Yet, in contrast to Norway's approach, Finnish Prime Minister, Juha Sipilä, held that, of course, the situation in Yemen lead to the decision, but that Khashoggi's killing was "entirely behind the overall rationale".
Finnish arms exports to the KSA accounted for 5.3 million euros in 2017. Nevertheless, by describing the situation in Yemen as "catastrophic", Sipilä declared that any existing licenses (in the region) are old, and in these circumstances, Finland would refuse to be able to grant updated ones. Although, unlike Germany, Helsinki's decision does not revoke existing arms licenses to the kingdom, the Nordic country has emphasized the fact that it aims to comply with the EU's arms export criteria, which takes particular account of human rights and the protection of regional peace, security and stability, thus casting doubt on the other European neighbours which, through a sense of incoherence, have not attained to these values.
European Parliament
Speaking in supranational terms, the European Parliament agreed with the latter countries and summoned EU members to freeze arms sales to the kingdom in the conquest of putting pressure on member states to emulate the Germany's decision.
By claiming that arms exports to Saudi Arabia were breaching international humanitarian law in Yemen, the European Parliament called for sanctions on those countries that refuse to respect EU rules on weapons sales. In fact, the latest attempt in a string of actions compelling EU foreign policy chief Federica Mogherini to dictate an embargo against the KSA, including a letter signed by MEPs from several parties.
Rapporteur for a European Parliament report on EU arms exports, Bodil Valero said: "European weapons are contributing to human rights abuses and forced migration, which are completely at odds with the EU's common values." As a matter of fact, two successful European Parliament resolutions have hitherto been admitted, but its advocates predicted that some member states especially those who share close trading ties with the kingdom are deep-seated, may be less likely to cooperate. Fact that has eventually occurred.
COUNTRIES THAT HAVE NOT CEASED ARMS SELLING
France
In contrast to the previously mentioned countries, other European states such as France, UK and Spain, have approached the issue differently and have signalled that they will continue "business as usual".
Both France and the KSA have been sharing close diplomatic and commercial relations ranging from finance to weapons. Up to now, France relished the KSA, which is a bastion against Iranian significance in the Middle East region. Nevertheless, regarding the recent circumstances, Paris now faces a daunting challenge.
Just like other countries, France Foreign Minister, Jean-Yves Le Drian, announced France condemned the killing "in the strongest terms" and demanded an exhaustive investigation. "The confirmation of Mr. Jamal Khashoggi's death is a first step toward the establishment of the truth. However, many questions remain unanswered," he added. Following this line, France backed Germany when sanctioning the 18 Saudi citizens thus mulling a joint ban from the wider visa-free Schengen zone. Nevertheless, while German minister Altmeier summoned other European countries to stop selling arms to Riyadh—until the Saudi authorities gave the true explanation on Khashoggi's death—, France refused to report whether it would suspend arms exports to the KSA. "We want Saudi Arabia to reveal all the truth with full clarity and then we will see what we can do," he told in a news conference.
In this context, Amnesty International France has become one of Paris' biggest burdens. The organization has been putting pressure on the French government for it to freeze arms sales to the realm. Hence, by acknowledging France is one of the five biggest arms exporters to Riyadh—similar to the Unites States and Britain—Amnesty International France is becoming aware France's withdrawal from the arms sales deals is crucial in order to look at the Yemeni conflict in the lens of human rights rather than from a non-humanitarian-geopolitical perspective. Meanwhile, France tries to justify its inaction. When ministry deputy spokesman Oliver Gauvin was asked whether Paris would mirror Berlin's actions, he emphasized the fact that France's arms sales control policy was meticulous and based on case-by-case analysis by an inter-ministerial committee. According to French Defence Minister Florence Parly, France exported 11 billion euros worth of arms to the kingdom from 2008 to 2017, fact that boosted French jobs. In 2017 alone, licenses conceivably worth 14.7 billion euros were authorized. Moreover, she went on stating that those arms exports take into consideration numerous criteria among which is the nature of exported materials, the respect of human rights, and the preservation of peace and regional security. "More and more, our industrial and defence sectors need these arms exports. And so, we cannot ignore the impact that all of this has on our defence industry and our jobs," she added. As a result, despite President Emmanuel Macron has publicly sought to devalue the significance relations with the KSA have, minister Parly, seemed to suggest the complete opposite.
Anonymously, a government minister held it was central that MBS retained his position. "The challenge is not to lose MBS, even if he is not a choir boy. A loss of influence in the region would cost us much more than the lack of arms sales". Notwithstanding France's ambiguity, Paris' inconclusive attitude is indicating France's clout in the region is facing a vulnerable phase. As president Macron told MBS at a side-line G20 summit conversation in December last year, he is worried. Although the context of this chat remains unclear, many believe Macron's intentions were to persuade MBS to be more transparent as a means to not worsen the kingdom's reputation and thus to, potentially, dismantle France´s bad image.
United Kingdom
As it was previously mentioned, the United Kingdom took part in the joint statement carried out also by France and Germany through its foreign ministers which claimed there was a need for further explanations regarding Khashoggi's killing. Yet, although Britain's Foreign Office said it was considering its "next steps" following the KSA's admission over Khashoggi's killing, UK seems to be taking a rather similar approach to France—but not Germany—regarding the situation.
In 2017, the UK was the sixth-biggest arms dealer in the world, and the second-largest exporter of arms to the KSA, behind the US. This is held to be a reflection of a large spear in sales last year. After the KSA intervened in the civil war in Yemen in early 2015, the UK approved more than 3.5billion euros in military sales to the kingdom between April 2015 and September 2016.
As a result, Theresa May has been under pressure for years to interrupt arms sales to the KSA specially after human rights advocates claimed the UK was contributing to alleged violations of international humanitarian law by the Saudi-led coalition in Yemen. Adding to this, in 2016, a leaked parliamentary committee report suggested that it was likely that British weapons had been used by the Saudi-led coalition to violate international law, and that manufactured aircraft by BAE Systems, have been used in combat missions in Yemen.
Lately, in the context of Khashoggi's death things have aggravated and the UK is now facing a great amount of pressure, mainly embodied by UK's main opposition Labour party which calls for a complete cease in its arms exports to the KSA. In addition, in terms of a more international strain, the European Union has also got to have a say in the matter. Philippe Lamberts, the Belgian leader of the Green grouping of parties, said that Brexit should not be an excuse for the UK to abdicate on its moral responsibilities and that Theresa May had to prove that she was keen on standing up to the kind of atrocious behaviour shown by the killing of Khashoggi and hence freeze arms sales to Saudi Arabia immediately.
Nonetheless, in response and laying emphasis on the importance the upholding relation with UK's key ally in the Middle East has, London has often been declining calls to end arms exports to the KSA. Foreign Secretary Jeremy Hunt defended there will be "consequences to the relationship with Saudi Arabia" after the killing of Khashoggi, but he has also pointed out that the UK has an important strategic relationship with Riyadh which needs to be preserved. As a matter of fact, according to some experts, UK's impending exit from the EU has played a key role. The Campaign Against Arms Trade (CAAT) claims Theresa May's pursuit for post-Brexit trade deals has seen an unwelcome focus on selling arms to some of the world's most repressive regimes. Nevertheless, by thus tackling the situation in a similar way to France, the UK justifies its actions by saying that it has one of the most meticulous permitting procedures in the world by remarking that its deals comprehend safeguards that counter improper uses.
Spain
After Saudi Arabia's gave its version for Khashoggi's killing, the Spanish government said it was "dismayed" and echoed Antonio Guterres' call for a thorough and transparent investigation to bring justice to all of those responsible for the killing. Yet, despite the clamour that arose after the murder of the columnist, just like France and the UK, Spain's Prime Minister, Pedro Sánchez, defended arms exporting to the KSA by claiming it was in Spain's interest to keep selling military tools to Riyadh. Sanchez held he stood in favour of Spain's interests, namely jobs in strategic sectors that have been badly affected by "the drama that is unemployment". Thusly, proclaiming Spain's unwillingness to freeze arms exports to the kingdom. In addition, even before Khashoggi's killing, Sanchez's government was subject to many critics after having decided to proceed with the exporting of 400 laser-guided bombs to Saudi Arabia, despite worries that they could harm civilians in Yemen. Notwithstanding this, Sánchez justified Spain's decision in that good ties with the Gulf state, a key commercial partner for Spain, needed to be kept.
As a matter of fact, Spain's state-owned shipbuilder Navantia, in which 5,500 employees work, signed a deal in July last year which accounted for 1.8 billion euros that supplied the Gulf country with five navy ships. This shipbuilder is situated in the southern region of Andalusia, a socialist bulwark which accounts for Spain's highest unemployment estimates and which has recently held regional elections. Hence, it was of the socialist president's interest to keep these constituencies pleased and the means to this was, of course, not interrupting arms deals with the KSA.
As a consequence, Spain has recently been ignoring the pressures that have arose from MEP's and from Sanchez's minorities in government—Catalan separatist parties and far-left party Podemos— which demand a cease in arms exporting. For the time being, Spain will continue business with the KSA as usual.
CONCLUSION
All things considered, while Saudi Arabia insists that MBS was not aware of the gruesome murder and is distracting the international attention towards more positive headlines—such as the appointment of the first female ambassador to the US—in order to clear the KSA's image in the context of Khashoggi's murder, several European countries have taken actions against the kingdom's interests. Yet, the way each country has approached the matter has led to the rise of two separate blocks which are at discordance within Europe itself. Whereas some European leaders have shown a united front in casting blame on the Saudi government, others seem to express geopolitical interests are more important.
During the time Germany, Norway, Denmark and Finland are being celebrated by human rights advocates for following through on their threat to halt sales to the kingdom, bigger arms exporters—like those that have been analysed—have pointed out that the latter nations have far less to lose than they do. Nonetheless, inevitably, the ceasing carried out by the northern European countries which are rather small arms exporters in comparison to bigger players such as the UK and France, is likely to have exacerbated concerns within the European arms industry of a growing anti-Saudi consensus in the European Union or even beyond.
What is clear is that due to the impact Saudi Arabia's state of affairs have caused, governments and even companies worldwide are coming under pressure to abandon their ties to the oil-rich, but at the same time, human-rights-violating Saudi Arabian leadership. Resultantly, in Europe, countries are taking part in two divergent blocks that are namely led by two of the EU's most compelling members: France and Germany. These two sides are of rather distant opinions regarding the matter, fact that does not seem to be contributing in terms of the so-much-needed European Union integration.

▲Crown Prince Mohammad bin Salman and President Donald Trump during a meeting in Washington in 2017 [White House]
ANALYSIS / Naomi Moreno
Saudi Arabia used to be the only country in the world that banned women from driving. This ban was one of the things that the Kingdom of Saudi Arabia (KSA) was best known for to outsiders not otherwise familiar with the country's domestic politics, and has thus been a casus belli for activists demanding reforms in the kingdom. Last month, Saudi Arabia started issuing the first driver's licenses to women, putting into effect some of the changes promised by the infamous Crown Prince Mohammad bin Salman (MBS) in his bid to modernize Saudi Arabian politics. The end of the ban further signals the beginning of a move to expand the rights of women in KSA, and builds on piecemeal developments that took place in the realm of women's rights in the kingdom prior to MBS' entrance to the political scene.
Thus, since 2012, Saudi Arabian women have been able to do sports as well as participate in the Olympic Games; in the 2016 Olympics, four Saudi women were allowed to travel to Rio de Janeiro to compete. Moreover, within the political realm, King Abdullah swore in the first 30 women to the shura council − Saudi Arabia's consultative council − in February 2013, and in the kingdom's 2015 municipal elections, women were able to vote and run for office for the first time. Finally, and highlighting the fact that economic dynamics have similarly played a role in driving progression in the kingdom, the Saudi stock exchange named the first female chairperson in its history − a 39-year-old Saudi woman named Sarah Al Suhaimi − last February.
Further, although KSA may be known to be one of the "worst countries to be a woman", the country has experienced a notable breakthrough in the last 5 years and the abovementioned advances in women's rights, to name some, constitute a positive development. However, the most visible reforms have arguably been the work of MBS. The somewhat rash and unprecedented decision to end the ban on driving coincided with MBS' crackdown on ultra-conservative, Wahhabi clerics and the placing of several of the kingdom's richest and most influential men under house arrest, under the pretext of challenging corruption. In addition, under his leadership, the oil-rich kingdom is undergoing economic reforms to reduce the country's dependency on oil, in a bid to modernize the country's economy.
Nonetheless, despite the above mentioned reforms being classified by some as unprecedented, progressive leaps that are putting an end to oppression through challenging underlying ultra-conservatism traditions (as well as those that espouse them), a measure of distrust has arisen among Saudis and outsiders with regards the motivations underlying the as-of-yet seemingly limited reforms that have been introduced. While some perceive the crown prince's actions to be a genuine move towards reforming Saudi society, several indicators point to the possibility that MBS might have more practical reasons that are only tangentially related to progression for progression's sake. As the thinking goes, such decrees may have less to do with genuine reform, and more to do with improving an international image to deflect from some of the kingdom's more controversial practices, both at home and abroad. A number of factors drive this public scepticism.
Reasons for scepticism
The first relates to the fact that KSA is a country where an ultraconservative form of shari'a or Islamic law continues to constitute the primary legal framework. This legal framework is based on the Qur'an and Hadith, within which the public and many private aspects of everyday life are regulated. Unlike in other Muslim majority countries, where only selective elements of the shari'a are adopted, Wahhabism – which is identified by the Court of Strasbourg as a main source of terrorism − has necessitated the strict adherence to a fundamentalist interpretation of shari'a, one that draws from the stricter and more literal Hanbali school of jurisprudence. As such, music and the arts have been strictly controlled and censored. In addition, although the religious police (more commonly known as the Committee for the Promotion of Virtue and the Prevention of Vice) have had their authority curbed to a certain degree, they are still given the authority to enforce Islamic norms of conduct in public by observing suspects and forwarding their findings to the police.
In the past few years, the KSA has been pushing for a more national Wahhabism, one that is more modern in its outlook and suitable for the kingdom's image. Nevertheless, the Wahhabi clergy has been close to the Al Saud dynasty since the mid-18th century, offering it Islamic legitimacy in return for control over parts of the state, and a lavish religious infrastructure of mosques and universities. Therefore, Saudi clerics are pushing back significantly against democratization efforts. As a result, the continuing prevalence of a shari'a system of law raises questions about the ability of the kingdom to seriously democratise and reform to become moderate.
Secondly, and from a domestic point of view, Saudi Arabia is experiencing disharmony. Saudi citizens are not willing to live in a country where any political opposition is quelled by force, and punishments for crimes such as blasphemy, sorcery, and apostasy are gruesome and carried out publicly. This internal issue has thus embodied an identity crisis provoked mainly by the 2003 Iraq war, and reinforced by the events of the Arab Spring. Disillusionment, unemployment, religious and tribal splits, as well as human rights abuses and corruption among an ageing leadership have been among the main grievances of the Saudi people who are no longer as tolerant of oppression.
In an attempt to prevent the spill over of the Arab Spring fervor into the Kingdom, the government spent $130 billion in an attempt to offset domestic unrest. Nonetheless, these grants failed to satisfy the nearly 60 percent of the population under the age of twenty-one, which refused to settle. In fact, in 2016 protests broke out in Qatif, a city in Saudi Arabia's oil-rich, eastern provinces, which prompted Saudis to deploy additional security units to the region. In addition, in September of last year, Saudi authorities, arguing a battle against corruption and a crack down on extremism, arrested dozens of people, including prominent clerics. According to a veteran Saudi journalist, this was an absurd action as "there was nothing that called for such arrests". He argued that several among those arrested were not members of any political organization, but rather individuals with dissenting viewpoints to those held by the ruling family.
Among those arrested was Sheikh Salman al-Awdah, an influential cleric known for agitating for political change and for being a pro-shari'a activist. Awdah's arrest, while potentially disguised as part of the kingdom's attempts to curb the influence of religious hardliners, is perhaps better understood in the context of the Qatar crisis. Thus, when KSA, with the support of a handful of other countries in the region, initiated a blockade of the small Gulf peninsula in June of last year, Awdah welcomed a report on his Twitter account suggesting that the then three-month-old row between Qatar and four Arab countries led by Saudi Arabia may be resolved. The ensuing arrest of the Sheikh seems to confirm a suspicion that it was potentially related to his favouring the renormalization of relations with Qatar, as opposed to it being related to MBS' campaign to moderate Islam in the kingdom.
A third factor that calls into question the sincerity of the modernization campaign is economic. Although Saudi Arabia became a very wealthy country following the discovery of oil in the region, massive inequality between the various classes has grown since, as these resources remain to be controlled by a select few. As a result, nearly one fifth of the population continues to live in poverty, especially in the predominantly Shi'a South where, ironically, much of the oil reservoirs are located. In these areas, sewage runs in the streets, and only crumbs are spent to alleviate the plight of the poor. Further, youth opportunities in Saudi Arabia are few, which leaves much to be desire, and translates into occasional unrest. Thus, the lack of possibilities has led many young men to join various terrorist organizations in search of a new life.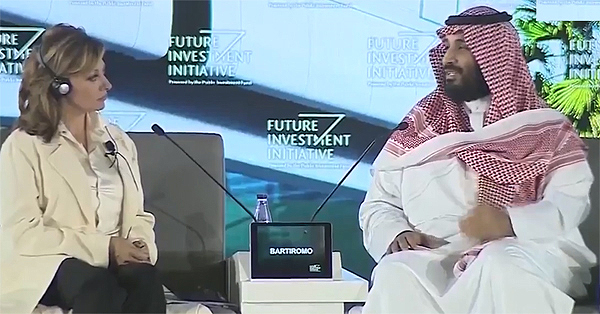 Statement by MBS in a conference organized in Riyadh in October 2017 [KSA]
Vision 2030 and international image
In the context of the Saudi Vision 2030, the oil rich country is aiming to wean itself of its dependence on the natural resource which, despite its wealth generation capacity, has also been one of the main causes of the country's economic problems. KSA is facing an existential crisis that has led to a re-think of its long-standing practice of selling oil via fixed contracts. This is why Vision 2030 is so important. Seeking to regain better control over its economic and financial destiny, the kingdom has designed an ambitious economic restructuring plan, spearheaded by MBS. Vision 2030 constitutes a reform programme that aims to upgrade the country's financial status by diversifying its economy in a world of low oil prices. Saudi Arabia thus needs overseas firms' investments, most notably in non-oil sectors, in order to develop this state-of-the-art approach. This being said, Vision 2030 inevitably implies reforms on simultaneous fronts that go beyond economic affairs. The action plan has come in at a time when the kingdom is not only dealing with oil earnings and lowering its reserves, but also expanding its regional role. As a result, becoming a more democratic country could attract foreign wealth to a country that has traditionally been viewed in a negative light due to its repressive human rights record.
This being said, Saudi Arabia also has a lot to do regarding its foreign policy in order to improve its international image. Despite this, the Saudi petition to push the US into a war with Iran has not ceased during recent years. Religious confrontation between the Sunni Saudi autocracy and Iran's Shi'a theocracy has characterized the geopolitical tensions that have existed in the region for decades. Riyadh has tried to circumvent criticism of its military intervention in the Yemen through capitalizing on the Trump administration's hostility towards Iran, and involving the US in its campaign; thus granting it a degree of legitimacy as an international alliance against the Houthis. Recently, MBS stated that Trump was the "best person at the right time" to confront Iran. Conveniently enough, Trump and the Republicans are now in charge of US' foreign affairs. Whereas the Obama administration, in its final months, suspended the sale of precision-guided missiles to Saudi Arabia, the Trump administration has moved to reverse this in the context of the Yemeni conflict. In addition, in May of this year, just a month after MBS visited Washington in a meeting which included discussions regarding the Iran accords, the kingdom has heaped praise on president Trump following his decision to withdraw from the Iran nuclear deal.
All things considered, 2018 may go down in history as the irreversible end of the absolute archaic Saudi monarchy. This implosion was necessitated by events, such as those previously mentioned, that Saudi rulers could no longer control or avoid. Hitherto, MBS seems to be fulfilling his father's wishes. He has hand-picked dutiful and like-minded princes and appointed them to powerful positions. As a result, MBS' actions suggest that the kingdom is turning over a new page in which a new generation of princes and technocrats will lead the breakthrough to a more moderate and democratic Saudi Arabia.
New awareness
However, although MBS has declared that the KSA is moving towards changing existing guardianship laws, due to cultural differences among Saudi families, to date, women still need power of attorney from a male relative to acquire a car, and risk imprisonment should they disobey male guardians. In addition, this past month, at least 12 prominent women's rights activists who campaigned for women's driving rights just before the country lifted the ban were arrested. Although the lifting of the ban is now effective, 9 of these activists remain behind bars and are facing serious charges and long jail sentences. As such, women continue to face significant challenges in realizing basic rights, despite the positive media endorsement that MBS' lifting of the driving ban has received.
Although Saudi Arabia is making an effort in order to satisfy the public eye, it is with some degree of scepticism that one should approach the country's motivations. Taking into account Saudi Arabia's current state of affairs, these events suggest that the women's driving decree was an effort in order to improve the country's external image as well as an effort to deflect attention from a host of problematic internal and external affairs, such as the proxy warfare in the region, the arrest of dissidents and clerics this past September, and the Qatari diplomatic crisis, which recently "celebrated" its first anniversary. Allowing women to drive is a relatively trivial sacrifice for the kingdom to make and has triggered sufficient positive reverberations globally. Such baby steps are positive, and should be encouraged, yet overlook the fact that they only represent the tip of the iceberg.
As it stands, the lifting of the driving ban does not translate into a concrete shift in the prevailing legal and cultural mindsets that initially opposed it. Rather, it is an indirect approach to strengthen Saudi's power in economic and political terms. Yet, although women in Saudi Arabia may feel doubtful about the government's intentions, time remains to be their best ally. After decades of an ultraconservative approach to handling their rights, the country has reached awareness that it can no longer sustain its continued oppression of women; and this for economic reasons, but also as a result of global pressures that affect the success of the country's foreign policies which, by extension, also negatively impact on its interests.
The silver lining for Saudi woman is that, even if the issue of women's rights is being leveraged to secure the larger interests of the kingdom, it continues to represent a slow and steady progression to a future in which women may be granted more freedoms. The downside is that, so long as these rights are not grafted into a broader legal framework that secures them beyond the rule of a single individual − like MBS − women's rights (and human rights in general) will continue to be the temporary product of individual whim. Without an overhaul of the shari'a system that perpetuates regressive attitudes towards women, the best that can be hoped for is the continuation of internal and external pressures that coerce the Saudi leadership into exacting further reforms in the meantime. As with all things, time will tell.