Entradas con etiqueta

mohammad bin salman

.

▲Crown Prince Mohammad bin Salman and President Donald Trump during a meeting in Washington in 2017 [White House]
ANALYSIS / Naomi Moreno
Saudi Arabia used to be the only country in the world that banned women from driving. This ban was one of the things that the Kingdom of Saudi Arabia (KSA) was best known for to outsiders not otherwise familiar with the country's domestic politics, and has thus been a casus belli for activists demanding reforms in the kingdom. Last month, Saudi Arabia started issuing the first driver's licenses to women, putting into effect some of the changes promised by the infamous Crown Prince Mohammad bin Salman (MBS) in his bid to modernize Saudi Arabian politics. The end of the ban further signals the beginning of a move to expand the rights of women in KSA, and builds on piecemeal developments that took place in the realm of women's rights in the kingdom prior to MBS' entrance to the political scene.
Thus, since 2012, Saudi Arabian women have been able to do sports as well as participate in the Olympic Games; in the 2016 Olympics, four Saudi women were allowed to travel to Rio de Janeiro to compete. Moreover, within the political realm, King Abdullah swore in the first 30 women to the shura council − Saudi Arabia's consultative council − in February 2013, and in the kingdom's 2015 municipal elections, women were able to vote and run for office for the first time. Finally, and highlighting the fact that economic dynamics have similarly played a role in driving progression in the kingdom, the Saudi stock exchange named the first female chairperson in its history − a 39-year-old Saudi woman named Sarah Al Suhaimi − last February.
Further, although KSA may be known to be one of the "worst countries to be a woman", the country has experienced a notable breakthrough in the last 5 years and the abovementioned advances in women's rights, to name some, constitute a positive development. However, the most visible reforms have arguably been the work of MBS. The somewhat rash and unprecedented decision to end the ban on driving coincided with MBS' crackdown on ultra-conservative, Wahhabi clerics and the placing of several of the kingdom's richest and most influential men under house arrest, under the pretext of challenging corruption. In addition, under his leadership, the oil-rich kingdom is undergoing economic reforms to reduce the country's dependency on oil, in a bid to modernize the country's economy.
Nonetheless, despite the above mentioned reforms being classified by some as unprecedented, progressive leaps that are putting an end to oppression through challenging underlying ultra-conservatism traditions (as well as those that espouse them), a measure of distrust has arisen among Saudis and outsiders with regards the motivations underlying the as-of-yet seemingly limited reforms that have been introduced. While some perceive the crown prince's actions to be a genuine move towards reforming Saudi society, several indicators point to the possibility that MBS might have more practical reasons that are only tangentially related to progression for progression's sake. As the thinking goes, such decrees may have less to do with genuine reform, and more to do with improving an international image to deflect from some of the kingdom's more controversial practices, both at home and abroad. A number of factors drive this public scepticism.
Reasons for scepticism
The first relates to the fact that KSA is a country where an ultraconservative form of shari'a or Islamic law continues to constitute the primary legal framework. This legal framework is based on the Qur'an and Hadith, within which the public and many private aspects of everyday life are regulated. Unlike in other Muslim majority countries, where only selective elements of the shari'a are adopted, Wahhabism – which is identified by the Court of Strasbourg as a main source of terrorism − has necessitated the strict adherence to a fundamentalist interpretation of shari'a, one that draws from the stricter and more literal Hanbali school of jurisprudence. As such, music and the arts have been strictly controlled and censored. In addition, although the religious police (more commonly known as the Committee for the Promotion of Virtue and the Prevention of Vice) have had their authority curbed to a certain degree, they are still given the authority to enforce Islamic norms of conduct in public by observing suspects and forwarding their findings to the police.
In the past few years, the KSA has been pushing for a more national Wahhabism, one that is more modern in its outlook and suitable for the kingdom's image. Nevertheless, the Wahhabi clergy has been close to the Al Saud dynasty since the mid-18th century, offering it Islamic legitimacy in return for control over parts of the state, and a lavish religious infrastructure of mosques and universities. Therefore, Saudi clerics are pushing back significantly against democratization efforts. As a result, the continuing prevalence of a shari'a system of law raises questions about the ability of the kingdom to seriously democratise and reform to become moderate.
Secondly, and from a domestic point of view, Saudi Arabia is experiencing disharmony. Saudi citizens are not willing to live in a country where any political opposition is quelled by force, and punishments for crimes such as blasphemy, sorcery, and apostasy are gruesome and carried out publicly. This internal issue has thus embodied an identity crisis provoked mainly by the 2003 Iraq war, and reinforced by the events of the Arab Spring. Disillusionment, unemployment, religious and tribal splits, as well as human rights abuses and corruption among an ageing leadership have been among the main grievances of the Saudi people who are no longer as tolerant of oppression.
In an attempt to prevent the spill over of the Arab Spring fervor into the Kingdom, the government spent $130 billion in an attempt to offset domestic unrest. Nonetheless, these grants failed to satisfy the nearly 60 percent of the population under the age of twenty-one, which refused to settle. In fact, in 2016 protests broke out in Qatif, a city in Saudi Arabia's oil-rich, eastern provinces, which prompted Saudis to deploy additional security units to the region. In addition, in September of last year, Saudi authorities, arguing a battle against corruption and a crack down on extremism, arrested dozens of people, including prominent clerics. According to a veteran Saudi journalist, this was an absurd action as "there was nothing that called for such arrests". He argued that several among those arrested were not members of any political organization, but rather individuals with dissenting viewpoints to those held by the ruling family.
Among those arrested was Sheikh Salman al-Awdah, an influential cleric known for agitating for political change and for being a pro-shari'a activist. Awdah's arrest, while potentially disguised as part of the kingdom's attempts to curb the influence of religious hardliners, is perhaps better understood in the context of the Qatar crisis. Thus, when KSA, with the support of a handful of other countries in the region, initiated a blockade of the small Gulf peninsula in June of last year, Awdah welcomed a report on his Twitter account suggesting that the then three-month-old row between Qatar and four Arab countries led by Saudi Arabia may be resolved. The ensuing arrest of the Sheikh seems to confirm a suspicion that it was potentially related to his favouring the renormalization of relations with Qatar, as opposed to it being related to MBS' campaign to moderate Islam in the kingdom.
A third factor that calls into question the sincerity of the modernization campaign is economic. Although Saudi Arabia became a very wealthy country following the discovery of oil in the region, massive inequality between the various classes has grown since, as these resources remain to be controlled by a select few. As a result, nearly one fifth of the population continues to live in poverty, especially in the predominantly Shi'a South where, ironically, much of the oil reservoirs are located. In these areas, sewage runs in the streets, and only crumbs are spent to alleviate the plight of the poor. Further, youth opportunities in Saudi Arabia are few, which leaves much to be desire, and translates into occasional unrest. Thus, the lack of possibilities has led many young men to join various terrorist organizations in search of a new life.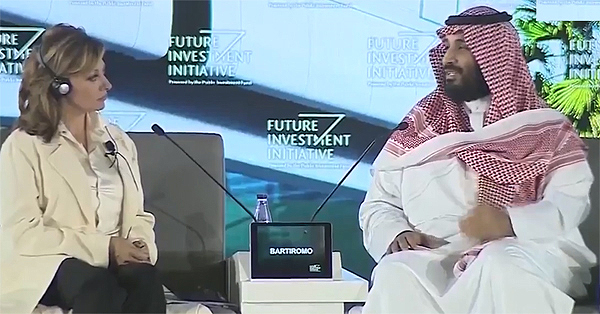 Statement by MBS in a conference organized in Riyadh in October 2017 [KSA]
Vision 2030 and international image
In the context of the Saudi Vision 2030, the oil rich country is aiming to wean itself of its dependence on the natural resource which, despite its wealth generation capacity, has also been one of the main causes of the country's economic problems. KSA is facing an existential crisis that has led to a re-think of its long-standing practice of selling oil via fixed contracts. This is why Vision 2030 is so important. Seeking to regain better control over its economic and financial destiny, the kingdom has designed an ambitious economic restructuring plan, spearheaded by MBS. Vision 2030 constitutes a reform programme that aims to upgrade the country's financial status by diversifying its economy in a world of low oil prices. Saudi Arabia thus needs overseas firms' investments, most notably in non-oil sectors, in order to develop this state-of-the-art approach. This being said, Vision 2030 inevitably implies reforms on simultaneous fronts that go beyond economic affairs. The action plan has come in at a time when the kingdom is not only dealing with oil earnings and lowering its reserves, but also expanding its regional role. As a result, becoming a more democratic country could attract foreign wealth to a country that has traditionally been viewed in a negative light due to its repressive human rights record.
This being said, Saudi Arabia also has a lot to do regarding its foreign policy in order to improve its international image. Despite this, the Saudi petition to push the US into a war with Iran has not ceased during recent years. Religious confrontation between the Sunni Saudi autocracy and Iran's Shi'a theocracy has characterized the geopolitical tensions that have existed in the region for decades. Riyadh has tried to circumvent criticism of its military intervention in the Yemen through capitalizing on the Trump administration's hostility towards Iran, and involving the US in its campaign; thus granting it a degree of legitimacy as an international alliance against the Houthis. Recently, MBS stated that Trump was the "best person at the right time" to confront Iran. Conveniently enough, Trump and the Republicans are now in charge of US' foreign affairs. Whereas the Obama administration, in its final months, suspended the sale of precision-guided missiles to Saudi Arabia, the Trump administration has moved to reverse this in the context of the Yemeni conflict. In addition, in May of this year, just a month after MBS visited Washington in a meeting which included discussions regarding the Iran accords, the kingdom has heaped praise on president Trump following his decision to withdraw from the Iran nuclear deal.
All things considered, 2018 may go down in history as the irreversible end of the absolute archaic Saudi monarchy. This implosion was necessitated by events, such as those previously mentioned, that Saudi rulers could no longer control or avoid. Hitherto, MBS seems to be fulfilling his father's wishes. He has hand-picked dutiful and like-minded princes and appointed them to powerful positions. As a result, MBS' actions suggest that the kingdom is turning over a new page in which a new generation of princes and technocrats will lead the breakthrough to a more moderate and democratic Saudi Arabia.
New awareness
However, although MBS has declared that the KSA is moving towards changing existing guardianship laws, due to cultural differences among Saudi families, to date, women still need power of attorney from a male relative to acquire a car, and risk imprisonment should they disobey male guardians. In addition, this past month, at least 12 prominent women's rights activists who campaigned for women's driving rights just before the country lifted the ban were arrested. Although the lifting of the ban is now effective, 9 of these activists remain behind bars and are facing serious charges and long jail sentences. As such, women continue to face significant challenges in realizing basic rights, despite the positive media endorsement that MBS' lifting of the driving ban has received.
Although Saudi Arabia is making an effort in order to satisfy the public eye, it is with some degree of scepticism that one should approach the country's motivations. Taking into account Saudi Arabia's current state of affairs, these events suggest that the women's driving decree was an effort in order to improve the country's external image as well as an effort to deflect attention from a host of problematic internal and external affairs, such as the proxy warfare in the region, the arrest of dissidents and clerics this past September, and the Qatari diplomatic crisis, which recently "celebrated" its first anniversary. Allowing women to drive is a relatively trivial sacrifice for the kingdom to make and has triggered sufficient positive reverberations globally. Such baby steps are positive, and should be encouraged, yet overlook the fact that they only represent the tip of the iceberg.
As it stands, the lifting of the driving ban does not translate into a concrete shift in the prevailing legal and cultural mindsets that initially opposed it. Rather, it is an indirect approach to strengthen Saudi's power in economic and political terms. Yet, although women in Saudi Arabia may feel doubtful about the government's intentions, time remains to be their best ally. After decades of an ultraconservative approach to handling their rights, the country has reached awareness that it can no longer sustain its continued oppression of women; and this for economic reasons, but also as a result of global pressures that affect the success of the country's foreign policies which, by extension, also negatively impact on its interests.
The silver lining for Saudi woman is that, even if the issue of women's rights is being leveraged to secure the larger interests of the kingdom, it continues to represent a slow and steady progression to a future in which women may be granted more freedoms. The downside is that, so long as these rights are not grafted into a broader legal framework that secures them beyond the rule of a single individual − like MBS − women's rights (and human rights in general) will continue to be the temporary product of individual whim. Without an overhaul of the shari'a system that perpetuates regressive attitudes towards women, the best that can be hoped for is the continuation of internal and external pressures that coerce the Saudi leadership into exacting further reforms in the meantime. As with all things, time will tell.