Entradas con etiqueta

irán

.
Why Tehran has decided to openly confront US sanctions and how the crisis could develop from now

▲ Persian chess-game [Pixabay]
ANALYSIS / Baltasar Martos
It is now time to suggest a possible future-oriented course of action for Iran in response to the US unilateral exit from the nuclear deal1. The strategy employed to this end will be that of the red-hat analysis, capitalizing on cultural comprehension and adopting the Iranian regime's perspective to better understand the way in which it perceives the various threats and opportunities ahead, hence always considering situational factors.
A SWOT analysis will be provided beforehand by way of introduction, focusing just in one of the most important (1) strengths: high proportion of young people; (2) weaknesses: the intrincate political system; (3) opportunities: a closer relationship with leading European countries, and (4) threats: joint pressure by the US, Israel and Saudi Arabia. This will surely enable a more in-depth approach to Iranian views and positions.
A simplified SWOT
1. First and foremost, Iran is home for more than 80 million people, 43% of which are less than 40 years old. This large young population is very much tuned to Western trends and habits of consumption. They embrace technology virtually as much as in any other Western nation. The most striking fact about Iranian youngsters is the amount of university students among them. The country is well known for hosting a highly qualified population and labor force that acquired superior education at any of the numerous universities in the major cities.
2. In second place, Iran owns a very complex, intricate political system that renders the hierarchy of the decision-making process very difficult to understand. Its current institutions are a product of the 1979 Islamic Revolution, which ousted the Shah and reformed the whole previous power network. The political system of the country then turned from an authoritarian Monarchy into a constitutional theocracy with a multipolar power structure. The religious figure of the Supreme Leader or Ayatollah is the ultimate responsible for setting both domestic and foreign policy. The main issue here is that this institution holds views that are deeply rooted in the old days and endeavors to influence the private lives of the citizens. Decisions are self-explanatorily not made according to economic efficiency or political experience, or even less to satisfy population's demands. Instead they aim to preserve and safeguard the regime and ensure its survival. The primary concern of the ruling political elites is thus to last in power, not to introduce reforms or think prospectively.
3. In the third place, Iran has now the chance to strengthen ties with its traditional powerful trade partners in the European Union, such as France, England or Italy. Provided their opposition vis-à-vis the US reimposition of sanctions, Iran can utilize this opportunity to begin a rapprochement towards them and express its best desire to cooperate under certain established conditions that prove beneficial to both parts.
4. Finally, Iran should not disregard the warnings coming from the White House. The main threat Iran is likely to face is an aggressive diplomatic strategy at the initiative of the US with the aggregated—but separated—efforts of Israel and Saudi Arabia. This would definitely jeopardize Iran's current position as one of the dominant powers in the region and would force the nation to find an alternative solution.
Red Hat exercise
Tehran's interpretation of Washington's 2018 diplomatic shift quite evidently differs from that of the Trump administration2. In the words of Ayatollah Khamenei, the ultimate reason for this new move lies in the US's perverse ambition to progressively weaken and undermine the socio-political structure built after decades of arduous work by the Islamic Revolution. Khamenei claims that Washington's intention is to overturn a popular, legitimate government in favor of a puppet regime completely subjected to its will.
In their public speeches, the Iranian political elites constantly refer to the US's boundless ambition to regain total control of the region, oppress civil society and submit individuals to their corrupted dogmas and doctrines, like they did decades ago. They very often evoke the glorious past of their millenary civilization and emphasise that it is precisely its longevity what makes it worthy of the most careful preservation and promotion. Once a major empire, they say, Iran has developed a unique identity different from that of its closest neighbors.
In the Iranian collective mindset, especially that of the most orthodox Shia and the very influential clerics, the nation enjoys the highest dignity for having conquered other territories and peoples but also endured invasions and dominations from enemies and rivals, yet always remaining true and loyal to its ancient traditions and foundations. More recently, Iran owes its independence to the innumerable efforts made by the leaders of the Revolution to free the nation from the clutches of the American imperialism embodied in the Pahlavi dynasty. The country's civilisational pride is therefore deeply ingrained in the people's minds and very often put forward in the political discourse. Furthermore, its foreign policy is soaked by a traditional 'regional fear', for Iran sees itself as the guardian of true Shi'a values amidst a region dominated by Shi'a-adverse powers with superior military capabilities.
The strong resentment and hatred against the Western world in general, and the demonization of the United States in particular, appear very often in Iranian politics. Such an anti-Western narrative is very often used to cover up the regime's economic mismanagement over the last decades, instead blaming the West for all the struggles, ills and evils of society. We must remember that, for Iranians—at least for the most religious sector of the society—the Islamic Revolution is a path that leads believers into Paradise and salvation as understood by the Shi'a. The revolution purports to redeem the peoples from the national humiliation suffered during Western dominance in the times of the Shah. Therefore, martyrdom, resistance and endurance are considered three most valuable virtues that will guarantee all kinds of enjoyments to those cultivating them throughout their lifetime.
Iran presumably decided to start a nuclear program based off several historical reasons. On one hand, in face of a strong isolation experienced during the bloody war waged against Irak—an opponent which used chemical weapons against both combatants and civilians alike—Iran began its works with the aim of further intensifying its nuclear technology developments as a means to guard against a future surprise of similar characteristics.
On the other hand we shall recall the Revolution's need to constantly legitimate itself and maintain its status in front of the international community, thus preserving Iran's independence from outside influence or external intervention while restoring its former greatness as a center of scientific progress. Moreover, Tehran has long claimed its need to promote a solid nuclear energy plan to ensure energy security at home and satisfy the needs of its huge domestic demand in peaceful civilian, energy and medical terms. The government emphasizes the right to develop, research, produce and use nuclear energy as endowed by Iran's membership in the Non-Proliferation treaty.
However, the most pressing issue for Iran's security is undoubtedly the fact that five of the world's nine nuclear powers are located nearby or directly on its borders. The theocracy claims to have substantial grounds for feeling victim of the foreign arrogance of the outside world, which has allegedly endeavored to restrict Iran's rights to freely develop its nuclear activities by having it sign the Non-proliferation Treaty, unlike other neigboring nuclear-armed states such as Pakistan, Israel or India. This brings us to the conclusion that, even if the regime vehemently denies any interest in developing nucler weapons and rather uses the need to supply its domestic market with much needed energy resources as an excuse to keep its works running, some evidence found in recent discoveries of covert facilities and nuclear plants can confirm the vital importance for some of the regime leaders to obtain weapons in the short or medium term.
Scenarios ahead
The Persian nation is now standing on a crossroads with three different paths ahead, each one leading to a very different place. We will place them in an order, ranging from the most likely scenario to the least plausible one: (A) prolongation of diplomatic stalemate with minor tensions; (B) quick escalation of tensions and direct military confrontation, and (C) bring back the so-called '12 conditions' to the bargaining table and stick to them.
A. The most likely: Diplomatic stalemate
On May 8, exactly a year after Donald Trump's announcement of US exit from the JCPOA, President Rouhani announced that Iran would cease to perform parts of its commitments under the nuclear deal, namely the observance of the limit for its stockpile of low-enriched uranium and the compliance with the limit of heavy water reserves. Its statement included a 60-day ultimatum, addressing specifically the European State parties to the treaty and urging them to find a diplomatic solution via economic packages to ease the current oil and banking restrictions. Should they prove unable to fulfill this conditions, Rouhani warned, Iran will continue with its intended pullout from the accord through a 'multi-phased approach'.
Europeans have recently been employing a rhetoric that has resulted in ambiguous and confusing promises to Iran, mainly due to the innumerable efforts they need to make in order to balance out a strong willingness to save the deal and the fear of a further detachment from an everyday more hostile American partner. On his side, President Rouhani has remained true to his bet on 'strategic patience' in the style of the Moderation and Development Party, to which he belongs, during all this time.
Nevertheless, it seems that the patience of the Iranian leadership is coming to an end with each passing day. The political elites have harshly critized its European counterparts for making lots of empty promises throughout this last year without achieving any substantial or practical outcome, specially after the U.S. decision on April 22 to put an end to the waivers on oil imports from third countries in an attempt to 'bring oil trade to zero'. This will no longer exempt any customer engaging in oil transactions with Iran from the US-led second wave of sanctions. Moreover, Rouhani has called on the Europeans to allow Iran to repatriate its money sitting in European bank accounts, which still remain blocked as part of previous sanctions.
Without disregarding the vital importance of the E3 for Iran's national economy and the pivotal role they play in the political scenario surrounding the country in the Middle East, it is also true that there are other strategic partners involved in this game whose existence as credible alternatives to the E3 is precisely the cause that pushes the Iranian leadership to discard a complete withdrawal and rather remain adhered to the nuclear accord. At the front of this group of Iranian oil importers are China and India, which will self-evidently ignore the effects of the recent termination of the US waivers and prosecute their purchases to satisfy their huge domestic demand. Although with weaker currencies and perhaps using more rudimentary instruments, both China and India will manage to secure those transactions in an orderly manner and will most likely help other purchasers to do the same. In fact, some voices speak of a possibility of performing oil-swap arrangements via Russia to lock oil prices and protect their finances from the high volatility of global energy prices.
Following this logic, Iran will then go ahead with its ongoing business while persuading and encouraging importers to keep buying Iranian oil despite the inability of European counterparts to meet the aforementioned ultimatum as set by President Rouhani. In paralell to this, Iran will probably threaten the remaining parts and especially the Americans with a further development of its nuclear capacities, but this will only add to a strategy that seeks to prolong the current state of affairs until the next U.S. presidential elections in 2020 take place.
B. The apocalyptic, yet no the least plausible scenario
The most apocalyptic—yet not the least plausible—scenario can be inferred from the most recent moves of US military assets after the government's official designation of the Iran Revolutionary Guard Corps as a 'Foreign Terrorist Organization' on April 8. Fist, on May 6, the Pentagon announced the deployment of the aircraft carrier USS Abraham Lincoln and a bomber task force on the Persian Gulf. Four days later, the Pentagon confirmed that it had sent some warships, the USS Arlington amphibious transport dock and a Patriot missile defense battery to the same region as a deterrent to Iran. Lastly, on May 12, two Saudi oil tankers and four additional Emirati ships off the coast of the Persian Gulf were sabotaged. President Trump blamed Iran for malicious behaviour targeting maritim traffic along the Gulf. More recently, Washington officials have announced a new deployment of some fighter jets and additional troops to the same territory in what they have called a 'mostly protective measure'. This suddenly heightened tensions might result in the outbreak of renewed hostilities in the coming months.
The American public opinion does not discard a military confrontation in a close future. In fact, a poll conducted in the US between May 17 and May 20 disclosed surprising results3: more than half of the American citizens consider Iran as a 'worrying' or even 'imminent' threat. Roughly the same percentage assumes their country will go to war against Iran in the coming years. Very few civilians believe that a preemptive attack should be conducted on Iranian military interests, but roughly 80% of them are convinced that the US should respond to an attack from the side of Iranian via airstrikes or even ground troop invasions.
An undeniable fact is that there are differing views inside the White House. The National Security Advisor John Bolton and in some way also the Secretary of State Mike Pompeo have always shown a maximalist approach that seeks to overthrow the mullahs' regime in Tehran. Apparently none of them would hesitate to enter into a dire military confrontation if the situation so required. Bolton himself had already declared his intentions even before substituting his predecessor in office, Herbert McMaster. On the other hand, President Trump has used his recent meeting with the Japanese Prime Minister Shinzo Abe to affirm the following: 'Iran has a tremendous economic potential. […] It has a chance to be a great country with the same leadership. We are not looking for a regime change. I just want to make that clear. We are just looking for no nuclear weapons'4. This somehow spaces out his view from that of his hawkish aides. In the words of Karim Sadjadpour, a well renowned Iranian-American policy analyst, 'What Trump articulated in Japan was another reminder that his main problem with the Iranian nuclear deal was that it was signed by Obama. Given Trump's eagerness for a public summit and deal with Tehran, it is conceivable that Iran's leaders could sign a more favorable deal with Trump than they did with Obama. But the pride and mistrust of Iran's supreme leader makes him more inclined to subject his population to another year of sanctions and economic malaise rather than do a deal with Trump'.
C. The unlikely back to the negotiating table
On May 12, 2018, four days after President Trump made public his intention of withdrawal from the JCPOA, Pompeo set out a list of twelve conditions under which Washington would agree to a new agreement with Tehran. Besides addressing the termination of Iran's participation in different conflicts throughout the Middle East, it explicitly called on Tehran to 'stop enriching its uranium and plutonium reserves, grant IAEA unrestricted access to all sites throughout the entire country and end proliferation and testing of ballistic missiles'.
It should be noted that Trump never presented explicit and clear evidence that Iran was failing to comply with its obligation. Instead, he merely denounced the treaty as far from being minimally advantageous for American interests, once again reinforcing the idea that the Obama Administration resoundingly failed to negotiate a deal that could benefit both parts. The three European State parties also emphasized that Iranians had remained faithful to their commitment and that had been officially attested by international inspectors supervising the nuclear facilities. That was the main piece of evidence supporting Iran's thesis of not being in a state of violation of any provision of the deal but instead strictly observing every single aspect as they were agreed upon.
Having all this in mind, there are other aspects we should look at. The war in Syria is slowly coming to an end and Al-Assad owes his victory to the strong and uninterrupted financial and logistic aid from Tehran. There is no doubt that the regime will hold him accountable for all the support provided throughout the conflict and will seek to consolidate positions around the war-torn territory, thus expanding the influences of Shia islamist ideology as promoted by the Supreme Leader and the most prominent clerics. Moreover, not only is Iran-backed Hezbollah movement present in Syria, but also it enjoys a very prominent position inside the Lebanese parliament and holds an enormous influence in the country in general terms.
All this together, in addition to the round success Tehran is enjoying in his efforts to back Houthi rebels as compared to the exorbitant cost Saudi Arabia is paying to counter the rebellion, suffices to conclude that Iran is by no means willing to get back to the conditions advanced by Pompeo in order to renegotiate a new treaty that would thwart all the efforts already made along the way. This would signify an absolute humiliation for the regime. Iran has already come too far and it would now only accept to resume negotiations if it was granted the chance to depart from a dominant diplomatic position.

Representatives from the P5+1 countries in 2015, weeks before reaching the JCPOA, the nuclear agreement [US State Department]
What the EU is doing
Among all the State parties involved in the JCPOA, the E3 are likely to be the most severely affected by the US reinforcement of sanctions given the big stake they have in the region in form of finances and investments in the oil sector, and their unwillingness to go undercover. As a result of this new decision by Washington, companies and banks doing business in Iran could see their access to the American market cut off. Among other collateral effects, the re-imposition of sanctions will cause a negative impact on the region's trade flows, energy supplies, connectivity, security and stability. Indeed, sanctions present a special conundrum for the European counterparts: either they decide to carry on with their economic activities in Iran or they remain inside the US-led international financial circuit. They need to solve this jigsaw puzzle if they still want to secure their economic interests.
In order to do so, following the US exit, the High Representative of the European Union Federica Mogherini issued a statement bitterly regretting the US retaliation and expressing the EU's strong commitment to enact an updated blocking statute that would enter into force on August 7. This blocking statute refers to the 'Council Regulation (EC) No 2271/96 of November 1996 protecting against the effects of the extra-territorial application of legislation adopted by a third country, and actions based thereon or resulting therefrom'5. It basically 'allows EU operators to recover damages arising from US extraterritorial sanctions and nullifies the effect, in the EU, of any foreign court rulings. It also forbids EU persons form complying with those sanctions'6. In a nutshell, this statute acts as a shield against trade wars and mitigates the impact of those sanctions on the interests of European companies doing legitimate business with Iran, thus keeping Iran's oil and investments flowing.
The European Union considers that its Member States' business decisions should not be determined by any kind of foreign legislation. It would never recognize such legislation applicable to European operators. However, the EU still holds to the commitment of pursuing a continued, full and effective implementation of the treaty as long as Iran also plays its part by refraining from acquiring further equipment to develop a nuclear weapon and enables monitored verification of its uranium-235 enrichment activities. The E3 considers that the agreement is delivering on its goal so far and ensuring the peaceful nature of the nuclear program.
It is hence no surprise that the three European Member States involved in the deal are determined to preserve and implement it, insisting upon the numerous benefits it entails for Iran, the Middle East and the rest of the international community. Acting on behalf of the E3, the EU has recently endeavored to take several measures in order to offset the US withdrawal of the JCPOA7.
i) In the first place, they seek to extend the European Investment Bank lending mandates, allowing the bank to decide strictly under the EU budget to what extent and under which conditions it will finance commercial activities in Iran.
ii) Secondly, they also attempt to encourage and promote activities by Small and Medium Enterprises (SMEs) willing to undertake operations in Iran.
iii) Thirdly, they purport to accelerate the activation of the Instrument In Support of Trade Exchanges (INSTEX). This is a 'Special Purpose Vehicle' acting as a clearing house or barter arrangement for Iran to conduct trade with European companies outside of the SWIFT mechanism. This mechanism was officially registered by France, Germany and the United Kingdom on January 31, 2019. It works as an alternative payment channel that facilitates legitimate trade and investment between the EU and Iran despite sanctions. It is led by the EU3 and self-evidently euro-denominated. The entity originally focused only on trade in non-sanctionable essential goods, namely medical and humanitarian, and not so much on oil-related transactions so far. It mainly addresses SMEs whose total trade volume is usually small. In principle, it has not been designed to circumvent or bypass US sanctions but rather to fight money laundering and counter the financing of illicit terrorist activities. These last aspects reinforce the European efforts to voice its disagreements on Iran's declared support for Al-Assad in Syria and the promotion of terrorism region-wide, its multiple human rights abuses and its development of ballistic missiles.
However, in view of the technical complexities resulting in a long delay to set in motion this mechanism as well as the more immediate challenges the Union has to face in the first instance, it is very unlikely that the E.U. finds enough resources and time to effectively give a definite impulse to this apparatus before the deadline of 60 days from May 8 set by Iranians eventually expires.
(1) Sanger, D. et al. "U.S. Issues New Sanctions as Iran Warms It Will Step Back from Nuclear Deal", The New York Times, May 8, 2019
https://www.nytimes.com/2019/05/08/us/politics/iran-nuclear-deal.html
(2) Chubin, Sharam. "The Politics of Iran's Nuclear Program", The Iran Primer, US Institute for Peace, 2010 (updated 2015)
http://iranprimer.usip.org/resource/politics-irans-nuclear-program
(3) Ipsos/Reuters Poll Data, Iran Poll 05.20.19 https://fingfx.thomsonreuters.com/gfx/mkt/12/658/652/2019%20Reuters%20Tracking%20-%20Iran%20Poll%2005%2020%202019.pdf
(4) Kranish, Michael. "Trumps Says He Is Not Seeking 'Regime Change' in Iran". The Washington Post, May 27, 2019
https://www.washingtonpost.com/world/national-security/trump-says-he-is-not-seeking-regime-change-in-iran/2019/05/27/94d3053a-808d-11e9-933d-7501070ee669_story.html?utm_term=.9005a7a98ec8
(7) Geranmayeh, Ellie. "60 days to save the JCPOA". European Council on Foreign Relations. May 9, 2019
https://www.ecfr.eu/article/commentary_60_days_to_save_the_jcpoa_iran_nuclear_deal
Iran Country Risk Report (May 2019)
The sanctions that the United States is implementing against the Islamic Republic of Iran since November 2018 are the toughest sanctions ever imposed on Iran. They threaten to cut off foreign countries and companies dealing with Iran from the US financial system in order to deter business with Iran so to curtail the impact of proxy groups on the Middle East's security and stability. The aim of this country report is to provide the most recent analysis of the Iran's economic and political situation, and estimate its evolution in the short and medium term. It presents an overlook of specific clues about matters related to political risk, as well as the effect that sanctions may have on the Iranian economy, and the prospects for political stability all over the region.
Alona Sainetska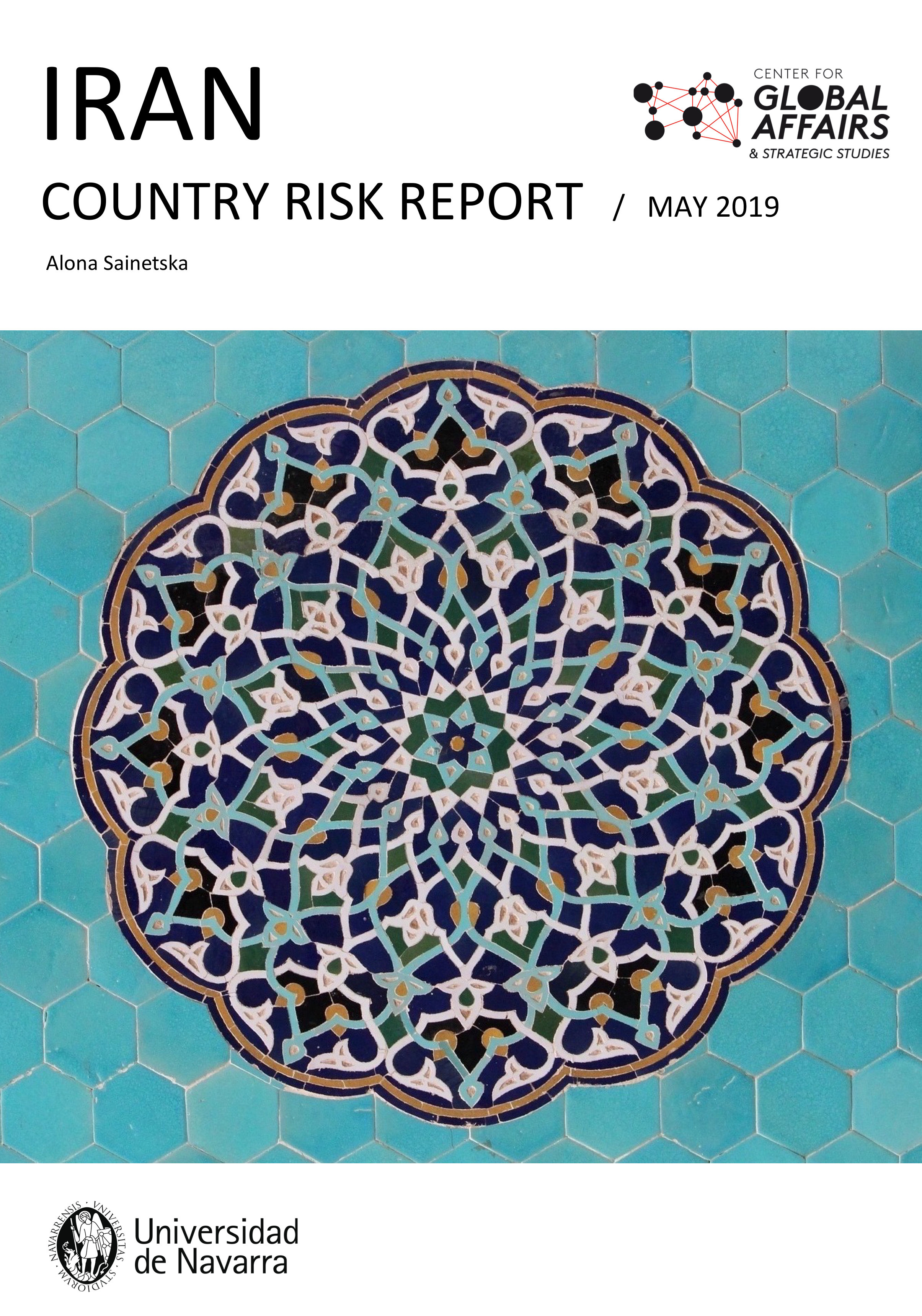 Report [pdf. 13,5MB]
EXECUTIVE SUMMARY
Effects of sanctions
The re-imposition of US sanctions will maintain the Iranian economy in recession during the remaining months of 2019. Notwithstanding the foregoing, the economic meltdown will be very unlikely to happen, as the volume of oil exports is still significant, crude prices are going to continue to rise and other major powers´ opinion will still differ from the US´s. The multinational companies dependent on US financial system will continue leaving the Iranian market, partially leading to declining of the foreign investment, but SMEs will be almost unaffected and new forms of trading are likely to emerge soon.
Iran is likely to build stronger economic and political ties with India, China and Russia, thus giving them more power and openness to new trading opportunities, basically due to lack of any other possible partner on the horizon in the mid-term.
The prices are likely to keep growing up in the following months reaching the average inflation of 31.2% in 2019-20; still the risk of hyperinflation is discarded due to the fact that Iran is able to meet a significant share of local demand through local production.
Backed by support from the EU, Iran is promised to obtain in the mid-term a special mechanism of payments (Special Purpose Vehicle) for its oil and other exports (possibly through a barter system) in order to conduct trading outside of the competence of the US sanctions. This is likely to create some tensions between Europe and the US but they will not be powerful enough to split the long-lasting alliance between the two.
Oil and gas
The Iran´s production of oil will probably continue to decrease affecting the world´s oil price.
Five from the eight initial major buyers (Italy, Greece and Taiwan have already stopped their purchases from Iran) are and will be buying Iranian oil now that the waivers have been extended for the following 90 days. Thereby, the Iranian oil will still remain in demand during the following years, and Iran´s government is likely to find solutions for its selling and exportation, even though illegally, in the mid and long-term. Thus, the United States is unlikely to meet its earlier target of driving Iranian oil exports to zero.
Iraq will continue to buy natural gas from Iran in order to use it in the production of electricity, becoming the second largest customer. Taking into account the fact that there is a sort of competence between US and Iran for the influence over Iraq, it can fuel a further deterioration of their relations. It is also plausible that more buyers will emerge if some new forms of trading, which do not rely on dollar, appear soon.
Even though the modest production growth is likely to continue, Iran won´t be able to unilaterally monetize its natural gas resources due to lack of financial partners and the investment, especially from the West. However, it will be able to fulfil its domestic demand and sustain trade with Turkey.
Iran's ability to increase production and exports of natural gas will be almost improbable, unless the relations with the United States are improved or support from international partners in defiance of sanctions is reinforced. Nevertheless, if Iran manages to accomplish current development projects, its export pipeline capacity will increase from 46.4 bcm/year in 2018, to 119.7 bcm/year to the regional and global markets in a long run. China, India and Pakistan will play a significant role in Iran´s natural gas sector.
The domestic scene
Iran will continue demonstrating considerable resilience in coping with US sanctions, and is likely to continue to fully implement the commitments of JCPOA as long as China, Russia, or countries which are non-members of the deal, such as India, continue to trade with it, and if EU continues maintaining its constructive attitude. In this case, even a greater international support and United Nations diplomatic intervention is expected in the mid-term. However, on a longer run, the JCPOA future will depend upon the economic situation and complex political battles between moderates and hardliners in Tehran.
The current deterioration of the economic conditions in Iran, the rial devaluation and growing inflation, together with already-high unemployment will provoke a further popular discontent which is likely to maintain the protests but without any considerable probability to threaten the Iranian political stability or lead to leadership´s rupture during the upcoming years.
The sanctions are likely to produce some adverse effects on the political local scene over the longer term, as Iranian hardliners may take advantage of them and the popular frustration and obtain the victory in the coming 2020 parliamentary elections and the 2021 presidential poll. As a result, any possibility for future cooperation with US will equal zero.
The struggle for power has already started in the Islamic Republic in the midst of US sanctions and ahead a new electoral cycle

▲ Ayatollah Ali Khamenei speaking to Iranian Air Force personnel, in 2016 [Wikipedia]
ANALYSIS / Rossina Funes and Maeve Gladin
The failing health of Supreme Leader Sayyid Ali Hosseini Khamenei, 89, brings into question the political aftermath of his approaching death or possible step-down. Khamenei's health has been a point of query since 2007, when he temporarily disappeared from the public eye. News later came out that he had a routine procedure which had no need to cause any suspicions in regards to his health. However, the question remains as to whether his well-being is a fantasy or a reality. Regardless of the truth of his health, many suspect that he has been suffering prostate cancer all this time. Khamenei is 89 years old –he turns 80 in July– and the odds of him continuing as active Supreme Leader are slim to none. His death or resignation will not only reshape but could also greatly polarize the successive politics at play and create more instability for Iran.
The next possible successor must meet certain requirements in order to be within the bounds of possible appointees. This political figure must comply and follow Khamenei's revolutionary ideology by being anti-Western, mainly anti-American. The prospective leader would also need to meet religious statues and adherence to clerical rule. Regardless of who that cleric may be, Iran is likely to be ruled by another religious figure who is far less powerful than Khamenei and more beholden to the Islamic Revolutionary Guard Corps (IRGC). Additionally, Khamenei's successor should be young enough to undermine the current opposition to clerical rule prevalent among many of Iran's youth, which accounts for the majority of Iran's population.
In analyzing who will head Iranian politics, two streams have been identified. These are constrained by whether the current Supreme Leader Khamenei appoints his successor or not, and within that there are best and worst case scenarios.
Mahmoud Hashemi Shahroudi
Mahmoud Hashemi Shahroudi had been mentioned as the foremost contender to stand in lieu of Iranian Supreme Leader Khamenei. Shahroudi was a Khamenei loyalist who rose to the highest ranks of the Islamic Republic's political clerical elite under the supreme leader's patronage and was considered his most likely successor. A former judiciary chief, Shahroudi was, like his patron, a staunch defender of the Islamic Revolution and its founding principle, velayat-e-faqih (rule of the jurisprudence). Iran's domestic unrest and regime longevity, progressively aroused by impromptu protests around the country over the past year, is contingent on the political class collectively agreeing on a supreme leader competent of building consensus and balancing competing interests. Shahroudi's exceptional faculty to bridge the separated Iranian political and clerical establishment was the reason his name was frequently highlighted as Khamenei's eventual successor. Also, he was both theologically and managerially qualified and among the few relatively nonelderly clerics viewed as politically trustworthy by Iran's ruling establishment. However, he passed away in late December 2018, opening once again the question of who was most likely to take Khamenei's place as Supreme Leader of Iran.
However, even with Shahroudi's early death, there are still a few possibilities. One is Sadeq Larijani, the head of the judiciary, who, like Shahroudi, is Iraqi born. Another prospect is Ebrahim Raisi, a former 2017 presidential candidate and the custodian of the holiest shrine in Iran, Imam Reza. Raisi is a student and loyalist of Khamenei, whereas Larijani, also a hard-liner, is more independent.
1. MOST LIKELY SCENARIO, REGARDLESS OF APPOINTMENT
1.1 Ebrahim Raisi
In a more likely scenario, Ebrahim Raisi would rise as Iran's next Supreme Leader. He meets the requirements aforementioned with regards to the religious status and the revolutionary ideology. Fifty-eight-years-old, Raisi is a student and loyal follower of the current Supreme Leader Ayatollah Khamenei. Like his teacher, he is from Mashhad and belongs to its famous seminary. He is married to the daughter of Ayatollah Alamolhoda, a hardline cleric who serves as Khamenei's representative of in the eastern Razavi Khorasan province, home of the Imam Reza shrine.
Together with his various senior judicial positions, in 2016 Raisi was appointed the chairman of Astan Quds Razavi, the wealthy and influential charitable foundation which manages the Imam Reza shrine. Through this appointment, Raisi developed a very close relationship with the Islamic Revolutionary Guard Corps (IRGC), which is a known ideological and economic partner of the foundation. In 2017, he moved into the political sphere by running for president, stating it was his "religious and revolutionary responsibility". He managed to secure a respectable 38 percent of the vote; however, his contender, Rouhani, won with 57 percent of the vote. At first, this outcome was perceived as an indicator of Raisi's relative unpopularity, but he has proven his detractors wrong. After his electoral defeat, he remained in the public eye and became an even more prominent political figure by criticizing Rouhani's policies and pushing for hard-line policies in both domestic and foreign affairs. Also, given to Astan Quds Foundation's extensive budget, Raisi has been able to secure alliances with other clerics and build a broad network that has the ability to mobilize advocates countrywide.
Once he takes on the role of Supreme Leader, he will continue his domestic and regional policies. On the domestic front, he will further Iran's Islamisation and regionally he will push to strengthen the "axis of resistance", which is the anti-Western and anti-Israeli alliance between Iran, Syria, Hezbollah, Shia Iraq and Hamas. Nevertheless, if this happens, Iran would live on under the leadership of yet another hardliner and the political scene would not change much. Regardless of who succeeds Khamenei, a political crisis is assured during this transition, triggered by a cycle of arbitrary rule, chaos, violence and social unrest in Iran. It will be a period of uncertainty given that a great share of the population seems unsatisfied with the clerical establishment, which was also enhanced by the current economic crisis ensued by the American sanctions.
1.2 Sadeq Larijani
Sadeq Larijani, who is fifty-eight years old, is known for his conservative politics and his closeness to the supreme guide of the Iranian regime Ali Khamenei and one of his potential successors. He is Shahroudi's successor as head of the judiciary and currently chairs the Expediency Council. Additionally, the Larijani family occupies a number of important positions in government and shares strong ties with the Supreme Leader by being among the most powerful families in Iran since Khamenei became Supreme Leader thirty years ago. Sadeq Larijani is also a member of the Guardian Council, which vetos laws and candidates for elected office for conformance to Iran's Islamic system.
Formally, the Expediency Council is an advisory body for the Supreme Leader and is intended to resolve disputes between parliament and a scrutineer body, therefore Larijani is well informed on the way Khamenei deals with governmental affairs and the domestic politics of Iran. Therefore, he meets the requirement of being aligned with Khamenei's revolutionary and anti- Western ideology, and he is also a conservative cleric, thus he complies with the religious figure requirement. Nonetheless, he is less likely to be appointed as Iran's next Supreme Leader given his poor reputation outside Iran. The U.S. sanctioned Larijani on the grounds of human rights violations, in addition to "arbitrary arrests of political prisoners, human rights defenders and minorities" which "increased markedly" since he took office, according to the EU who also sanctioned Larijani in 2012. His appointment would not be a strategic decision amidst the newly U.S. imposed sanctions and the trouble it has brought upon Iran. Nowadays, the last thing Iran wants is that the EU also turn their back to them, which would happen if Larijani rises to power. However it is still highly plausible that Larijani would be the second one on the list of prospective leaders, only preceded by Raisi.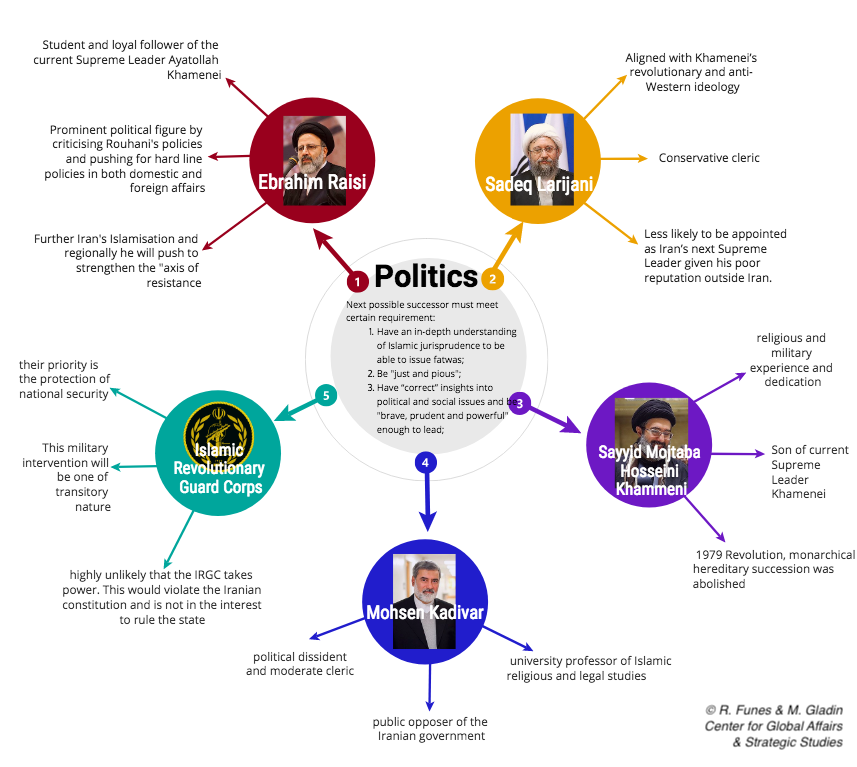 2. LEAST LIKELY SCENARIO: SUCCESSOR NOT APPOINTED
2.1 Islamic Revolutionary Guard Corps
The IRGC's purpose is to preserve the Islamic system from foreign interference and protect from coups. As their priority is the protection of national security, the IRGC necessarily will take action once Khamenei passes away and the political sphere becomes chaotic. In carrying out their role of protecting national security, the IRGC will act as a support for the new Supreme Leader. Moreover, the IRGC will work to stabilize the unrest which will inevitably occur, regardless of who comes to power. It is our estimate that the new Supreme Leader will have been appointed by Khamenei before death, and thus the IRGC will do all in their power to protect him. In the unlikely case that Khamenei does not appoint a successor, we believe that there are two unlikely options of ruling that could arise.
The first, and least likely, being that the IRGC takes rule. Moreover, it is highly unlikely that the IRGC takes power. This would violate the Iranian constitution and is not in the interest to rule the state. What they are interested in is having a puppet figure who will satisfy their interests. As the IRGC's main role is national security, in the event that Khamenei does not appoint a successor and the country goes into political and social turmoil, the IRGC will without a doubt step in. This military intervention will be one of transitory nature, as the IRGC does not pretend to want direct political power. Once the Supreme Leader is secured, the IRGC will go back to a relatively low profile.
In the very unlikely event that a Supreme Leader is not predetermined, the IRGC may take over the political regime of Iran, creating a military dictatorship. If this were to happen, there would certainly be protests, riots and coups. It would be very difficult for an opposition group to challenge and defeat the IRGC, but there would be attempts to overcome it. This would be a regime of temporary nature, however, the new Supreme Leader would arise from the scene that the IRGC had been protecting.
2.2 Mohsen Kadivar
In addition, political dissident and moderate cleric Mohsen Kadivar is a plausible candidate for the next Supreme Leader. Kadivar's rise to political power in Iran would be a black swan, as it is extremely unlikely, however, the possibility should not be dismissed. His election would be highly unlikely due to the fact that he is a vocal critic of clerical rule and has been a public opposer of the Iranian government. He has served time in prison for speaking out in favor of democracy and liberal reform as well as publicly criticizing the Islamic political system. Moreover, he has been a university professor of Islamic religious and legal studies throughout the United States. As Kadivar goes against all requirements to become successor, he is highly unlikely to become Supreme Leader. It is also important to keep in mind that Khamenei will most likely appoint a successor, and in that scenario, he will appoint someone who meets the requirements and of course is in line with what he believes. In the rare case that Khamenei does not appoint a successor or dies before he gets the chance to, a political uprising is inevitable. The question will be whether the country uprises to the point of voting a popular leader or settling with someone who will maintain the status quo.
In the situation that Mohsen Kadivar is voted into power, the Iranian political system would change drastically. For starters, he would not call himself Supreme Leader, and would instill a democratic and liberal political system. Kadivar and other scholars which condemn supreme clerical rule are anti-despotism and advocate for its abolishment. He would most likely establish a western-style democracy and work towards stabilizing the political situation of Iran. This would take more years than he will allow himself to remain in power, however, he will probably stay active in the political sphere both domestically as well as internationally. He may be secretary of state after stepping down, and work as both a close friend and advisor of the next leader of Iran as well as work for cultivating ties with other democratic countries.
2.3 Sayyid Mojtaba Hosseini Khamenei
Khamenei's son, Sayyid Mojtaba Hosseini Khamenei is also rumored to be a possible designated successor. His religious and military experience and dedication, along with being the son of Khamenei gives strong reason to believe that he may be appointed Supreme Leader by his father. However, Mojtaba is lacking the required religious status. The requirements of commitment to the IRGC as well as anti-American ideology are not questioned, as Mojtaba has a well-known strong relationship with the Islamic Revolutionary Guard Corps. Mojtaba studied theology and is currently a professor at Qom Seminary in Iran. Nonetheless, it is unclear as to whether Mojtaba's religious and political status is enough to have him considered to be the next Supreme Leader. In the improbable case that Khamenei names his son to be his successor, it would be possible for his son to further commit to the religious and political facets of his life and align them with the requirements of being Supreme Leader.
This scenario is highly unlikely, especially considering that in the 1979 Revolution, monarchical hereditary succession was abolished. Mojtaba has already shown loyalty to Iran when taking control of the Basij militia during the uproar of the 2009 elections to halt protests. While Mojtaba is currently not fit for the position, he is clearly capable of gaining the needed credentials to live up to the job. Despite his potential, all signs point to another candidate becoming the successor before Mojtaba.
3. PATH TO DEMOCRACY
Albeit the current regime is supposedly overturned by an uprising or new appointment by the current Supreme Leader Khamenei, it is expected that any transition to democracy or to Western-like regime will take a longer and more arduous process. If this was the case, it will be probably preceded by a turmoil analogous to the Arab Springs of 2011. However, even if there was a scream for democracy coming from the Iranian population, the probability that it ends up in success like it did in Tunisia is slim to none. Changing the president or the Supreme Leader does not mean that the regime will also change, but there are more intertwined factors that lead to a massive change in the political sphere, like it is the path to democracy in a Muslim state.
Mostrando el intervalo 11 - 13 de 13 resultados.