Entries with tag

odebrecht

.
High levels of corruption in public works projects and impunity from justice in the Latin American region continue to challenge attempts to successfully eradicate fraud in government dealings
Odebrecht, one of the most important construction and engineering companies in Brazil, confessed to offering numerous bribes to political leaders, political parties and public officials. Its major aim was to obtain contracts for major public infrastructure projects within the region. The investigation has revealed a complex network of bribery that has become one of the largest corruption scandals in Latin American history. The notable budget boosts in the region, thanks to commodities' "golden decade," occurred within a weak precedent for the Rule of Law and therefore lax anti-corruption measures permitted widespread illicit profits for major government contractors and inflated costs for tax payers.

ARTICLE / Ximena Barria [Spanish version]
Odebrecht is a Brazilian conglomerate that through several operational headquarters conducts businesses in multiple industries. It dedicates to areas such as engineering, construction, infrastructure and energy. Its headquarters is located in Brazil in the city of Salvador Bahía. The company operates in 27 countries of Latin-America, Africa, Europe and the Middle East. Throughout the years, Odebrecht has concluded contracts with governments to build public works, with the majority of their projects in the Latin-American region.
In 2016, United States Department of Justice published allegations which detailed evidence of the company bribing public officials in twelve different countries, ten of them in Latin America: Argentina, Brazil, Colombia, Ecuador, Guatemala, Mexico, Panama, Peru, the Dominican Republic and Venezuela. As a result, a full investigation was lanunched after Odebrecht´s senior executives confessed to bribery once discovered.
The corporation granted millions of dollars to local public officials from the countries previously mentioned, in exchange for obtaining public contracts to gain benefits from the projects constructed. Its purpose was to obtain a competitive advantage which permitted them to retain local governmental business in different countries.
In order to cover up illegal transactions, Odebrecht created fictitious, anonymous societies in such places as Belize, the Virgin Islands and Brazil. The company elaborated a secret financial structure to camouflage its payments. The investigation of the United States Department of Justice estimated that the bribes accounted a total of $788 million dollars. Utilizing this illegal method, and contrary to every political and business code of ethics, the company signed one hundred projects generating $3.336 billion dollars in profits.
A weak judicial branch
This issue, also known as the Odebrecht Case, has created major divisions within Latin American societies. Its citizens consider that these acts should not remain unpunished, as countries need a stronger judicial branch to cement a strong and respected Rule of Law.
According to World Bank indicators, none of these ten Latin American countries impacted by this network of bribes hold 60% or more of the standard efficacy of the Rule of Law and control of corruption. Hence, this explains the how the construction company was able to successfully bribe politicians.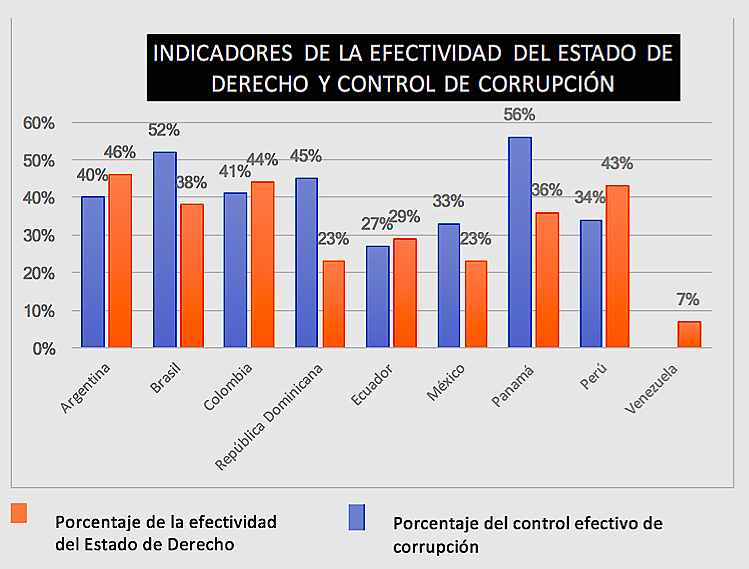 Worl Bank, 2016
The judicial independence and its efficacy are essential for the resolution of acts with these characteristics. The correct exercise of justice moulds an appropriate Rule of Law, preventing that illegal acts or other political decisions the could infringe upon it. Contrary to this ideal configuration, the countries who were involved in the Odebrecht case, do not possess optimal judicial independence.
Thus, according to the Global Competiveness Report for 2017-2018, the majority of the countries affected obtained a low score with respect to the independence of their courts. These figures indicate that the countries lack of an effective judicial system to judge the alleged suspects involved in this case. With the case of Panama and the Dominican Republic, they ranked in the places 120 and 127 respectively, according to the judicial independence of a list of 137 countries.
One of the problems suffered by the Judicial Branch of the Republic of Panama is that it has high number of pending cases awaiting trial at the Supreme Court of Justice. This congestion makes it difficult for the supreme court to work effectively. The high number of processed cases doubled between 2013 and 2016, as the Criminal Chamber of the Court processed 329 cases in 2013 and in 2016 they processed 857. Although the Panamanian Judicial Branch has expanded its budget, this has not represented a qualitative increase in its functions. These difficulties could explain the decision of the court to reject an extension of the Odebrecht investigations, although this may imply some impunity. In 2016, there were only two detainees in the Odebrecht case. In 2017, of the 43 defendants who could be involved in the acceptance of bribes valued at $60 million dollars, only 32 were prosecuted.
The Dominican Republic also faces a similar situation. According to a 2016 survey, only 38% of Dominican citizens trust their justice system. The low percentage may be a result of the fact that the Supreme Court judges who were elected are active members of political parties, something that obscures the credibility of justice and its independence. In 2016, Dominican courts only prosecuted one person related to the Odebrecht case, whereas the US Supreme Court estimated that the Brazilian company had given 92 million dollars in Dominican political bribes, one of the highest amounts outside of Brazil. In 2017, the Supreme Court of the Dominican Republic ordered the release of 9 of 10 suspects implicated in the case due to insufficient evidence.
The need for improved coordination and reform
In October 2017, public prosecutors from Latin America met in Panama City to share information on money laundering, especially related to the Odebrecht case. The officials expressed the need to not leave any case unpunished, in order to solve one of the biggest political, economic and judicial problems in the region. Some prosecutors reported having suffered threats in their investigations. The meeting was valued in a positive way, since it highlighted the need in for greater fiscal coordination and legislative harmony in Latin America. However, it is important to note that the Dominican Republic was absent from that meeting.
All awareness of the public ministries of Latin America is essential in view of the correlation observed among the countries affected by the Odebrecht bribes and their poor position in the indices provided by different international organizations and research centers. The ineffective Rule of Law shows in the lack of control over corrupt companies like Odebrecht, where they succeeded in their bribery policy to obtain a competitive advantage.
The shortcomings of the judicial systems in countries such as Panama and the Dominican Republic make it possible for public officials to go unpunished for the crimes they committed. In addition, the Odebrecht case has a great impact in the region, and could still impede the judicial process if effective reforms are not taken in each country.
La alta corrupción e impunidad en la región dificultan la erradicación de sobornos millonarios en las contratas públicas
La confesión de la compañía de construcción e ingeniería Odebrecht, una de las más importantes de Brasil, de haber entregado elevadas sumas como sobornos a dirigentes políticos, partidos y funcionarios públicos para la adjudicación de obras en diversos países de la región ha supuesto el mayor escándalo de corrupción en la historia de Latinoamérica. El notable incremento presupuestario durante la "década de oro" de las materias primas ocurrió en un marco de escasa mejora de la efectividad del Estado de Derecho y del control de la corrupción, eso propició que se produjeran elevados desvíos ilícitos en las contratas públicas.

ARTÍCULO / Ximena Barría [Versión en inglés]
Odebrecht es una compañía brasileña que través de varias sedes operativas conduce negocios en múltiples industrias. Se dedica a áreas como ingeniería, construcción, infraestructura y energía, entre otras. Su sede principal, en Brasil, está ubicada en la ciudad de Salvador de Bahía. La empresa opera en 27 países, de Latinoamérica, África, Europa y Oriente Medio. A lo largo de los años, la constructora ha participado en contratos de obras públicas de la mayor parte de los países latinoamericanos.
En 2016, el Departamento de Justicia de Estados Unidos publicó una investigación que denunciaba que la compañía brasileña había sobornado a funcionarios públicos de doce países, diez de ellos latinoamericanos: Argentina, Brasil, Colombia, Ecuador, Guatemala, México, Panamá, Perú, República Dominicana y Venezuela. La investigación se desarrolló a partir de la confesión hecha por los propios máximos ejecutivos de Odebrecht una vez descubiertos.
La compañía entregaba a los funcionarios de esos países millones de dólares a cambio de obtener contratos de obras públicas y beneficiarse del pago por su realización. La empresa acordaba entregar millones de dólares a partidos políticos, funcionarios públicos, candidatos públicos o personas relacionadas con el Gobierno. Su fin era tener una ventaja competitiva que le permitiera retener negocios públicos en diferentes países.
A fin de encubrir dichos movimientos ilícitos de capitales, la empresa creaba sociedades anónimas ficticias en lugares como Belice, las Islas Vírgenes y Brasil. La empresa elaboró una estructura financiera secreta para encubrir estos pagos. La investigación del Departamento de Justicia de Estados Unidos estableció que los sobornos en los países mencionados alcanzaron un total de 788 millones de dólares (casi la mitad solo en Brasil). Utilizando este método ilegal, contrario a toda ética empresarial y política, Odebrecht logró el encargo de más de cien proyectos, cuya realización le generó unos beneficios de 3.336 millones de dólares.
Falta de un poder judicial efectivo
Este asunto, conocido como caso Odebrecht, ha creado consternación en las sociedades latinoamericanas. Sus ciudadanos consideran que para que actos de este tipo no queden impunes, los países deben tener una mayor eficiencia en el ámbito judicial y dar pasos más acelerados hacia un verdadero Estado de Derecho.
De acuerdo con indicadores del Banco Mundial, ninguno de los diez países latinoamericanos afectados por esta red de sobornos llega al 60% de efectividad del Estado de Derecho y de control de la corrupción. Eso explicaría el éxito de la constructora brasileña en su política de coimas.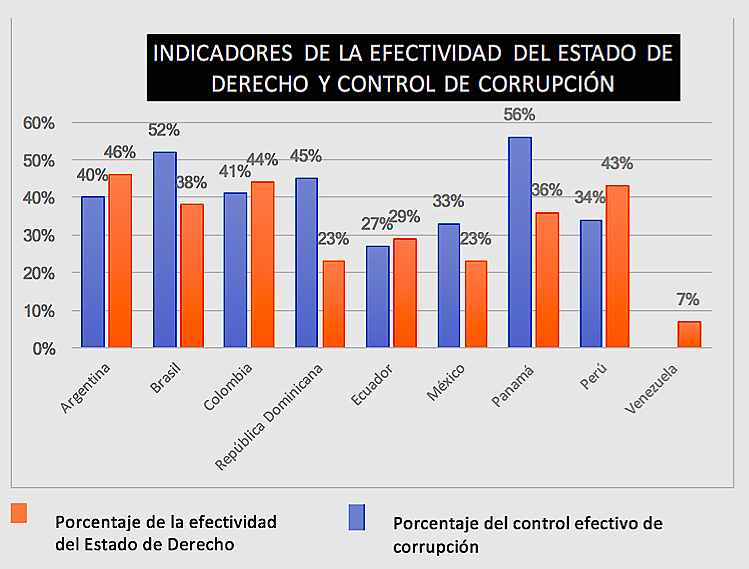 Fuente: Banco Mundial, 2016
La independencia judicial y su efectividad es esencial para la resolución de hechos de estas características. El correcto ejercicio de la Justicia moldea un apropiado Estado de Derecho, previniendo que ocurran actos ilícitos u otras decisiones políticas que puedan vulnerarlo. A pesar de que esto es lo ideal, los países involucrados en el caso Odebrecht no cumplen con cabalidad esta debida independencia judicial.
En efecto, según el Reporte de Competitividad Global para 2017-2018, la mayoría de los países afectados obtienen una baja nota respecto a la independencia de sus tribunales, lo que indica que carecen de un poder judicial efectivo para juzgar a los presuntos involucrados en este caso. Así ocurre, por ejemplo, con Panamá y con la República Dominicana, situados en los puestos 120 y 127, respectivamente, en cuanto a independencia judicial, de una lista de 137 países.
Uno de los problemas que padece el Órgano Judicial de la República de Panamá es el alto número de expedientes que maneja la Corte Suprema de Justicia. Esa congestión dificulta que la Corte Suprema pueda trabajar de manera efectiva. La alta cifra de expedientes procesados se dobló entre 2013 y 2016: la Sala Penal de la Corte procesó 329 expedientes en 2013; en 2016 fueron 857. Aunque el Órgano Judicial panameño ha mejorado su presupuesto, eso no ha representado un aumento cualitativo en sus funciones. Esas dificultades podrían explicar la decisión de la Corte de rechazar una extensión de la investigación, aunque ello pueda significar cierta impunidad. En 2016 solo hubo dos detenidos por el caso Odebrecht. En 2017, de los 43 imputados que podrían estar involucrados en la aceptación de sobornos valorados en 60 millones de dólares, solo 32 fueron procesados.
La República Dominicana también se encuentra en una situación parecida. Según una encuesta de 2016, solo el 38% de los dominicanos confían en la institución judicial. A ese bajo porcentaje puede haber contribuido el hecho de que para ejercer de jueces de la Corte Suprema fueron elegidos miembros activos de los partidos políticos, algo que opaca la credibilidad de la Justicia y su independencia. En 2016, los tribunales dominicanos solo indagaron sobre una persona, cuando la Corte Suprema estadounidense estimaba que la empresa brasileña había dado 92 millones de dólares en sobornos políticos, uno de los montos más elevados fuera de Brasil. En 2017, la Suprema Corte de la Republica Dominicana ordenó la excarcelación de 9 de 10 presuntos implicados en el caso por insuficiencia de pruebas.
Necesidad de mayor coordinación y reforma
En octubre de 2017, fiscales públicos de Latinoamérica se reunieron en Ciudad de Panamá para compartir información sobre blanqueo de capitales, especialmente en relación al caso Odebrecht. Los funcionarios expresaron la necesidad de no dejar ningún caso impune, para contribuir con ello a resolver uno de los mayores problemas políticos, económicos y judiciales de la región. Algunos fiscales reportaron haber sufrido amenazas en sus investigaciones. Todos valoraron de manera positiva el encuentro, ya que con él ponían de relevancia la necesidad en Latinoamérica de una mayor coordinación fiscal y armonía legislativa. No obstante, es importante destacar que la República Dominicana estuvo ausente de esa reunión.
Toda concienciación de los ministerios públicos de Latinoamérica es esencial ante la correlación observada entre los países afectados por los sobornos de Odebrecht y su deficiente posición en índices proporcionados por diferentes organizaciones internacionales y centros de investigación. El inefectivo Estado de Derecho y la falta de control de la corrupción facultan que empresas como Odebrecht puedan triunfar en su política de sobornos para obtener una ventaja competitiva.
Las carencias de los sistemas judiciales en países como Panamá y República Dominicana, en concreto, pueden hacer posible que funcionarios públicos queden impunes de los delitos cometidos. Además, el caso Odebrecht, de gran magnitud en la región, podría congestionar aún la actividad judicial si no se hacen reformas efectivas en cada país.