Entries with tag

mohsen kadivar

.
The struggle for power has already started in the Islamic Republic in the midst of US sanctions and ahead a new electoral cycle

▲ Ayatollah Ali Khamenei speaking to Iranian Air Force personnel, in 2016 [Wikipedia]
ANALYSIS / Rossina Funes and Maeve Gladin
The failing health of Supreme Leader Sayyid Ali Hosseini Khamenei, 89, brings into question the political aftermath of his approaching death or possible step-down. Khamenei's health has been a point of query since 2007, when he temporarily disappeared from the public eye. News later came out that he had a routine procedure which had no need to cause any suspicions in regards to his health. However, the question remains as to whether his well-being is a fantasy or a reality. Regardless of the truth of his health, many suspect that he has been suffering prostate cancer all this time. Khamenei is 89 years old –he turns 80 in July– and the odds of him continuing as active Supreme Leader are slim to none. His death or resignation will not only reshape but could also greatly polarize the successive politics at play and create more instability for Iran.
The next possible successor must meet certain requirements in order to be within the bounds of possible appointees. This political figure must comply and follow Khamenei's revolutionary ideology by being anti-Western, mainly anti-American. The prospective leader would also need to meet religious statues and adherence to clerical rule. Regardless of who that cleric may be, Iran is likely to be ruled by another religious figure who is far less powerful than Khamenei and more beholden to the Islamic Revolutionary Guard Corps (IRGC). Additionally, Khamenei's successor should be young enough to undermine the current opposition to clerical rule prevalent among many of Iran's youth, which accounts for the majority of Iran's population.
In analyzing who will head Iranian politics, two streams have been identified. These are constrained by whether the current Supreme Leader Khamenei appoints his successor or not, and within that there are best and worst case scenarios.
Mahmoud Hashemi Shahroudi
Mahmoud Hashemi Shahroudi had been mentioned as the foremost contender to stand in lieu of Iranian Supreme Leader Khamenei. Shahroudi was a Khamenei loyalist who rose to the highest ranks of the Islamic Republic's political clerical elite under the supreme leader's patronage and was considered his most likely successor. A former judiciary chief, Shahroudi was, like his patron, a staunch defender of the Islamic Revolution and its founding principle, velayat-e-faqih (rule of the jurisprudence). Iran's domestic unrest and regime longevity, progressively aroused by impromptu protests around the country over the past year, is contingent on the political class collectively agreeing on a supreme leader competent of building consensus and balancing competing interests. Shahroudi's exceptional faculty to bridge the separated Iranian political and clerical establishment was the reason his name was frequently highlighted as Khamenei's eventual successor. Also, he was both theologically and managerially qualified and among the few relatively nonelderly clerics viewed as politically trustworthy by Iran's ruling establishment. However, he passed away in late December 2018, opening once again the question of who was most likely to take Khamenei's place as Supreme Leader of Iran.
However, even with Shahroudi's early death, there are still a few possibilities. One is Sadeq Larijani, the head of the judiciary, who, like Shahroudi, is Iraqi born. Another prospect is Ebrahim Raisi, a former 2017 presidential candidate and the custodian of the holiest shrine in Iran, Imam Reza. Raisi is a student and loyalist of Khamenei, whereas Larijani, also a hard-liner, is more independent.
1. MOST LIKELY SCENARIO, REGARDLESS OF APPOINTMENT
1.1 Ebrahim Raisi
In a more likely scenario, Ebrahim Raisi would rise as Iran's next Supreme Leader. He meets the requirements aforementioned with regards to the religious status and the revolutionary ideology. Fifty-eight-years-old, Raisi is a student and loyal follower of the current Supreme Leader Ayatollah Khamenei. Like his teacher, he is from Mashhad and belongs to its famous seminary. He is married to the daughter of Ayatollah Alamolhoda, a hardline cleric who serves as Khamenei's representative of in the eastern Razavi Khorasan province, home of the Imam Reza shrine.
Together with his various senior judicial positions, in 2016 Raisi was appointed the chairman of Astan Quds Razavi, the wealthy and influential charitable foundation which manages the Imam Reza shrine. Through this appointment, Raisi developed a very close relationship with the Islamic Revolutionary Guard Corps (IRGC), which is a known ideological and economic partner of the foundation. In 2017, he moved into the political sphere by running for president, stating it was his "religious and revolutionary responsibility". He managed to secure a respectable 38 percent of the vote; however, his contender, Rouhani, won with 57 percent of the vote. At first, this outcome was perceived as an indicator of Raisi's relative unpopularity, but he has proven his detractors wrong. After his electoral defeat, he remained in the public eye and became an even more prominent political figure by criticizing Rouhani's policies and pushing for hard-line policies in both domestic and foreign affairs. Also, given to Astan Quds Foundation's extensive budget, Raisi has been able to secure alliances with other clerics and build a broad network that has the ability to mobilize advocates countrywide.
Once he takes on the role of Supreme Leader, he will continue his domestic and regional policies. On the domestic front, he will further Iran's Islamisation and regionally he will push to strengthen the "axis of resistance", which is the anti-Western and anti-Israeli alliance between Iran, Syria, Hezbollah, Shia Iraq and Hamas. Nevertheless, if this happens, Iran would live on under the leadership of yet another hardliner and the political scene would not change much. Regardless of who succeeds Khamenei, a political crisis is assured during this transition, triggered by a cycle of arbitrary rule, chaos, violence and social unrest in Iran. It will be a period of uncertainty given that a great share of the population seems unsatisfied with the clerical establishment, which was also enhanced by the current economic crisis ensued by the American sanctions.
1.2 Sadeq Larijani
Sadeq Larijani, who is fifty-eight years old, is known for his conservative politics and his closeness to the supreme guide of the Iranian regime Ali Khamenei and one of his potential successors. He is Shahroudi's successor as head of the judiciary and currently chairs the Expediency Council. Additionally, the Larijani family occupies a number of important positions in government and shares strong ties with the Supreme Leader by being among the most powerful families in Iran since Khamenei became Supreme Leader thirty years ago. Sadeq Larijani is also a member of the Guardian Council, which vetos laws and candidates for elected office for conformance to Iran's Islamic system.
Formally, the Expediency Council is an advisory body for the Supreme Leader and is intended to resolve disputes between parliament and a scrutineer body, therefore Larijani is well informed on the way Khamenei deals with governmental affairs and the domestic politics of Iran. Therefore, he meets the requirement of being aligned with Khamenei's revolutionary and anti- Western ideology, and he is also a conservative cleric, thus he complies with the religious figure requirement. Nonetheless, he is less likely to be appointed as Iran's next Supreme Leader given his poor reputation outside Iran. The U.S. sanctioned Larijani on the grounds of human rights violations, in addition to "arbitrary arrests of political prisoners, human rights defenders and minorities" which "increased markedly" since he took office, according to the EU who also sanctioned Larijani in 2012. His appointment would not be a strategic decision amidst the newly U.S. imposed sanctions and the trouble it has brought upon Iran. Nowadays, the last thing Iran wants is that the EU also turn their back to them, which would happen if Larijani rises to power. However it is still highly plausible that Larijani would be the second one on the list of prospective leaders, only preceded by Raisi.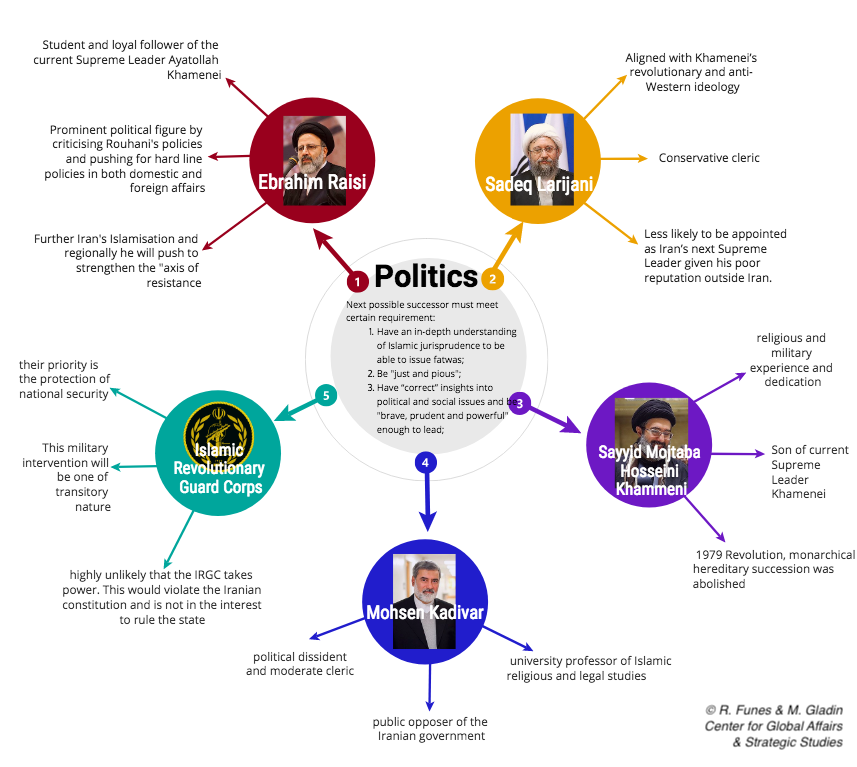 2. LEAST LIKELY SCENARIO: SUCCESSOR NOT APPOINTED
2.1 Islamic Revolutionary Guard Corps
The IRGC's purpose is to preserve the Islamic system from foreign interference and protect from coups. As their priority is the protection of national security, the IRGC necessarily will take action once Khamenei passes away and the political sphere becomes chaotic. In carrying out their role of protecting national security, the IRGC will act as a support for the new Supreme Leader. Moreover, the IRGC will work to stabilize the unrest which will inevitably occur, regardless of who comes to power. It is our estimate that the new Supreme Leader will have been appointed by Khamenei before death, and thus the IRGC will do all in their power to protect him. In the unlikely case that Khamenei does not appoint a successor, we believe that there are two unlikely options of ruling that could arise.
The first, and least likely, being that the IRGC takes rule. Moreover, it is highly unlikely that the IRGC takes power. This would violate the Iranian constitution and is not in the interest to rule the state. What they are interested in is having a puppet figure who will satisfy their interests. As the IRGC's main role is national security, in the event that Khamenei does not appoint a successor and the country goes into political and social turmoil, the IRGC will without a doubt step in. This military intervention will be one of transitory nature, as the IRGC does not pretend to want direct political power. Once the Supreme Leader is secured, the IRGC will go back to a relatively low profile.
In the very unlikely event that a Supreme Leader is not predetermined, the IRGC may take over the political regime of Iran, creating a military dictatorship. If this were to happen, there would certainly be protests, riots and coups. It would be very difficult for an opposition group to challenge and defeat the IRGC, but there would be attempts to overcome it. This would be a regime of temporary nature, however, the new Supreme Leader would arise from the scene that the IRGC had been protecting.
2.2 Mohsen Kadivar
In addition, political dissident and moderate cleric Mohsen Kadivar is a plausible candidate for the next Supreme Leader. Kadivar's rise to political power in Iran would be a black swan, as it is extremely unlikely, however, the possibility should not be dismissed. His election would be highly unlikely due to the fact that he is a vocal critic of clerical rule and has been a public opposer of the Iranian government. He has served time in prison for speaking out in favor of democracy and liberal reform as well as publicly criticizing the Islamic political system. Moreover, he has been a university professor of Islamic religious and legal studies throughout the United States. As Kadivar goes against all requirements to become successor, he is highly unlikely to become Supreme Leader. It is also important to keep in mind that Khamenei will most likely appoint a successor, and in that scenario, he will appoint someone who meets the requirements and of course is in line with what he believes. In the rare case that Khamenei does not appoint a successor or dies before he gets the chance to, a political uprising is inevitable. The question will be whether the country uprises to the point of voting a popular leader or settling with someone who will maintain the status quo.
In the situation that Mohsen Kadivar is voted into power, the Iranian political system would change drastically. For starters, he would not call himself Supreme Leader, and would instill a democratic and liberal political system. Kadivar and other scholars which condemn supreme clerical rule are anti-despotism and advocate for its abolishment. He would most likely establish a western-style democracy and work towards stabilizing the political situation of Iran. This would take more years than he will allow himself to remain in power, however, he will probably stay active in the political sphere both domestically as well as internationally. He may be secretary of state after stepping down, and work as both a close friend and advisor of the next leader of Iran as well as work for cultivating ties with other democratic countries.
2.3 Sayyid Mojtaba Hosseini Khamenei
Khamenei's son, Sayyid Mojtaba Hosseini Khamenei is also rumored to be a possible designated successor. His religious and military experience and dedication, along with being the son of Khamenei gives strong reason to believe that he may be appointed Supreme Leader by his father. However, Mojtaba is lacking the required religious status. The requirements of commitment to the IRGC as well as anti-American ideology are not questioned, as Mojtaba has a well-known strong relationship with the Islamic Revolutionary Guard Corps. Mojtaba studied theology and is currently a professor at Qom Seminary in Iran. Nonetheless, it is unclear as to whether Mojtaba's religious and political status is enough to have him considered to be the next Supreme Leader. In the improbable case that Khamenei names his son to be his successor, it would be possible for his son to further commit to the religious and political facets of his life and align them with the requirements of being Supreme Leader.
This scenario is highly unlikely, especially considering that in the 1979 Revolution, monarchical hereditary succession was abolished. Mojtaba has already shown loyalty to Iran when taking control of the Basij militia during the uproar of the 2009 elections to halt protests. While Mojtaba is currently not fit for the position, he is clearly capable of gaining the needed credentials to live up to the job. Despite his potential, all signs point to another candidate becoming the successor before Mojtaba.
3. PATH TO DEMOCRACY
Albeit the current regime is supposedly overturned by an uprising or new appointment by the current Supreme Leader Khamenei, it is expected that any transition to democracy or to Western-like regime will take a longer and more arduous process. If this was the case, it will be probably preceded by a turmoil analogous to the Arab Springs of 2011. However, even if there was a scream for democracy coming from the Iranian population, the probability that it ends up in success like it did in Tunisia is slim to none. Changing the president or the Supreme Leader does not mean that the regime will also change, but there are more intertwined factors that lead to a massive change in the political sphere, like it is the path to democracy in a Muslim state.