In the image
Section of a Central Asia map: republics of Kazakhstan, Turkmenistan, Uzbekistan, Kyrgyzstan, and Tajikistan.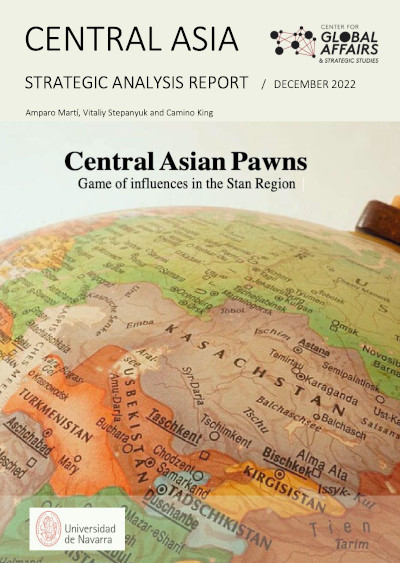 Download the document
PRESENTATION
This is a Strategic Analysis Report which analyses the influence of Russia, China, Turkey, Iran, India and the United States on the Central Asian region. This region comprises five countries —Kazakhstan, Uzbekistan, Turkmenistan,Kyrgyzstan and Tajikistan—, which are qualified as 'pawns' in the title because, since their independence, they have played a subordinate role in their relationship with external powers.
Nevertheless, in view of the new reality created by the Russian invasion of Ukraine, these former Soviet republics are facing an opportunity to develop more independently from Russia. To this end, Central Asian countries need to seize the opportunity of diversifying their relations with other powers. This report aims to forecast exactlythat: the future of the region in its relationship with foreign powers.
The results of the analysis show that Central Asia is a place where the interests of a wide variety of powers converge. Each power tries to influence the region in different ways, be it military, resource-related, economic or political.
Regarding military influence, Russia is the most influential player in Central Asia, on which the countries ofthe region are highly dependent in terms of armaments, border defense and the fight against terrorism emanating from Afghanistan. Terrorism in this country was also the main reason why NATO had some military influence in the region for almost two decades. Although Russia's military influence remains overwhelming —and is likely to remain so in thefuture—, the Central Asian countries have begun to diversify their security relations with other countries as well, whichgives them the opportunity to strengthen their autonomy and differentiate themselves from Russia.
The abundance of natural resources in Central Asia is also an incentive to trade with the region for some countries such as the European Union, which is looking for new hydrocarbon suppliers. However, the lack of aninfrastructure linking Central Asia to the European Union —without passing through Russia— prevents Central Asia from becoming a supplier of gas and oil to the European Union.
One country that is indeed buying these natural resources in abundance is China, which has invested heavily in infrastructure in Central Asia. Due to these investments and its weight in Central Asia's exports, China has become the main economic power in the region. With investments from China and other foreign investors, Central Asia has a great opportunity to prosper economically. For this to happen, it will be necessary for Russia and China to interactpeacefully in the region's economy. The instability emanating from Afghanistan has also encouraged other countries —such as India and the United States— to engage in political relations with Central Asia, especially in matters of counter-terrorism. Other countries —such as Turkey and Iran— rely more on historical and cultural ties. In order to have peaceful relations with all these actors, the countries of Central Asia will have to work on the creation of a balance that satisfies all the parties involved.
In short, the Central Asian states need to further develop a multi-vector foreign policy, which would allow them to collaborate with many powers simultaneously and thus progress towards a reality of greater national strength and more independence from Russia. Among other things, this will help them to maintain security in the region, to have their own opinion on Russian foreign policy, to create a greater nationalist sentiment and to seize the opportunity toprosper economically. Therefore, Central Asian states have a lot of potential that can be realised in the future.