In the image
Central Asian carpet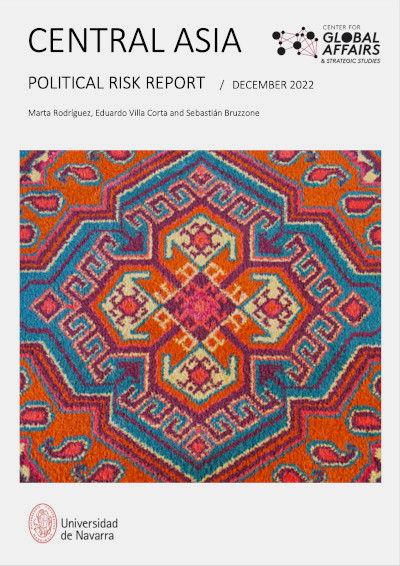 Download the document
EXECUTIVE SUMMARY
Even though the 2020 Coronavirus Crisis and Russia's invasion of Ukraine in 2022 have wreaked havoc on the global economy and financial markets, Central Asia is expected to improve and to recover. From the economic outlook, on average, Central Asian GDP is expected to increase by 3.71% in 2023 and 3.89% in 2024, when the five republics will be aligned in terms of economic growth. Current high interest rates will decrease as inflation falls in the region as in the world. Furthermore, public debt and its management will be a major challenge, especially for Tajikistan and Kyrgyzstan, which will own 60.70% and 39.36% of their GDP in 2024, respectively. Russia is no longer the gatekeeper of the region as China is passing to a more important plane; Central Asia is witnessing a turn to the East, mainly due to Chinese Belt and Road Initiative (BRI). Nonetheless, the region is becoming a target for international project finance and M&A deals coming from major companies from Europe, Saudi Arabia, United Arab Emirates and Turkey with which billionaire agreements have already been signed and closed. Unfortunately, economic integration is still far to be real, but timid attempts are currently taking place in the year 2022.
From the energy and infrastructure outlook, a possible conflict in a short-term timeframe may take place due to cooperation of Uzbekistan and the hydraulic powers, as the water crisis remain being a major red flag in Central Asia. Moreover, in the medium-term, there is a more probability to witness a conflict if the relations worsen. On the other hand, in relation to the BRI initiative the Central Asian republics will focus on improving the railways and roads of the system in the short-term. Furthermore, even it may seem peculiar, the oil and gas infrastructural projects that have the more probabilities of being developed are the Russian-related projects. Nevertheless, Chinese projects will make way in the region as huge investments are being made by Asian Infrastructure Investment Bank and Export-Import Bank of China.
From the social outlook, social unrest and confrontations will continue in south Kyrgyzstan during the next year. In fact, the Kyrgyz-Uzbek border dispute is suffering an escalation into a greater crisis. Whilst, in the Karakalpakstan region, the area is protecting its autonomy, but secession is unlikely. Moreover, Islamic radicalization will have an important role in security. However, a shift to becoming Islamic republics is far from likely as CARs' presidents make heavy efforts to combat religious fundamentalism. Indeed, most countries have aligned into this anti-radicalism commitment.
Finally, from the political outlook, Kazakh president Tokayev will reinforce its position and his victory is almost certain and political reforms will not see any change for 2-3 years. In this regards, strong presidentialism is expected to continue being dominant in Central Asia, but European Union's democrat ideals may cause some impact, but not enough to change the existing authoritarian system.