The battery race: surfacing geothermal lithium trapped below the Rhine River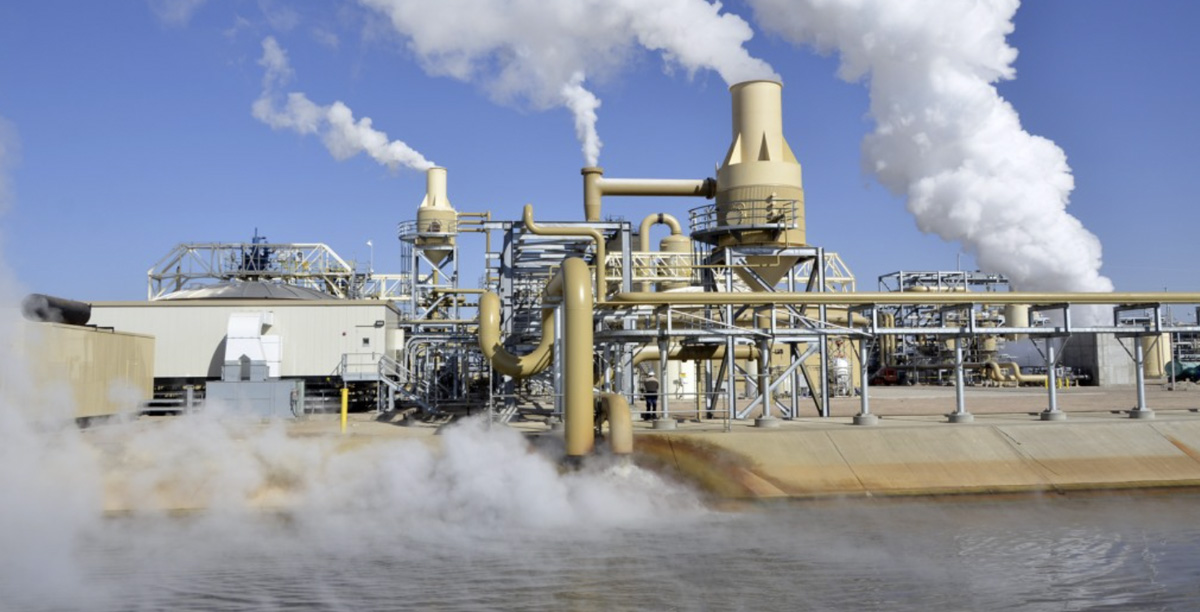 A geothermal plant for electric generation and lithium production [EnergySource]
The European car industry could benefit from a new way of getting lithium, with a different technique than the used in the Andean salars or in lithium mining: this time beneath the Rhine Valley
June 18, 2021
ANALYSIS / Gabriela Pajuelo
Germany, Australia, the United Kingdom and the European Union are involved in a new opportunity for "white gold" mining to secure a sustainable energy source for the European Union and effectively shorten lithium battery supply chains and cater to the growing demand of these for electric vehicles. One of these projects is the promise of surfacing lithium trapped in underground springs of boiling hot water thousands of meters below the Rhine River totaling up to 14 million tons, would effectively increase Germany's currently known lithium supply of only 2.7 million tons, and would be enough to supply more than 400 million electric cars.
This analysis will tackle the feasibility and profitability of this project, the private and public players involved, the Environmental, Social and Government (ESG) standards, and the European regulation it falls under, to understand the impact of this finding for German lithium-ion (li-ion) batteries and electric vehicles (EV) manufacturing.
The global demand for lithium is expected to reach 117,400 tons by 2024, or 625,000 tons of lithium carbonate equivalent (LCE), and prices have soared in recent years, in 2020, by 51.61 percent mainly due to the Covid-19 pandemic. Lithium is a geological commodity difficult to extract due to its density; it is used in the production of rechargeable storage batteries (or li-ion batteries, used for electric vehicles) by companies such as Tesla and Volkswagen, because they are much lighter than other types of rechargeable batteries of the same size and have a high energy density, which means that they can store more energy than other batteries of the same size; this explains why in 2018, 56% of total lithium production was destined towards EV batteries.
Environmental, social and governance standards
Criticism of its raw material based production has made the environmental, social and governance (ESG) standards it ought to fulfill, highly challenging as the shift to sustainable mobility will prioritize a transparent supply chain with the cleanest vehicles, renewable energy storage, high quality products, and environmentally friendly extraction technology. The Australian company Vulcan Energy Resources, based in Karlsruhe, aspires to reach the ESG standards and turn the Upper Rhine Valley into a European "lithium valley", an area 300 kilometers long and up to 40 kilometers wide in the Black Forest area of southwestern Germany, between Frankfurt and Basel, shows great promise for the production of up to 400 tons of lithium hydroxide.
Vulcan Energy has managed to develop an extraction method different from evaporation, a method often criticized for its environmental impact in water quality, which threatens livestock farming and leads to vegetation drying out. Nonetheless, it is widely used in Latin American countries within the Lithium Triangle where the world's largest known lithium reserves lie in salt deserts, located in Bolivia, 21 million tons; Argentina, 19.3 million tons and Chile, 9.6 million tons; accumulating 49.9 million tons out of the total global reserves, which are estimated to be about 86 million tons up in 2020, according to the US Geological Survey. The extraction of raw materials from salars involves bringing out lithium-containing saltwater from underground lakes to the surface and evaporating it in large basins further processed until the lithium is suitable for use in batteries. This process is different from energy-intensive hard rock ore mining in Australia and the geothermal technique proposed by Vulcan for the Rhine reserve, which aims to obtain 900 tons of lithium per year at the Bruchsal site.
The startup will use geothermal brine drilling from existing wells for direct lithium extraction (DLE) to produce carbon neutral lithium chloride, the first time this technology is used in Europe, this geothermal energy would be harnessed by up to five power stations it plans to construct. Its first pilot plant in April 2021 has taken less than six months to design, build and commission, demonstrating through bench scale test work more than 90% lithium recoveries via DLE, producing lithium chloride (LiCl) concentrates using techniques similar to other commercial and near-commercial lithium brine projects, such as its Fénix Project in Argentina. Vulcan's success will enable it to prove up the commercially mature extraction technology's effectiveness and significantly de-risking the project for potential investors.
Vulcan's DLE production is a more preferred, even ethical, way to produce carbon neutral lithium from brines, thus environmental concerns are addressed by the use of a closed system where brine is re-injected into the reservoir with no evaporation losses allows for CO2 intensity of Vulcan's lithium production to be the lowest compared to any lithium project worldwide.
Nonetheless, ESG factors arise again, as this kind of geothermal production received criticism in 2007, drilling caused underground layers of gypsum to swell to the extent houses were lifted and damaged in Staufen, a village in the Black Forest of Germany. Thus, the Australian startup will have to deal with local opposition to the project, which can be more vociferous in densely populated Europe than in remote Australia or the deserts of South America. The residents of the Upper Rhine Graben are already opposing the project over fears that it might lead to small earthquakes that can damage buildings, and political opposition has also been shown by Richard Schüler, district administrator of chancellor of the Christian Democratic Union of Germany in Kehl, said he would do "anything" to prevent geothermal lithium mining in the area.
Regardless of this, Vulcan and its partners haven taken on an aggressive schedule to cater to growing demand for sustainable energy sources for electric vehicle (EV) batteries and energy storage, which according to the Proposal for a Regulation of the European Parliament and the Council concerning batteries and waste batteries, the EU alone will need up to 18 times more lithium and 5 times more cobalt by 2030, and nearly 60 times more lithium by 2050, compared with the current supply to the whole EU economy. This project seems to perfectly within the EU's prospects of self-sufficiency in the lithium industry, as it could add to the list of four sustainable lithium mining projects totaling €2 billion launched in Europe, to be in operation by 2022-2024, which are set to meet up to 80% of Europe's lithium needs by 2025.
The support of the EU, through the framework of the European Green Deal initiatives, for scaling up of innovative solutions and manufacturing capacity of batteries in Europe was shown through the establishment of the European Battery Alliance in October 2017 by the European Commission. Furthermore, in May 2018, as part of the third 'Europe on the move' mobility package, it adopted a dedicated strategic action plan on batteries, with a range of measures covering raw materials extraction, sourcing and processing, battery materials, cell production, battery systems, re-use and recycling.
Within the EU, politicians are creating incentives to stimulate the market and setting ambitious targets to clean up road transport, with countries such as France, Norway and the Netherlands announcing plans to phase out the sale of petrol and diesel cars with target dates ranging for 2025 to 2040. Germany's Climate Action Programme says that the transport sector is supposed to largely abandon fossil fuels by 2050. Furthermore, Germany's government plans to drastically increase the number of e-cars on the road over the next ten years through the Umweltbonus (environmental bonus) for EVs, new car buyers can receive a grant up to €6,000 for choosing to buy electric cars. In the economic stimulus package provided during the Coronavirus crisis, it increased up to €9,000 as of 1st July 2020. This is an interesting contrast, as lithium use for EV batteries is encouraged but its extraction and production produces some resistance in Germany.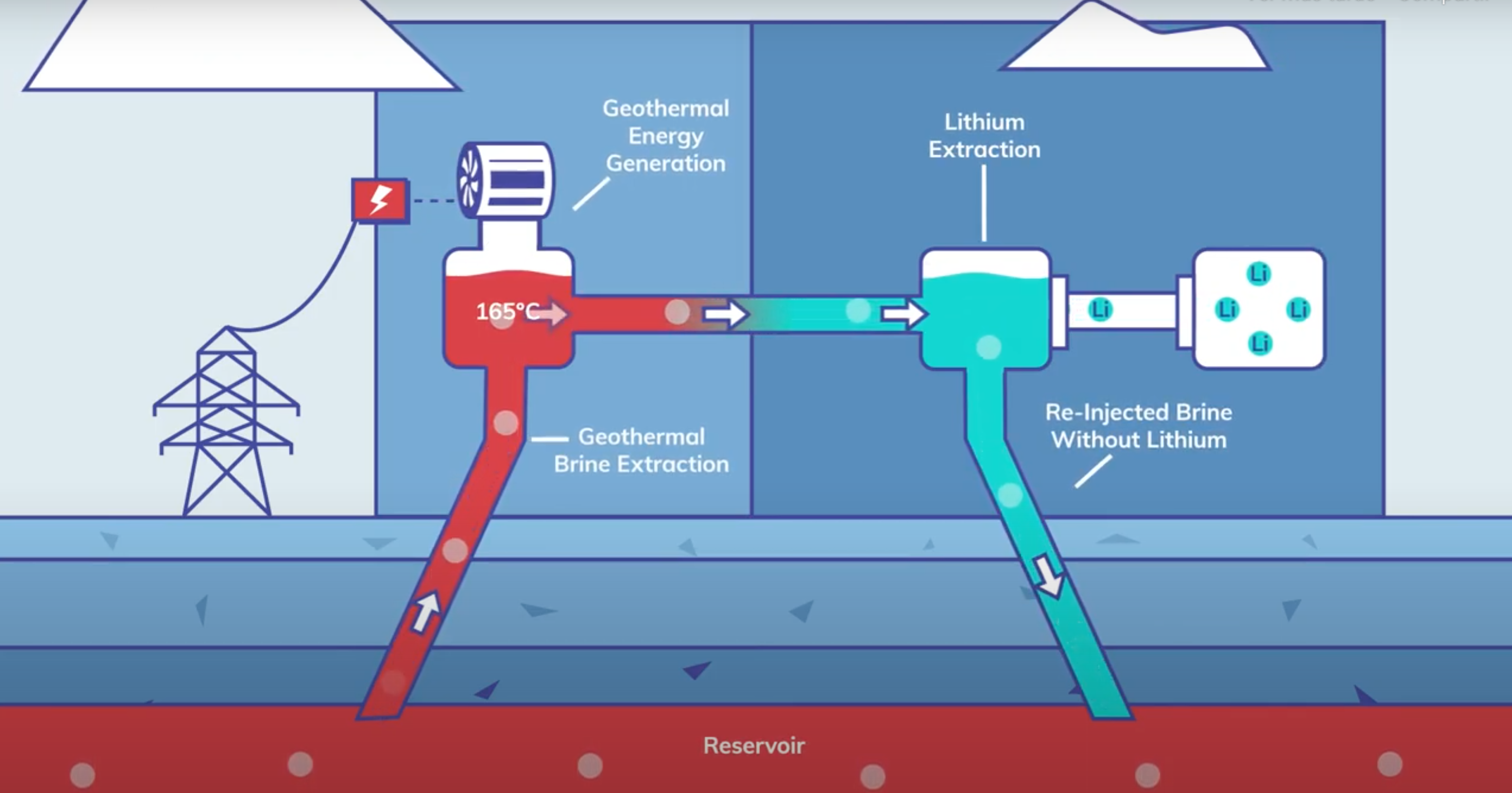 The process of getting the hot water from the reservoir for generating electricity and extracting the lithium, with zero emissions [Vulkan]
Financial and economic concerns
The most compelling growth driver for EVs is simple economics, the cost of lithium-ion cells has already declined by 73% since 2010 and it is expected to fall by an additional 60% over the next four years. But Vulcan predicts lithium can sustain a market price of $13,000 per ton of lithium hydroxide by 2025 with extraction costs "well below" that level.
This project's expectations for production for the next three-to-four years, according to Michael Schmidt from the German Mineral Resources Agency (DERA), as stated in the EU regulatory proposal, would be just in time to help ease supply bottlenecks expected around the middle of the decade. It is estimated that by 2024, domestic lithium demand will rise to 9,000 tons per year in a slow e-mobility roll-out scenario and to 32,000 tons per year in a fast scenario. Just in 2020, Germany imported roughly 5,300 tons, but reducing the expenses related to importing lithium from abroad would be highly beneficial for the EV industry in Germany.
So far the Vulcan Zero Carbon Lithium Project developments in Germany have been enabled by its world-class technology partners, EIT InnoEnergy, an innovation and commercialisation engine for sustainable energy across the European Union, assisting Vulcan in obtaining and fast-tracking licences, developing relationships with lithium off-takers in Europe's auto and battery industries, and securing project funding. So far, the company plans to invest €1.7 billion ($2 billion), of which it has so far raised about €75 million ($91,68 million), to build geothermal power stations and facilities to extract the lithium, but that is not enough, as the production of around 15,000 tons of lithium hydroxide per year would cost Vulcan Energy around €700 million; with an annual production of 25,000 tons, the price would rise by a further €400 million.
London-based Natural Resources Global Capital Partners (NRG), a Vulcan partner, has been appointed to provide strategic and financial advice focused on the global metals and energy industries. So far, Vulcan has secured investment from Hancock Prospecting, one of Australia's leading investors, and previously it has been backed up by prominent donors like investment bank Goldman Sachs and the European Institute for Innovation and Technology (EIT) in their public Australian based company, raising more than €80 million.
Nonetheless, criticism for Vulcan's initiative has risen in recent months, geologist Ingrid Stober of Freiburg University argued it is unclear whether geothermal lithium production can become economically viable. And some investment analysts are not sold on the idea either, "Vulcan's project development plan, might be argued to be rather novel" analyst Reg Spencer of Canaccord Genuity told Reuters. This uncertainty could help explain why important stakeholders in the German EV industry have not shown as much commitment to the project, Daimler waited on analyzing the first exploration material and reliable forecasts on delivery volumes and BMW argued it would not rule out buying German lithium if quality, delivery volumes, social and environmental standards were appropriate, whilst Volkswagen seems to be placing its faith in the potential for partnership with alternative raw materials producers.
Implications for lithium supply and battery production demand
Lithium extraction is a small part of the li-on battery value chain., composed of six vital stages: lithium deposit to concentrate (mining and refining), lithium processing to battery chemical, cathode manufacturing, lithium-ion cell manufacturing, battery pack and EV Original Equipment manufacturing and finally to the EV market for sale, which in Germany increased three-fold to 194,163 units in 2020 . Before the Rhine reserve finding pushed by Vulcan's efforts, in 2020 Germany was missing an important piece of the chain, while well advanced in the latter stages from cathode manufacture through to the EV market, the country has lacked the 'lithium deposit to concentrate' and 'lithium processing to battery chemical' stages.
Even though Vulcan Energy are not the first to see the potential in the Upper Rhine Graben, as the Karlsruhe Institute of Technology (KIT) and the German energy supplier EnBW are also currently trying to extract lithium from deep water, they might be the first to establish a commercial lithium extraction project which meets the highest ESG standards of the German EV industry and reduces the reliance of the German and European car industry on imported lithium. As for now, Vulcan is now working on further optimising the lithium extraction process, completing its pre-feasibility study (PFS) by year end with the DFS to follow, ahead of first commercial scale production targeted for 2023.