Mycotoxins are toxic secondary metabolites produced by fungi that can contaminate food or feed. They are chemically stable and can be present in food commodities even if the fungi producing them have disappeared. Humans and animals may be exposed through the consumption of contaminated food or feed. There is a great variety of possible toxic effects that can be produced by these mycotoxins after acute or chronic exposure and maximum permitted levels have been established for some of them. Research to characterize their toxicity and to determine their presence in food is needed in order to preserve human health.
desplegable-home-mycotoxins
The approach to the mycotoxin problematic is carried out from two points of view:
a) their detection and quantification in biological samples and food matrices with the objective of providing human exposure data and possible contamination sources
b) their toxicological characterization with the objective of improving the toxicological profile of each mycotoxin, in order to provide new and better data for risk assessment.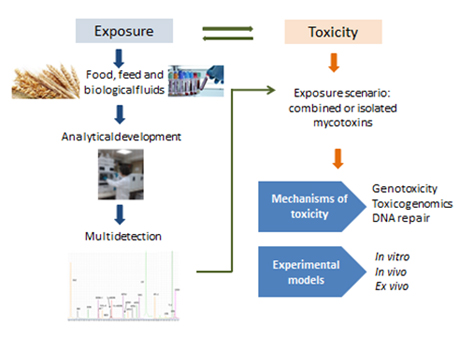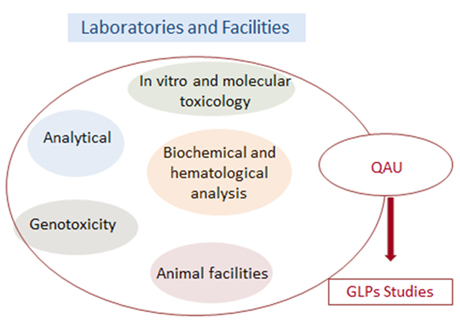 Analytical Laboratory:
· HPLC-UV and FLD
· LC/MS QqQ and TOF
· GC/MS
Toxicology Laboratory
· Cytotoxicity (MTT, NR, ATP, LDH)
· Reversion test in bacteria
· Chromosome aberrations assay in mammalian cells
· Micronucleus text in rodents
· Comet assay in vitro and in vivo
· Gene mutation in mammalian cells (MLA, TK)
· Genotoxicity screening (umu test)
· Dose-repeated toxicity assays
· Pharmacokinetic and Toxicokinetic Studies