The use of digital devices exceeded 9 hours a day during confinement, according to a study from the University of Navarra
According to a report published by the La Caixa Social Observatory, people who have spent more time doing physical exercise and engaged in hobbies that do not require screen time show higher levels of well-being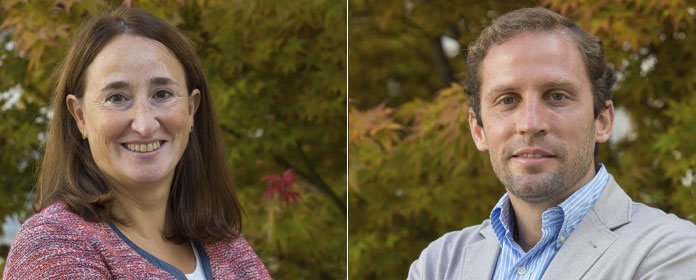 Charo Sádaba y Javier García-Manglano

FOTO: Manuel Castells
Coronavirus confinement significantly increased the use of digital devices, exceeding use times of9.25 hours per day. This statistic comes from El bienestar personal y el uso de la tecnología en confinamiento (Personal well-being and the use of technology in confinement), which researchers from the Youth in Transition group prepared (Institute for Culture and Society (ICS), University of Navarra) and which theLa Caixa Social Observatory published. Its authors include Javier García-Manglano, Charo Sádaba, Cecilia Serrano and Claudia López Madrigal.
The study conducted an international survey with more than 9,300 responses from Spain, Argentina, Chile, Colombia, Ecuador, El Salvador, Guatemala, Mexico, Peru, Uruguay and Venezuela. The data was collected between March 29 and June 20, 2020. The results indicate that 16% of respondents display low levels of well-being, 57% display medium levels of well-being and 27% display high levels.
19% affirmed that their screen use increased a lot and 52% responded that it did so quite a lot. Only 3% responded that their technology use remained constant compared to pre-Coronavirus use.
The results show that those who dedicate more than two hours a day to social networks, entertainment or communication technology display high levels of well-being less frequently than those who manage a moderate use (two hours or less per day).
Evidence shows that physical exercise and leisure time dedicated to hobbies that do not require screen time (cooking, reading, painting or playing an instrument, among others) are associated with higher levels of personal and psychological well-being. Similarly, amid social distancing, personal relationships with friends or family are especially valuable in avoiding distress and for promoting high levels of well-being.
On the other hand, certain uses of technology, "such as gossip or searching for information about the pandemic appear to be associated with lower levels of well-being," as Javier García-Manglano, principal investigator of Youth in Transition, affirms. The ICS expert points out that, however, it would be rash to conclude that these activities are the cause of distress. "It could well be the other way around, i.e., that people with more problems turn to technology as an escape… to forget what is causing them distress for a moment. Our study identifies the relationships, but does not distinguish cause and effect," he points out.
Greater impact on the young than on the elderly
Women, young people and people without a higher education report having had a worse time in confinement. Likewise, the differences between age groups are striking: there are hardly any people over 50 with low levels of well-being and more than 40% of that age group report a high level of well-being, while only 14% of the participants between 18 and 22 report high levels. "This is surprising since the elderly are most at risk from Covid-19," according to Charo Sádaba, Dean of the School of Communication and an ICS collaborator.
As she indicates, the group currently hypothesizes and will continue to explore "the disruption of daily routines (not attending school or work in person, change in leisure and sports patterns, less social life, etc.) and its affects on young people more than on the elderly, for whom confinement, perhaps, has meant only minor changes in their lifestyle."
The article associated with this research was published in the La Caixa Social Observatory, an initiative to study new social phenomena in four areas, as follows: social inclusion, education, science and culture. The Observatory's analysis draws on key indicators regarding topics of social interest in the member countries of the European Union and the OECD, as well as on articles, interviews and reviews from experts.