Character education to prevent harmful behavior, such as consumerism and digital addictions, among adolescents
Pedro Luis Barcia, former president of the National Academy of Education in Argentina, argued for including this type of education "in the pedagogical reality of the classroom" at an international conference hosted by the University of Navarra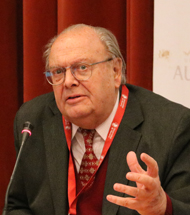 Pedro Luis Barcia

FOTO: Isabel Solana
Character education helps prevent harmful behavior among adolescents today, such as consumerism— the obsession with novelty— and digital addictions. Thus argued Pedro Luis Barcia, former president of Argentina's National Academy of Education and its Humanities Endowment. He gave these remarks within the framework of an international conference funded by the Templeton World Charity Foundation and organized by the University of Navarra in collaboration with Austral University (Argentina).
In his opinion, digital addictions endanger people's ability to have an inner life and, therefore, the development of identity. They also habituate unthinking responses: "The polarity of 'like – don't like' leads to the death of nuance and, therefore, of thought."
Professor Barcia stressed that character education "unifies the abilities that give fullness to a person" and "unifies our different spheres, including the moral and emotional, and that which governs coexistence..." That is why he argued for its presence "in the classroom's pedagogical reality, not just in what is required by law."
Embodying character education at concrete cruxes
He lamented that many education systems declare character education a transversal crux, making it, in his opinion, difficult to "bring down to reality and concretely apply it." According to Barcia, it is "left it in the hands of teachers, an approach that falls short because it depends on each teacher's intuition for incorporating it into the syllabus and on individual teaching styles for its implementation."
Faced with this, he proposed that, "teaching of this nature be real, embodying it in concrete concepts" to avoid it "remaining merely theoretical."
Pedro Luis Barcia delivered these remarks during the closing session of an international conference on Character Education in Latin America: Challenges and Opportunities, which took place on June 13 and 14, 2018. It brought together researchers, teachers and educational policy makers at the IAE Business School of Austral University in Pilar (Argentina).
The Templeton World Charity Foundation funded the event, which was organized by Researching and promoting character education in Latin American secondary schools, a joint research project of the School of Education and Psychology and the Institute for Culture and Society (ICS).