Más de medio centenar de antiguos alumnos participa en una sesión en Madrid con la directora de Mercedes Benz Fashion Week Madrid
Charo Izquierdo ofreció algunas pautas para organizar una semana de la moda a los graduados de ISSA School of Management Assistants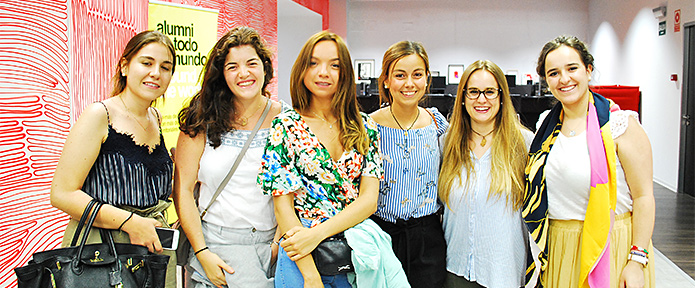 Algunas de las antiguas alumnas de ISSA
FOTO: Cristina Mancebo
Medio centenar de antiguos alumnos de ISSA School of Management Assistants participó en una sesión con Charo Izquierdo, directora de Mercedes Benz Fashion Week Madrid. El encuentro tuvo lugar en la sede del ISEM Fashion Business School y durante la misma Izquierdo ofreció algunas pautas para organizar una semana de la moda: qué criterios hay que tener en cuenta a la hora de seleccionar diseñadores, quién selecciona los modelos o cómo establecer vínculos con periodistas y proveedores.
La cita tuvo lugar en Madrid y sirvió como jornada de formación para los graduados así como de reencuentro de antiguos alumnos de diferentes promociones: intercambiaron impresiones sobre el mundo laboral, conocieron diferentes sectores en los que puede trabajar un graduado en Asistencia de Dirección y les sirvió también para hacer networking.
Hacía más de 5 años que la Escuela no organizaba un encuentro Alumni en Madrid, uno de los principales destinos laborales de nuestros graduados. Actualmente residen allí 5.000 de ellos, de los cuales más de un centenar son antiguos alumnos de ISSA School of Management Assistants. Tras el éxito de este reencuentro está previsto repetir la cita a finales de curso que viene.