Un trabajo del Cima y de la Clínica Universidad de Navarra recibe el Premio de Investigación Fundación Dr. Antoni Esteve
Los científicos han diseñado una molécula eficaz en el tratamiento de leucemias agudas y linfomas en ratones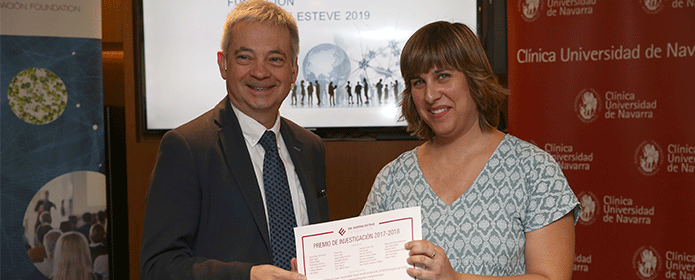 Félix Bosch, director de la Fundación Dr. Antoni Esteve, hace entrega del premio a EdurneSan José, investigadora del Cima y primera autora del artículo.
FOTO: Manuel Castells
Científicos del Cima y de la Clínica Universidad de Navarra han recibido el Premio de Investigación Fundación Dr. Antoni Esteve, que distingue el mejor trabajo de farmacología español de los últimos dos años. El galardón, dotado con 18.000 euros, se ha entregado esta mañana en Pamplona.
Los investigadores diseñaron en 2017 un compuesto que mejora la supervivencia de modelos animales con leucemias agudas y linfomas. Los resultados, publicados en la revista Nature Communications, abren una vía terapéutica a enfermos con tumores hematológicos de peor pronóstico.
El tratamiento de los tumores hematológicos ha adquirido un enfoque novedoso gracias a la administración de fármacos epigenéticos, basados en modificaciones moleculares que alteran la actividad de los genes en el desarrollo del cáncer. El grupo de la Universidad de Navarra diseñó una molécula, llamada CM-272, que bloquea de forma simultánea la actividad de dos enzimas epigenéticas implicadas en el desarrollo de distintos tipos de tumores, la histona metiltrasferasa (G9a) y la DNA metiltrasferasa (DNMT1). "Como consecuencia, induce la muerte celular de la leucemia mieloide aguda, la leucemia linfoblástica aguda y el linfoma no Hodgking", explica el doctor Felipe Prósper, codirector del Servicio de Hematología del Cima y de la Clínica Universidad de Navarra, y uno de los coordinadores del trabajo.
Los resultados, confirmados en animales, son un primer paso fundamental para el desarrollo de nuevos compuestos como posible tratamiento en pacientes con estos tumores, que actuarían por estrategia complementaria a los tratamientos actuales. Según los investigadores, "el CM-272 se presenta como un fármaco selectivo y representa un nuevo enfoque terapéutico más seguro y eficaz para tumores hematológicos que actualmente tienen un mal pronóstico".
Artículo premiado:
Nature Communications: Discovery of first-in-class reversible dual small molecule inhibitors againts G9a and DNMTs in hematological malignancies.