7 subject areas in the University, among the best in the world, according to the Times Higher Education rankings
Law is ranked no. 44 in the world and no. 1 in Spain according to the Times Higher Education Subject Rankings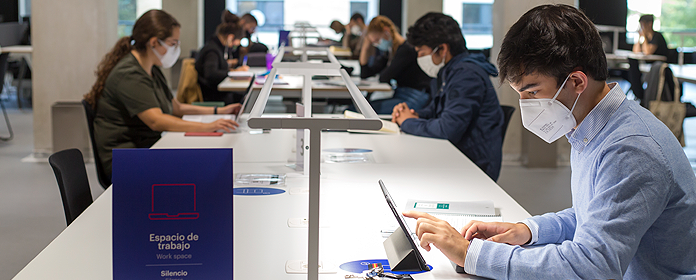 The University of Navarra has been ranked in 7 of the 11 subject areas (Arts and Humanities; Business and Economics; Clinical and Health; Engineering; Law; Life Sciences and Social Sciences) in the 2021 Times Higher Education Subject Rankings.
In the area of Law, the University is ranked no. 1 in Spain and no. 44 in the world thanks to the impact of its research and international outlook. It is also ranked no. 1 in Spain in teaching.
This ranking measures university performance using five indicators: research impact, funding from industry, international outlook, research and teaching. These indicators are weighted differently depending on the subject area to reflect the specific characteristics of each field.
The University of Navarra is ranked 151-200 in the world in Business and Economics and is no. 3 in Spain. In this subject area, it scored highest in research impact, international outlook (no. 1 in Spain) and in teaching.
In the subject area of Clinical and Health, the university is ranked 201-250, an increase from last year's position (251-300), achieving the best score in Spain in funding from industry and scoring highly in research impact. In Arts and Humanities the University is also ranked 201-250 in the world, obtaining a high score in teaching.
In Life Sciences, it is ranked at 301-400, with a significant score in research impact. In Social Sciences it is ranked 401-500, achieving its highest score in funding from industry. In Engineering, it is ranked 601-800 in the world, achieving its highest score in industry funding.
Times Higher Education Subject Rankings 2021
The ranking evaluted more than 1,500 universities worldwide in 11 subject areas (that is, 500 more universities in this edition compared to previous years). The data is provided by the universities, the Scopus database and from academic surveys completed by academics from all over the world. The ranking employs a total of 13 distinct values grouped into 5 indicators.