The rector underlines the value of the college residence (Colegios Mayores) in the current university experience
The XLII College Residence Conference of Spain brings together 200 people at the University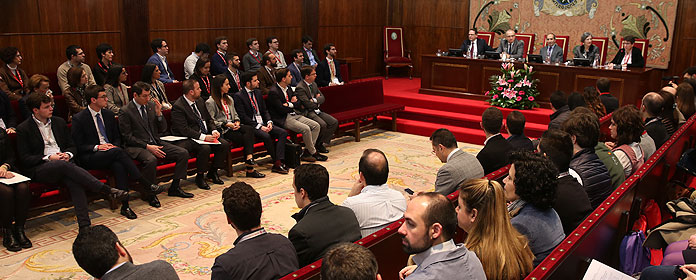 The rector of the University of Navarra, Alfonso Sánchez-Tabernero, has stressed the value of the College Residence in the current university experience. "A college is a place of cultured coexistence, where we see the concerns of others, where we understand that it is key to respect the different, where we see that we have so many things to learn from others, etc."
This was stated during the inauguration of the XLII College Residence Conference of Spain, which brought together 200 people in the academic center, from 19 Spanish and 5 Italian universities.
In his opinion, the formative challenge of the University is far superior to what has been faced in the past. "Beyond acquiring knowledge, the key is that the university forms educated men and women, in the depth, who know how to think, with empathy, creativity, ability to work in a team, honest, respectful".
The mayor of Pamplona, ​​Enrique Maya, spoke of the need to relate the university to the city, and in this regard, he highlighted the "essential" function of the College Residence. "We are working to eliminate physical and social barriers, because the city and universities are needed".
"This city had the great fortune that someone decided that the University of Navarra was here", he said. Then, he added, work was done to establish the public university: "There are two universities that complement each other to work together for the best for Pamplona, ​​for Navarra and for society in general", he concluded.
The focus of innovation, science and culture
For his part, Juan Muñoz, president of the Council of College Residence of Spain, said that the purpose of the University Residences is to contribute comprehensively to the training of young people, to society and serving the university itself. To be centers of innovation, science and culture". Ana Burusco Juandeaburre, general director of the University of the Government of Navarra, and Rocío Davis, professor of Literature and representative of the directors of the CCMM (College Residence) of Navarra before the CCMM Council of Spain also participated in the opening.
In the XLII College Residence Conference of Spain, which will take place in Pamplona until Saturday 8th under the title "The collegial experience: an educational opportunity", university students and senior school leaders will address the collegial experience as an educational opportunity. In the sessions they will work on the educational challenges of our time, the social importance of university commitment or reputation and communication in their institutions.
The Council of University College Residence of Spain is a state-owned association with 120 members, constituted with the purpose of ensuring the nature and high function of the University Residences at the university level, serving as a vehicle for communication and cooperation among the College Residence of Spain, and assume and represent the general interests of the collective.