Psychiatrist Marian Rojas and Harvard professor Eva Ascarza ponered on success at the New York Alumni Meeting
University of Navarra brings together more than 80 alumni at its headquarters in Manhattan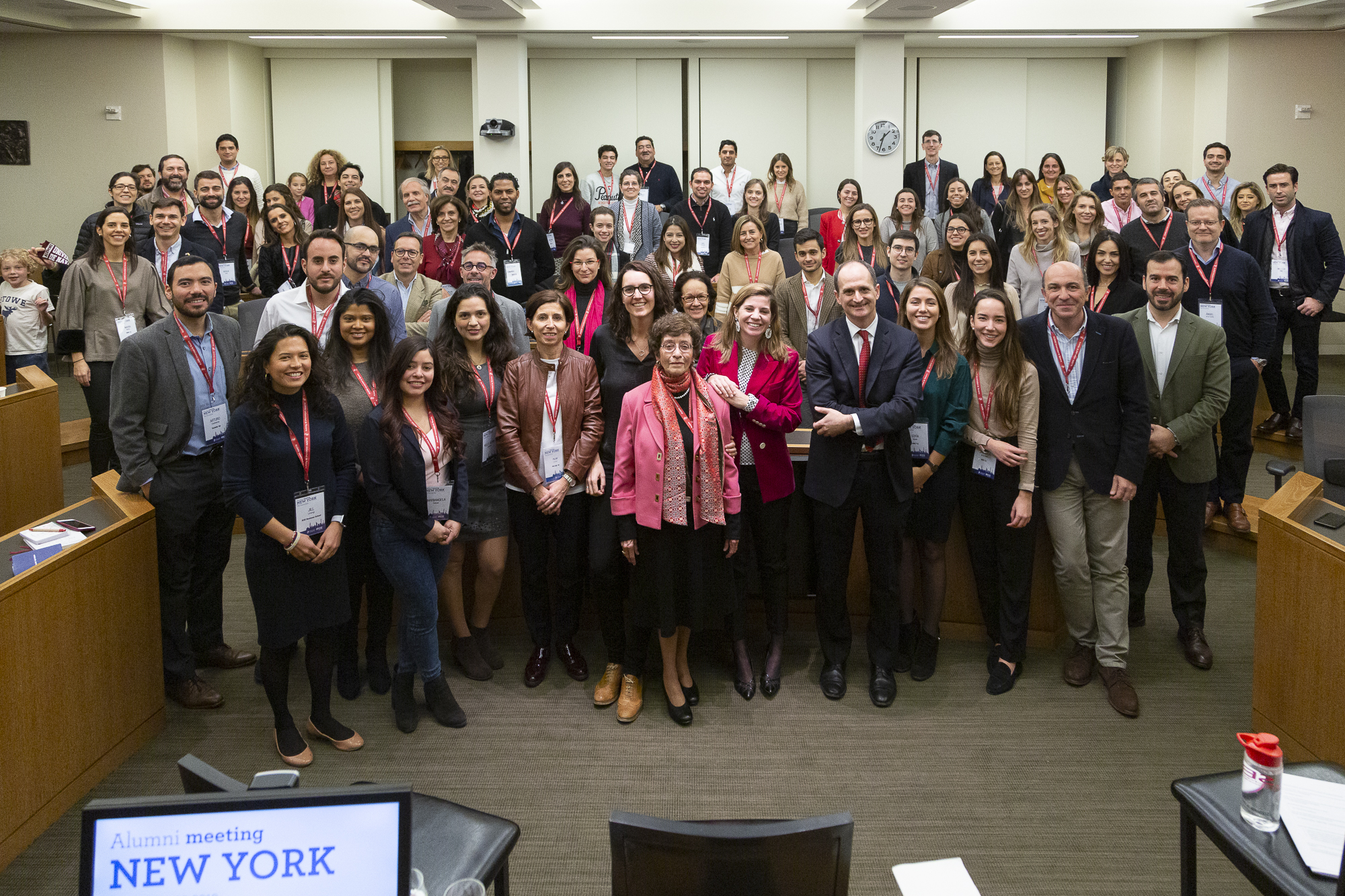 Last Saturday, more than 80 alumni met at the headquarters of the IESE Business School of the University in Manhattan (New York) to attend a dialogue between Marian Rojas (MED'07), graduated in Medicine, and Eva Ascarza (MEF'04), graduate of the Master of Economics and Finance from the University of Navarra.

The conversation, moderated by John Almandoz Professor of People Management in IESE Organizations, among the speakers revolved around how to obtain and manage success in personal and family life. The guests addressed the issue from their professional and personal experience and provided some keys to success.

Eva Ascarza, a professor at Harvard Business School, recounted how she decided to study the Master's degree in Economics and Finance at the Faculty of Economics in Pamplona after the opportunity to access a scholarship for these studies. The former student did not plan to study a master. Her plan was to move to Madrid for work. It was there that she found what she was passionate about and headed her way in that direction. For the teacher there are two keys to success, "surround yourself with excellent people and overcome the impostor syndrome leaving your comfort zone. Only in this way can progress be made towards success".

On the other hand, Marian Rojas, author of the book "Cómo hacer que te pasen cosas buenas" from which more than 150,000 copies have been sold, explained how she tries to teach people the connection between mind and body. For this former student "we all have to look for a purpose in life and for that we have to stop and think, not get carried away by emotions". Knowing them, knowing where they come from and why they are there is "a complicated but very important task to achieve success". Therefore, to achieve this it is important "not to be afraid to ask for help to learn to deal with stress, anxiety and sadness. You have to learn why they are there".

After the central event, the former students and friends of the University were able to chat relaxed with the speakers. On behalf of the University, and to strengthen contact with the alumni of the area, Pilar Lostao (PhD BIO'91), Vice-Rector for International Relations; Ignacio Ferrero (ECO'92), dean of the Faculty of Economics; and Sergi Molas (MGEC'05), director of Alumni.
Meeting points
The University wants to maintain contact with former students from all over the world through different events, one of them being the Alumni Meeting. These meetings replicate the annual Alumni Weekend that is held every year on the Pamplona campus. In New York, the last meeting of these characteristics took place in 2018 and was attended by the eminent cardiologist Valentín Fuster.
During the 19/20 course, different meetings are being prepared to get back in touch with the alumni from different provinces. The following will take place in Madrid (February), San Sebastián (April) and Barcelona (May).