The University, Ranked 1st among Spanish Universities and Among the 50 Best Worldwide in the QS2018 Employability Ranking
For the third time in a row, our institution gets this position at national level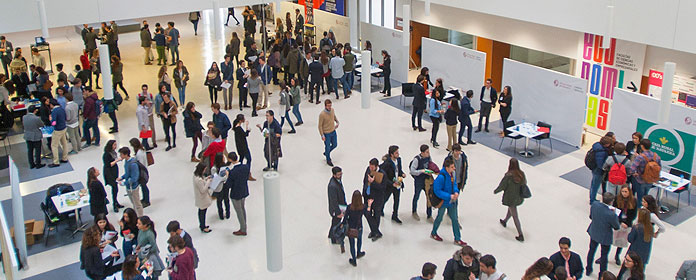 Alumnos y profesionales durante un foro de empleo en la Universidad de Navarra.
FOTO: Manuel Castells
The Universidad de Navarra is ranked 1st among Spanish universities and 48th worldwide regarding employability according to the 2018 QS World University Rankings published today. It is the third time in a row that it gets first position at a national level according to this study, where another 15 Spanish universities are ranked among the 500 best university centres at an international level.
For the preparation of this ranking, QS considers five indicators. The Universidad de Navarra is the Spanish leader in the following three indicators: Graduate Employment Rate, Employer Reputation and Employer-Student Connections. Graduate Employment Rate means the labour integration rate of the students. Employer Reputation refers to the opinion of employers on graduates and their attitudes. Employer-Student Connections is the criteria based on the number of on-campus employers offering information, internship opportunities and a first employment for students. As the researchers behind the study point out, "the presence of employers on campus increases the options of getting internship and research opportunities".
These are other criteria used in this classification methodology: Alumni Outcomes, the success of graduates during their careers, the remarkable positions reached and their community service capabilities. Finally, Partnerships with Employers, establishes collaboration relationships between each academic institution and the different companies.
According to Roberto Cabezas, Director of Career Services of the Universidad de Navarra, "being number 1 for employability in Spain is the direct consequence of a well-thought training strategy for employment and assistance in the professional development of our students. We're deeply committed to employment and employability of students and alumni.
In order to achieve that goal we have directed our efforts towards training in skills and meeting the recruitment requirements of Spanish and foreign companies. Being number 1 once again reinforces our task, challenges us and forces us to keep improving to remain leaders in transferring university talent into society."