Más de cien expertos analizarán las claves de una buena experiencia del estudiante en las universidades
Times Higher Education, en cooperación con la Universidad de Navarra, celebra un foro en Madrid los días 4 y 5 de julio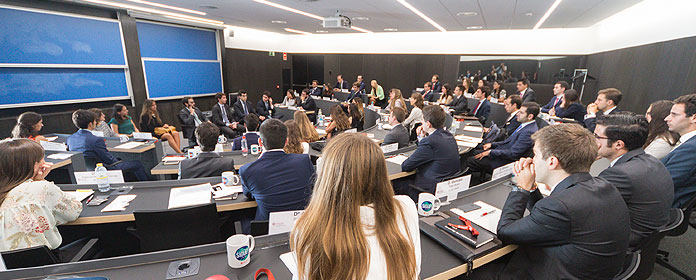 Líderes académicos de la Universidad de La Sorbona, la Escuela Politécnica Federal de Zúrich, el IESE, otros centros de la Universidad de Navarra, y expertos de innovadoras compañías como Microsoft y Coursera debatirán sobre cómo optimizar la experiencia del estudiante en los centros de enseñanza. El debate se celebrará en el marco del "THE Europe Student Success Forum" del Times Higher Education (THE), que se realizará en el campus de Madrid de la Universidad de Navarra, los días 4 y 5 de julio.
Los expertos Moira Fischbacher-Smith, vicepresidenta asistente de aprendizaje e innovación de la Universidad de Glasgow; Belén Gancedo, jefa de educación de Microsoft; y João Sàágua, rector de la Universidad NOVA de Lisboa, hablarán sobre cómo crear un mejor ambiente de aprendizaje en la universidad.
En otro panel, Dil Sidhu, director de contenido de la plataforma de aprendizaje en línea Coursera, analizará la aplicación de la tecnología para desarrollar el éxito de los estudiantes.
Por su parte, Marie-Céline Daniel, vicepresidenta de educación y aprendizaje permanente en la Universidad de la Sorbona; Andreas Vaterlaus, vicerrector de desarrollo curricular de ETH Zúrich; Giuseppe Auricchio, director ejecutivo de la Unidad de Innovación de Aprendizaje en IESE Business School; y Robert Wagenaar, director de la Academia Internacional de Tuning de la Universidad de Groningen, expondrán sobre el aprendizaje permanente.
Lanzamiento de THE Europe Teaching Rankings 2019
La Universidad de Navarra se suma a prestigiosos centros como la Universidad de California, Berkeley, la Universidad de Ciencia y Tecnología de Hong Kong y el King's College de Londres, que han acogido anteriormente un foro del Times Higher Education.
Durante el congreso también se publicará el resultado del ranking "THE Europe Teaching Rankings 2019", que clasifica las instituciones mejor valoradas según métodos de enseñanza y aprendizaje en Europa. THE cuenta con 15 años de experiencia en la elaboración de este reconocido índice, que evalúa universidades que ofrecen grados oficialmente reconocidos y con al menos 5000 estudiantes matriculados.