Family ties, a meeting point among ICS projects at its VIII Annual Meeting
The University's Vice President of Research, Iciar Astiasarán, urged researchers to continue with their significant scientific developments and to be references in their fields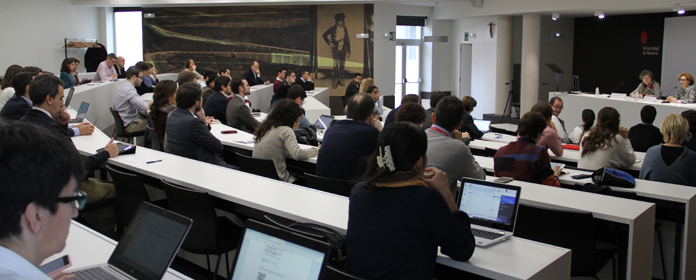 VIII Annual Meeting at the Institute for Culture and Society
FOTO: Elena Beltrán
The VIII Annual Meeting at the Institute for Culture and Society (ICS) of the University of Navarra centered on the theme of development and social ties, focusing especially on family ties. Iciar Astiasarán, Vice Presidentof Research, and Ana Marta González, the center's scientific coordinator, opened the event.
Vice President of Research Astiasarán stressed that the University aspires to be a world leader in several areas and one of them is, precisely, the family. She expressed that the Office of the Executive Councilis hopeful about the long-term development of the projects that are underway on campus.
She mentioned that in recent years the international research community has made advances in fields such as health and technology, but that many challenges remain in areas related to values. In this line, she urged ICS researchers to continue working toward scientific developments that position them as references in their respective areas in the humanities and social sciences. "Years of dedication allow us to go beyond opinions and speak with authority," she said.
For her part, Ana Marta González analyzed the current context of family ties. She began by focusing on the acceleration of social change, which she sees as not only having to do with external phenomena, but also with experience itself: "Things have sped up—the rhythm of social life, the quantity and speed of social interactions in which we takepart and from which it is difficult to withdraw ourselves without sacrificing something that, in the meantime, has become part of our self." She also alluded to the way in which the socio-economic setting conditions the development of family life.
Professor González emphasized the need to analyze inertias, practices and stories in our contemporary world that can help us understand it better and "orient it in a more humane direction." For example, she warned of "the coexistence of traditional inertias and modern ideals of reason, equality and freedom, interwoven with postmodern consumer practices, inspired not so much by considerations of utility and efficiency as by self-expression and identity-related aspirations and romantic accounts."
On the other hand, she stressed that, "Although forming a stable family continues to figure for many people as one of the directional ideals in life, this idealization, marked itself by deep tensions, contrasts strikingly with the daily reality of many families that are subject to cultural and social pressures that are difficult to manage with good will alone."
She added that, "Providing for a family, creating an environment conducive to the development of mature personalities is not an easy task today. From this perspective, the fact that the family represents a shared and even publicly reinforced ideal since the 1980s and 90s constitutes, as Precht suggests, more an exercise of 'will and representation' than a sociologically powerful reality."
She also stressed that, in this context, "serious reflection on the family is required" with a focus on "the dynamics of properly identified family relationships, avoiding the temptation to reduce the goodness of said relationship to the goodness of the subjects involved therein since good people do not always form good relationships."
Click here to read Ana Marta González's full speech (in Spanish)

Papers presented atICS's VIII Annual Meeting
- "Family through the lens of economics". Joseph Gomes, Navarra Center for International Development, ICS.
- "A Closer look at the positive Crossover between supervisors and subordinates: The Role of Organizational Culture and FSBB". Mireia Lasheras, IESE.
- "Cómo hablar de la familia en una sociedad plural". Cristina López del Burgo, Educación de la afectividad y de la sexualidad humana, ICS.
- "Aproximaciones discursivas a la familia". Inés Olza y Sofía Brotons, Discurso público, ICS.
- "Relaciones familiares al final de la vida: ¿qué cambia?". Carla Reigada, Programa ATLANTES.
- "El 10% de los nacidos en España son in vitro. Sobre la idea de "vínculo" de las familias que desean un niño y acuden a las técnicas de reproducción asistida". Francisco Güell, Grupo 'Mente-cerebro'.
- "How to Minimize Abuses of Parental Authority without Arming a Leviathan State". David Thunder, 'Religión y sociedad civil', ICS.
- "La ocupación del espacio público por los vínculos familiares". Lourdes Flamarique, Cultura emocional e identidad, ICS.
- "La familia: la fuerza de la tradición, el poder del cambio". Julia Pavón, Creatividad y herencia cultural, ICS.