A psychologist joins ICS to conduct research on questions related to marital success and therapy
Martiño Rodríguez-González, a licensed family therapist, will join the AMAR project and initiate a new research line on pioneer professional intervention strategies in the Spanish-speaking world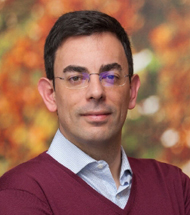 Martiño Rodríguez-González

FOTO: Manuel Castells
Martiño Rodríguez-González, who obtained a PhD in psychology, has joined the Education of Human Affectivity and Sexuality (EASH) project at the Institute for Culture and Society (ICS) of the University of Navarra.
A licensed family therapist, he was director of the Lugo Diocesan Family Counseling Center for five years and has undertaken research stays in Canada (University of Ottawa), the United States (Georgetown Family Center, Washington, D.C.) and Portugal (University of Porto and University of Coimbra). In addition, he was a visiting researcher at Brigham Young University (Utah, USA).
He studies marriage from both a clinical and normative perspective. Specifically, Rodríguez-González's specialty involves "affective development in the marital and family sphere, as well as its relationship with affective maturity and the capacity for emotional self-regulation." He also studies effective intervention strategies "to help spouses and couples who have difficulties, conflicts... in short, who want to continue their life together, but are not happy."
At the Institute for Culture and Society, he will support EASH's work on these questions, both in the AMAR project and in a new research line with the aim of adequately helping marriages in difficulty.
Couples therapy focused on emotions
"The main project I will be in charge of is a clinical trial on the effectiveness of one of the most promising couples therapy models that currently exists in the field of professional marriage and couples therapy, namely a model focused on emotions," he explained.
According to Professor Rodríguez-González, Susan Johnson, an emeritus professor at the University of Ottawa, initiated this model in Canada; it is now backed by copious research with couples from Canada and the United States, but Spanish-speaking countries have yet to study its effectiveness.
EASH seeks to be a pioneer on this matter in the Spanish-speaking world, launching a project with researchers from three countries and four different universities—the University of Navarra, Brigham Young University, the University of Ottawa and the University of Quebec in Gatineau. It will be carried out in three countries (Mexico, Costa Rica and Spain).
Martiño Rodríguez-González pointed out that ICS "is an interdisciplinary center located in Spain backed by a solid institution that makes a clear and sustained commitment to research." In addition, he emphasized that, "There is no other public or private university in Spain that has committed to research on marriage and family issues like the University of Navarra through ICS and EASH."
The newest ICS researcher emphasized that, "The university is called to lead the world of ideas and education in society, which is only possible through projects that look beyond short-term benefits." For him, ICS "has the necessary conditions to be such a place."