Las profesoras Medina, Herrero y Urgellés publican un libro sobre la competencia en los mercados televisivos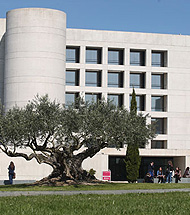 Current and Emerging Issues in the Audiovisual Industry es el nuevo libro publicado por las investigadoras de la Universidad de Navarra, Mercedes Medina, Mónica Herrero y Alicia Urgellés. Esta investigación se centra en los desafíos de la competencia en los mercados de la televisión, busca dar respuestas a la evolución y a las nuevas dinámicas del mundo audiovisual.
El origen de esta publicación se debe a una propuesta realizada por la profesora de Estrategia en Telecom Ecole de Management, Nabyla Daidj a la Facultad de Comunicación de la Universidad de Navarra. Mercedes Medina, doctora en Ciencias de la Información, ha sido la encargada de capitanear el grupo de trabajo, "nos hemos coordinado muy bien las tres". Cada una de ellas ha enfocado sus respectivos capítulos a sus ámbitos de investigación: Alicia Urgellés, doctoranda de la Universidad de Navarra, centra sus temas en las nuevas plataformas del consumo audiovisual. Por su parte, Mónica Herrero, decana de la Facultad de Comunicación y doctora en Comunicación Pública, explica el funcionamiento de las audiencias y la forma de monetizar este mundo. Mercedes Medina comenta los paradigmas de la industria, la libertad y los retos económicos, entre otros temas.
En el caso particular de Mercedes Medina ha tenido una experiencia enriquecedora ya que, según nos relata, es la primera vez que ha escrito un libro en inglés, "anteriormente había publicado alguna investigación, pero nunca un libro. Esto te permite dar un salto de lo nacional a lo internacional", comenta Medina.